The Scoop: Sugar daddies on modern platforms often struggle to meet attractive women who want to be cared for financially. Sugardaddie.com changes that dynamic with its 5-to-1 ratio of women to men. The platform fosters clear communication and ensures both sugar daddies and sugar babies find their ideal relationships. Men who use Sugardaddie.com can be selective about the women they want to spoil, and neither needs to be vague about the type of relationship they seek.
Sugar daddy and sugar baby relationships are appealing for many reasons. The partnership typically involves older, wealthy men caring for younger, good-looking women. Sugar daddies may give their sugar babies expensive gifts or take them on vacations to exotic locations.
One single mother in her 30s shared her experience as a sugar baby in a positive way. "I didn't need a sugar daddy; I wanted one," she said. "One night, when the kids were fast asleep in bed, I registered with the website Sugardaddie.com and started scrolling through the various profiles."
She wrote that she met a sugar daddy named John who gifted her with presents, gave her advice about her business, and introduced her to the lifestyle she wanted to lead. Men and women interested in exploring their sugaring desires often start their journeys on , a secure platform that welcomes users seeking those relationships.

The anonymous suar baby also offered advice for women interested in sugaring. She suggested they identify what they're seeking from their daddies. Some men, for instance, provide regular allowances for babies to purchase whatever they want. Others — called experience daddies — prefer to shower their babies with expensive trips or dinners.
The writer also doesn't advise becoming a sugar baby only for the financial perks, as it then becomes simply another job. Viewing the arrangement as a way to pay the bills or receive expensive gifts makes sugaring less appealing to both men and women.
Sugardaddie.com offers a safe space where daddies and babies can come together for respectful, mutually beneficial relationships.
The Platform Caters to Selective Men
Sugardaddie.com celebrates its 20th anniversary in 2022. The platform's founder wanted to develop a site for wealthy men to meet attractive women. He'd spent 18 years as a Wall Street trader and was familiar with his associates dating beautiful women, buying them expensive gifts, and taking them on trips outside of the country.
"Eventually, I moved down to Miami, Florida, where I met some very nice women and their friends. Many of them complained that it was difficult to find a financially stable man that wouldn't split the bill with them at McDonald's," the Sugardaddie.com Founder said with a laugh.
So he created Sugardaddie.com, an online dating site that could match these women with men similar to his old friends from Wall Street.
Most Sugardaddie.com users live in the United States and the United Kingdom, while others hail from Switzerland, Germany, and other European countries.
The women skew younger than the men on the platform, typically aged 19 to 35. Most men are between 35 and 55 and can be selective on the platform because women outnumber them 5 to 1.
"Our site is geared toward financially successful men and attractive women," said the owner.
One user shared his experience meeting his partner on the site:
"I am retiring from this website. I have found the most amazing, fabulous woman on SD. It's like I've been struck by a bolt of lightning — I've been in a daze ever since we found each other. She is beautiful, intelligent, passionate, and my heart skips a few beats every time I think of her … I never expected to fall in love here, but it's happening," the user wrote.
Protecting Privacy is a Priority
Potential members can join the site for free, browse profiles, and read the forums before deciding if they want to subscribe.
"This gives a person all the time they need to see if the site and its members are for them or not," said the site owner.
If someone wants to communicate with a member, they need to upgrade to a Premium Membership. Unlike similar platforms, men and women users take the same route to joining the site. Both pay a monthly fee to connect with others, and users can receive a discount if they purchase multiple months at a time.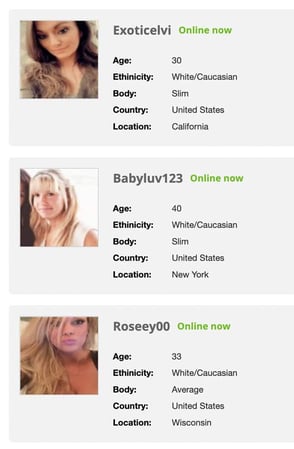 "Charging men and women cuts down on people who may not take the site seriously and would waste a paying member's time," the site owner told us.
A critical part of the Sugardaddie.com philosophy is user privacy. Society may stigmatize sugar relationships, so the platform's users appreciate its commitment to protecting user information.
"We don't want to give away all our secrets, but every profile submitted is read by a trained staff member. Our staff looks for things that may not be suitable for the site," said the site owner.
One sugar baby described how the site made her feel safe and gave her the confidence to meet her partner:
"I found a GREAT guy. Of course I was a little skeptical, but hey what did I have to lose. I have never been on a dating site where there were so many classy men. After being on this site for only one month, I met a guy who I would have never crossed paths with. But thanks to this site, I think he is really the one for me," she wrote.
Users Can Be Transparent About Their Desires
Some men and women are interested in developing sugar relationships but are uncomfortable sharing their desires in public. They can be honest about their passions on Sugardaddie.com.
The site and its users understand that sugaring doesn't just have to be a financial arrangement. It can be a friendly or romantic dynamic that allows women to express their interest in being cared for. In turn, men have their pick of attractive ladies interested in developing that type of relationship.
"Our mission is to provide a service that allows both men and women to be completely honest about what they are looking for. On Sugardaddie.com, there is no stigma attached to any woman for wanting to meet a financially-successful man," the site owner told us.
That freedom has helped users find both casual partners and committed relationships. The site owner shares a few of his favorite love stories. He said one user wrote in to tell the site he is now engaged, has a child on the way, adopted a dog, and even traded in his Ferrari for an SUV.
Another favorite story came from an officer in the Marines who met another officer on Sugardaddie.com. The pair later married in the Bahamas.
Though Sugardaddie.com celebrates two decades of connecting sugar daddies and sugar babies in 2022, the site isn't resting on its laurels. Instead, the team plans to expand its membership to Central and South America and parts of Asia.
And the site's owner takes great pride in the platform and community he has developed.
"The favorable feedback we have seen over the years has been overwhelming. Countless women have thanked us for having access to a lifestyle they normally would never have experienced on their own. We have also had many marriages," he told us.