The Scoop: Some would say that matchmakers are God sent. They help you find someone worth dating and help you feel a little less lonely throughout the whole dating process. As one of the best of the best, Samantha Daniels continues to put a good reputation out there for matchmakers through her company, Samantha's Table. Samantha's Table is a great matchmaking service for those elite singles who want a comfortable experience working with a matchmaker. Samantha offers her clients a personalized experience from start to finish through vetting matches, coaching, and one-on-one interactions. 
Placing trust in someone to help you find the love of your life is a big leap of faith. Oftentimes people get dating advice or are set up on blind dates by their family members or a beloved friend but never a stranger. Stepping outside of your comfort zone to seek help from a matchmaker may feel uncomfortable at first, but the results make it worthwhile. Matchmakers all over the world are helping singles find their perfect match and are paving the way for more love to blossom. 
For over 20 years, matchmaker and CEO, Samantha Daniels has been delivering high-end matchmaking services to singles from all over the country. Through her company Samantha's Table, Samantha has had the opportunity to work with busy, successful, and high-profile people such as celebrities, CEOs of companies, and well-known entrepreneurs who are looking for love. She currently maintains a database of more than 60,000 individuals who are ready to meet and date her clients. 
People who want to date under the radar can find that having someone like Samantha in their corner is useful. When you're constantly put in the spotlight as a celebrity, public figure, or successful person, dating can become more challenging. You begin to second-guess people's intentions and worry about everyone getting into your business. Samantha's Table specializes in helping singles feel comfortable to date by vetting and then providing genuine matches –– making it easier for daters to just date. Samantha prioritizes clients' privacy and is experienced at matching people together away from society's purview.
"My mission is to help people become the best versions of themselves so they can find love. Not only do I make exceptional matches for my clients, but I also coach them to become better daters," said Samantha. 
Our Modern-Day Cupid to the Rescue
When I first think of Cupid, I think of a person in a diaper ready to launch arrows. However, Samantha made me realize that Cupids sometimes wear stylish dresses and matching high heels. As our modern-day Cupid, Samantha is fully committed to introducing people to those they want to meet. Samantha may not have a bow and arrow in her hand, but she sure does have a few tricks up her sleeve to make sure that people fall madly in love.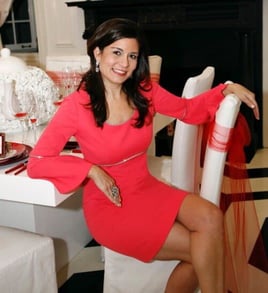 Samantha's matchmaking career started when she would lend her friends a hand in the love department. Before online dating was a thing and Samantha was a practicing lawyer, for fun, Samantha would host parties for her single friends to meet and mingle with other singles. At these parties, she would introduce people and help many of them end the night with someone they eventually got into a serious relationship with. This experience sparked something in Samantha and encouraged her to open up her own matchmaking company, which we know now as Samantha's Table. 
"I am the go-to when people start dating and want to verify if the person they have met is eligible. A lot of people have suggested that I start a service where I put my stamp of approval on single people, since I have a sixth sense about people, sort of like how Instagram verifies people. I haven't done it yet officially, but maybe someday," said Samantha. 
Samantha told us that people say they feel comfortable entrusting their social life to her simply because she understands them. The matchmaking process is a lot better when clients feel like they're seen and well taken care of. Samantha ensures she achieves this with every client by personally meeting and getting to know them and making sure she understands the exact type of person they are hoping to meet.
. This not only helps her to produce more compatible matches, but it allows her to truly get to know her clients on a deeper level. 
From Matchmaking to Coaching Sessions
Samantha's Table is one of the few matchmaking firms that focus on quality over quantity. Samantha aims to provide her clients with quality matches. It's not a numbers game when it comes to dating, instead, it's all about finding that one person who you vibe with the most. When you receive a match from Samantha, you can be positive that research and work are behind it. 
"I would recommend Samantha's Table to anyone. Samantha is very accessible and personable and she just gets it! I met my husband on the third date that Samantha set me up on. We dated for 10 months and then got married. Thanks, Samantha!" writes one of Samantha's clients, Debbie, in a testimonial. 

The best matchmakers are those who act on your behalf, find you a match, and provide good advice and feedback. Some daters struggle with finding companionship not because there's no one out there for them, but because they lack dating skills. Luckily, Samantha's Table clients are in good hands because Samantha is someone who always likes to keep it real when it comes to dating. 
"Not only do I match my clients but I also give "tough love" to my clients– giving them advice about what they are doing right and what they are doing wrong when it comes to dating so I can help them get the one thing that is missing in their lives, a person with whom to share all of their success," Samantha told us. 
Samantha's Table also offers singles one-on-one coaching sessions that consist of a breakdown of your love life and serve to help prepare you to eventually walk down that aisle and say "I do." The sessions are offered in person as well as on Zoom, which gives singles all over the world access to Samantha's expertise. To inquire about a session, people can email Samantha and get the help they need to excel in their dating lives. 
Samantha's Table Celebrates Over 20 Years of Success
For over 20 years, Samantha has brought a refreshing presence to the matchmaking industry. Despite appearances, matchmaking can be a tough career to pursue, but people like Samantha make it look like a breeze. Samantha has the confidence and educational background it takes to change your love life around. 
Since Samantha has been in the matchmaking industry, she has been recognized and praised for her due diligence. Samantha has been a featured guest on an array of TV shows, such as The Today Show and Good Morning America,, where she was able to share her professional dating advice with a much larger audience. 
There was even a TV show based on Samantha's life on NBC, it was called Miss Match. It was a show about a lawyer turned Professional Matchmaker, like Samantha, and Samantha's character was played by Alicia Silverstone.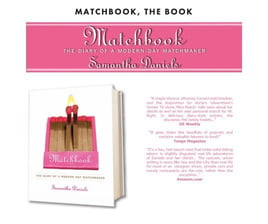 Samantha continues to leave an impact on many singles' lives to this day. She is always on the hunt for more creative ways to help her clients succeed. In her latest book, "Matchbook: The Diary of a Modern-Day Matchmaker," Samantha uses her personal experiences with dating to connect with her readers. She said she hopes her vulnerability will spark something in her readers. 
"It took me a while to finally take the plunge and sign up for the service. I was nervous that all the women would think I was a loser for using a matchmaker. However, Samantha made all the women understand that I use the service because I am so busy at work. The women didn't have a problem with it all; as it turned out they were excited for our date," said Tom, one of Samantha's clients in a testimonial.