The Scoop: Many singles are tired of scrolling through dating apps on what often feels like a wild goose chase. Those looking for a more personalized touch often turn to Bonnie Winston, a matchmaker with an impressive roster of celebrity clients. The most significant benefit of choosing Bonnie over a dating app or other matchmakers is exclusivity. Bonnie only works with 12 clients at a time, which allows her to carefully find matches that may last a lifetime.
Many singles searching for love turn to online dating, thinking it's their best, or even only, chance to meet compatible partners. That's because the number of online daters grows each year.
In 2017, some 28.9 million users in the US turned to virtual platforms to meet potential partners, and that number increased to 44.2 million in 2020. Estimates for 2025 suggest that 53.3 million singles will be using online dating platforms.
The sheer number of online daters seems like it would make dating sites effective places to meet partners, but that isn't always the case. Singles have to spend hours combing through profiles to find what they would consider is a diamond in the rough.
While dating site matchmakers are a positive development, services that help users choose a couple of matches may not make much difference. Many turn to more bespoke matchmakers who provide the attention they need.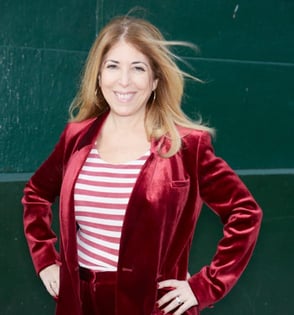 Bonnie Winston is a matchmaker who only works with 12 clients at any given time, ensuring a truly individualized experience.
"A matchmaking service that handles more than 25 clients at one time is not bespoke; it's a dating service," Bonnie told us.
Some online daters are disappointed that they're not finding partners who match their education levels or ambition. Others discover that the singles they're meeting online aren't serious about building long-lasting relationships.
Bonnie, who has made matches for many celebrities, combats that fatigue with a holistic approach designed to foster lasting relationships. And it resonates with her clients, many of whom don't have time to spend scouring dating apps.
"I interview every one of my clients and don't just set them up with people in our database. My team and I personally recruit dates based on our client's dating criteria," Bonnie told us.
All Matchmakers Are Not Created Equal
Singles on dating apps already recognize the significant difference between platforms. But if they've never worked with a matchmaker before, they may not understand how different they can be.
Singles ought to carefully select their matchmaker and ask questions to make sure the service lives up to their expectations. That initial consultation is a chance for singles to ask about the clientele and the matching process. Will the matchmaker be recruiting potential dates? Or is there a database of singles to draw from?
Singles can read referrals from satisfied clients (hopefully they'll find many) and media groups to get a better idea of the caliber of professional they're dealing with.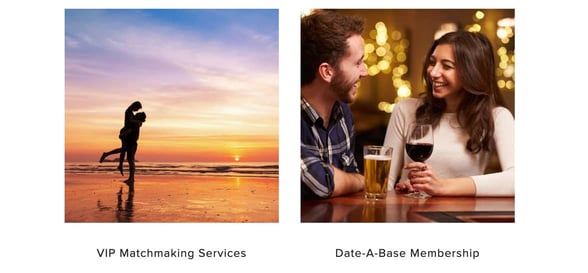 Bonnie described how important it is for singles to be careful about the matchmaker they hire. For instance, if matchmakers work with many clients, they can't usually offer the level of personalized service their clients need.
Bonnie and her team offer an alternative to those matchmaking experiences. Although her firm can't claim to be a detective agency, it ensures clients look like their photos by meeting them or having Zoom or FaceTime calls with each one. That is important because people often retouch their photos and use filters.
Since the COVID-19 pandemic struck, many singles became more serious about finding love. But some grew frustrated at the difficulty of dating sites.
"Most dating apps let anyone that fills out a form join with no money down or real financial investment, so there is a lot of falsification," Bonnie said.
Others may have landed with unscrupulous matchmakers who sent them on unappealing dates.
In contrast, Bonnie and her team promise unparalleled service and a high success rate. If clients struggle to make strong first impressions, she even offers dating coaching.
Valuable Advice for Singles
When singles consider hiring a matchmaker, Bonnie suggests they think of the service as outsourcing their dating lives.
"Matchmaking is definitely not for everyone and is a luxury service. But many of my clients outsource all kinds of things such as personal training and cooking, so they are outsourcing their dating life to me," she said.
Hiring a matchmaking service is an investment, so clients should consider how much time and effort it can save them in scrolling through dating apps and going on dates that lead to nowhere.
"I feel that matchmaking is an all-around investment in saving you time. The difference between a matchmaker and a dating service is that you have professionals reaching out to vet people with an incredible network of contacts," she said.
Before investing in a matchmaker, singles should request references so they know a matchmaker's track record.
Bonnie also suggests that singles should seek matchmakers who interview everyone rather than just entering individuals into a database without screening them.
"I am proud to have set up many clients that are in happy relationships, some who are married and have children," Bonnie told us.
Even better, though, is Bonnie's specialized client services. Rather than simply matching compatible singles already in her network, Bonnie and her team actively recruit dates based on the dating criteria their clients provide.
"This truly works because my team and I can focus on each VIP client. When one client enters into a relationship, we take the next one. We have a waiting list as well," she told us.
Bonnie Winston Fosters Relationships and Marriages
Bonnie suggests trying not to order more expensive food or drinks than the other person on a first date. That can make the person paying feel unappreciated.
She also suggests being kind to everyone — including the waiter — on a date.
As a testament to Bonnie's prowess, she has even advised others on matchmaking — in a fascinating capacity.
"I had the opportunity to be a character consultant for Rose on the fourth season on 'The Marvelous Mrs. Maisel' show. Rose plays Midge Maisel's mother, who morphs her side hustle or hobby into being a professional matchmaker. The same way I did!" Bonnie told us.
Singles are looking for love more ardently now than ever. If they're struggling with dating apps or meeting partners, Bonnie suggests the key is working smarter, not harder.
"Take a break and let someone else advocate for you! In 2021, I was responsible for four marriages and four engagements, plus one couple who bought an apartment together and six that have committed relationships," she said.