The Scoop: Special Moments Event Planning is based in Tampa, Florida, and helps couples organize picture-perfect wedding days. Master Wedding Planner Tammy Waterman leads the wedding planning group and has brought hundreds of weddings to fruition. The team at Special Moments works with clients to create customized and charming weddings — with planning packages that include by-the-hour and destination wedding options — that reflect the personality and background of each couple.
I would never call myself a wedding planner, but I have helped plan a wedding. My two closest friends and roommates had already been married for almost a year when they decided they wanted to host a small backyard wedding. They had eloped in that same backyard during a tiny ceremony ordained by the bride's sister and wanted to celebrate again at the exact location.
We were working with a budget of $1,000, which felt like a lot to us as recent college grads. The guest list was about 30 people, and, knowing our friends, we had to provide plenty of food and drinks. I helped my friend thrift all the glassware for the wedding, find a big white tent on clearance, and connect with a local freelance bartender who would accept free drinks and a big party as part of her pay.
The wedding day came, and we partied outside with catering from Panda Express, many cases of Costco wine, and dozens of handmade details that made the day feel like a true reflection of my friends' love for and commitment to each other. Despite the wedding being as intimate as they come, planning it was no easy task. It was weeks of go-go-go, attending to each detail.

Tammy Waterman and the Special Moments Event Planning team understand that planning a wedding is no simple undertaking. From venues to food menus to photography, there are endless details and considerations that must be attended to. The time around a wedding is stressful enough for any couple, so having a dedicated team of professionals is very helpful.
Special Moments is dedicated to working closely with clients to provide personalized ceremonies and receptions they'll never forget. Based in the Tampa Bay area, the wedding planning service offers several packages with plenty of customization. Tammy Waterman is the owner and founder of Special Moments, and she told us about her service and team. "I truly enjoy my job as a wedding planner," Tammy said. "My team and I usually do around 100 events every year, so it's really a passion." 
20 Years of Celebration
Tammy began in the wedding industry after years in corporate America. She told us that long hours, a rigorous daily commute, and the high demands placed on her through her job led her to look for something else. As she was considering a career change, she felt attracted to wedding and event planning. In 2004, she joined the Association of Bridal Consultants, became a wedding planner, and has enjoyed her time in the industry since.
Tammy's wedding planning philosophy has always been to create unique and memorable wedding experiences. Whether couples are looking for intimate destination weddings or elaborate, large-scale celebrations, Tammy attends to each detail and concern. No wedding concept is too far-fetched for Tammy, as she's organized a variety of weddings from one with a gambling theme at a dog track to a 350-guest luau in an airplane hangar.
Special Moments started as a one-woman team, with Tammy leading all operations. Over time the team grew to what it is today. Tammy's husband Bill joined the team in 2010 as an ordained minister and Sandals Certified Specialist. Bill helps with many planning aspects, but his specialty is designing and building wedding arches and other pieces for the special day.
Along with Tammy and Bill, the Special Moments team includes three other wedding planning professionals who assist Tammy and each couple to make a dream wedding come true. Couples working with Special Moments will find that the team is readily available to discuss questions or requests.
The team at Special Moments can adapt to any wedding concept desire. Tammy told us she specializes in cultural weddings – Greek, Nigerian, Haitian, and Jewish to name a few – and consults with seasoned experts and the wedding couple's families to ensure authenticity. The wedding planning team also has experience with cultural fusion weddings, marrying not just two people but two cultures in a blended ceremony.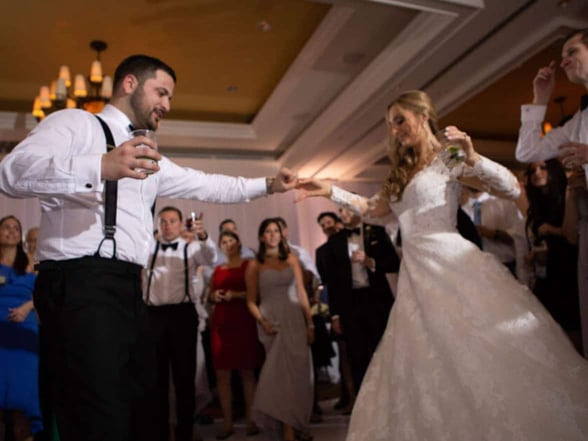 Special Moments is based in the Tampa Bay area, and Tammy is a St. Petersburg native, which means she's intimately familiar with all of the romantic offerings of the area. Many of her clients seek a seaside, tropical experience, including beachside weddings. While Special Moments can cater to any vision for nuptials, many of their weddings capitalize on the natural coastal beauty of Florida.
Wedding Packages of All Varieties
No couple is exactly alike, and each wedding presents unique needs. The Special Moments team knows this and provides numerous wedding planning packages to attend to time and budget concerns. Some couples want an extra hand on the wedding day to ensure everything goes smoothly without worrying about minor details. Other couples connect with Special Moments months beforehand for in-depth planning assistance.
The most basic planning package is called Simple Moments and offers by-the-hour planning services. This option is ideal for couples who perhaps don't have the budget or desire for an intense, hands-on wedding planner. Special Moments can help couples get started with planning and can hop back in to answer questions or provide guidance. 
The Unique Moments package caters to couples with a DIY spirit who have done most of the hard work leading up to the wedding day. The Special Moments team hops in on the day of the wedding to finalize those last-minute details and ensure the day runs smoothly, allowing the couple to soak in the day and focus on the essentials. The Cherished Moments package is one step up, offering planning assistance shortly before the wedding and the day of.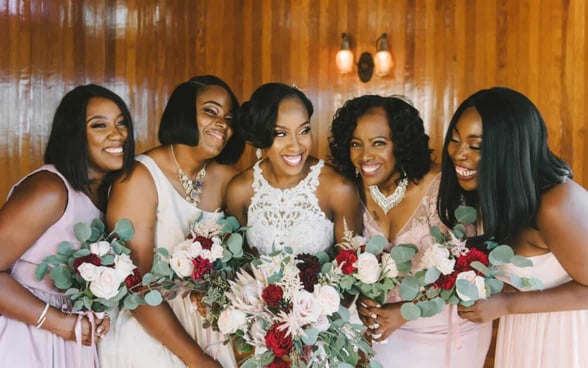 The Treasured Moments package is perfect for couples planning a destination wedding. Destination weddings come with a unique set of concerns, foremost among them is that couples aren't in the area where their wedding will be held. This can complicate planning activities, like visiting venues, deciding on food and drink options, and connecting with local vendors. This is a partial-planning package that attends to the facets of destination weddings that couples would have difficulty doing themselves.
Couples who don't need a wedding fairy godmother but want some planning assistance will find a good fit with the Royal Moment package. This package is good for couples who want to be involved in the planning but would rather leave most of the stress and responsibility of the planning process to a professional. This full-service package includes custom decor enhancements and other special touches.
The Fairy Godmother package is all-inclusive for couples who want to hand over all aspects of wedding planning to a professional team. The Special Moments team will plan each aspect of the wedding, from early-stage planning months in advance to making sure everything goes according to plan the day of the wedding. Tammy and her team serve as the couple's very own fairy godmother, allowing the couple to soak in every aspect of the engagement and wedding without having to worry about the rest.
Attending to Every Detail
The best kind of wedding encapsulates a couple's story, love, and background. This is why Tammy and her team work to approach weddings non-judgmentally. Tammy is proud to work with same-sex couples and couples who want to combine their unique cultural backgrounds in their wedding. "Sometimes couples come from different backgrounds, so we try to fuse aspects of both to create a wedding that celebrates both traditions at the same time," Tammy said.
Even the smallest weddings can be expensive affairs, so Tammy and her team help couples decide on their priorities. "For me, entertainment and music are some of the most important parts of wedding planning," Tammy said. "Without them, the whole party aspect of the wedding sucks." Tammy encourages her clients to focus on what they want from their wedding, and then she and her team do the hard work to make that focus, whether it's entertainment, food, or decor, a success.
While wedding planning is at the heart of Special Moments, Tammy and her team also plan a variety of other special occasions. The Special Moments team has plenty of experience planning a range of corporate events and large-scale birthday bashes. Special Moments also offers honeymoon planning services, so couples can enjoy a romantic retreat after their wedding that has been carefully planned.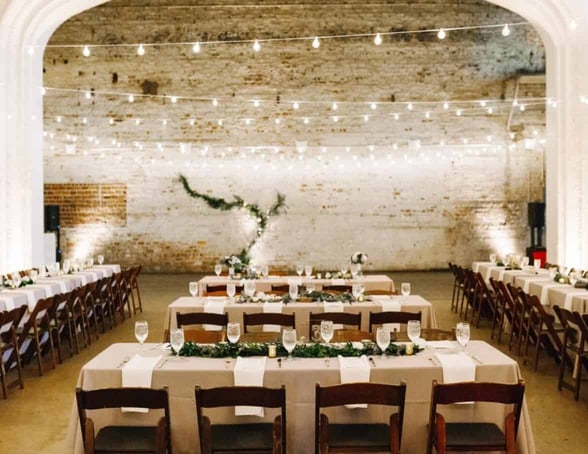 Couples who have hired Special Moments to plan their wedding have expressed gratitude for the team's dedication to the smallest details. One couple, Allison and Ryan, were in the process of planning their wedding when the COVID-19 pandemic hit, which meant their ideas for a big wedding had to be reimagined. They said that Tammy and the team quickly helped with reconfiguring the wedding plans to suit a smaller and more private wedding. Even though the wedding looked different from what they had initially imagined, it was the perfect day nonetheless.
Although a decent level of stress is simply par for the course when it comes to planning a wedding, it doesn't have to be an experience that leaves couples questioning whether they even want to have a wedding at all. Special Moments takes this burden off couples and leaves them only with the fun stuff – like choosing a cake flavor and selecting the perfect floral arrangements. 
Tammy left us with an expert piece of advice for couples who are planning their wedding. "Always start with a guest list. You can only begin to plan the venue, food, really anything, once you have a guest list," she said. Whether a couple is just approaching the guest list phase of planning or is knee-deep in the details, Special Moments' services can provide an extra helping hand that will make all the difference on the wedding day.