The Scoop: Pop culture would have singles believe that dating is all impassioned speeches and rain-drenched kisses, but sometimes you're stuck checking your phone all day without a message from anyone but your mom. The truth is that dating can sometimes feel dry and lifeless. Fortunately, the online dating app The Sauce is on a mission to shake things up and revive the dating lives of singles. From video profiles to filtered safe spaces, The Sauce app brings a new way of meeting people by encouraging originality and expression.
Dating is such an exciting time to explore and meet new people. You get to discover what you like and don't like while going on new adventures. But what they don't tell you about dating is that sometimes there's a drought. It's not unlikely that you'll run into periods when dates end right when they start, and your DM's are as dry as a Popeyes biscuit.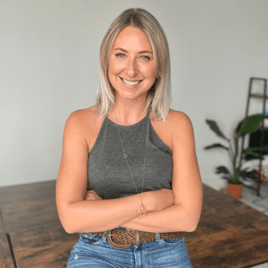 Emma Clark knows this all too well. Emma went through her fair share of pointless dates. She told us this left her feeling frustrated that she had wasted so much time. That was until she partnered with Sach, who is Co-Founder and CEO of The Sauce, to create a new dating app. The Sauce is on a mission to help bring dating back to life.
"We created an app that solved both our problems and landed us both great dates. We use video profiles and a different approach to matching to cut through that bias and show you what someone is really like, in real life," said Emma. 
The Sauce brings a unique twist to online dating. With the world evolving, it's important to tailor dating apps to social trends and user interests. And that's exactly what The Sauce does. The app models similar features to popular social media platforms such as TikTok and Instagram — gaining the attention of many younger singles. 
"Finally, a refreshing new dating app that really works. The videos allow you to get a better image of the people you're interested in. It's good enough that I've deleted all my other dating apps. I highly recommend it," said a user in a review. 
More Than Just A Profile Picture
Most of the time, when people set their profile picture they struggle to find the best image that perfectly represents them. You want to give people a little tease as to who you are, but you don't want to overdo it. On The Sauce, members don't have to worry about that. The Sauce believes that members are more than just a profile picture. 
It's hard to truly get to know a person based on their profile picture. By using video profiles, members of The Sauce can show off who they are. Members can share video clips that reveal their personality, voice, interests, or hobbies. This helps take the guesswork out of dating and minimizes the catfishing on the app. 
"Video feels so much more real and safe. I've ended up on way too many dates with people that were SO different to their Hinge profile," said Anna, a user on the Sauce app in a testimonial.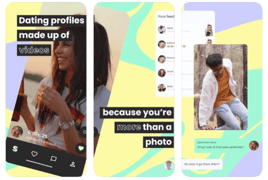 When she was swiping on other apps, Emma told us she experienced being kittenfished by a guy who was clearly 20 years older than his profile picture. She said she became fed up with the idea of dishonest people getting away with wasting people's time on dating apps. 
The Sauce team has taken steps to ensure that members feel safe on the app. Emma and her staff have interviewed hundreds of women who've been catfished before to see how the right technology can make a difference. They then came up with the idea of video profiles as a way to prevent catfishing or other forms of misrepresentation. 
"We're able to make the dating ecosystem safer for women with our inbuilt moderation software and ensure video profiles are more consistent with those who create them. Member verification is only one part of our safety strategy for women," said Emma. "It's scarily easy to fake a photo-only profile. We're helping to ensure women only go on dates with the people they're expecting to."
Creating Young Love Through Student Filter Mode
The idea of being too young for love can distract singles from dating seriously. Many young people expect to get a good education, find a great career, and travel the world. And although these are worthwhile life-starting acts, I like to think that there's always room for love — and that's why we have The Sauce. 
The Sauce encourages young people to find genuine relationships. Emma told us that most of the app's users are familiar with using social media such as Snapchat, Instagram, or TikTok. Approximately 80% of The Sauce's members are Gen Z singles ranging from 18 to 24 years old. Users are based everywhere around the world but are mostly located in the United Kingdom.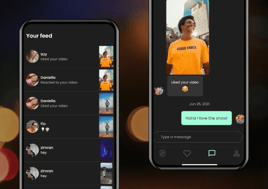 College singles who want to find a study buddy or a lover to run away with for spring break can do so by turning on the student filter mode. The student filter mode matches college students exclusively with other university students. This filter helps students record their shot without having to do it in ECO class or traveling to other colleges. 
Being able to use an online dating app with features similar to those of TikTok is a bonus. Users love The Sauce because of the profile video aspect of the app. It relates to their generation as they dedicate their lives to scrolling through TikTok videos. 
"I have had this for a week now and have to say I'm really liking it. The video format is super easy and I love the fact I can just upload my TikTox! It's nice to have a new decent dating app around," said a user in a review. 
The Sauce App: Making Dating Less Dry
The Sauce team believes that good profiles lead to great dates. And to make dating less dry, you have to go on more dates. The Sauce has the necessary tools to revive anyone's dating life, and it has created an exciting and safe space for people to share their authentic selves. 
"A bit hesitant about videos at first, as a bloke didn't think I had any. Asked a few of my mates and managed to get a decent profile together. My first sauce date is tomorrow – not bad for a week on the app!" said a user of The Sauce app in a testimonial. 

The Sauce strives to create a positive environment in the online world and in the real world. The team participates in a green initiative where a tree is planted for every match on the app. Through its partnership with On Hand, the team plants a variety of trees in tropical regions, including Madagascar, Mozambique, and Nicaragua. The Sauce not only sauces up relationships through this initiative, but supports and leaves its mark on the wildlife.
Emma told us that members can expect future upgrades on the app to help improve the user experience. The team is currently working on building new features like music and in-app video editing. The primary goal of The Sauce is to create a dating experience that mimics real life. Members praise the team for giving them the chance to show how funny, cool, and charismatic they are through video and without the pressure of uploading profile pictures. 
"I come across way better in real life, video helps that," said a user of The Sauce app in a testimonial.