The Scoop: Growing old is such a beautiful process.You get to exhale as you reflect on the many experiences that have made you the person you are today. As a woman's body begins to enter its later stages, many changes such as menopause occur and that can impact an older couple's love life. It's a natural cycle of life that many couples avoid discussing and may lack a full understanding of what it means for their relationship. The online clinic Stella was created to help women in menopause manage their changing bodies and their partners to ensure that they both can thrive.
Even though menopause is a natural part of life, it can strain women's relationships. Women's relationship with their body, mental health, and even with their partner can shift due to the impact of menopause. Couples need to have a roadmap for this new stage in their relationship. The online clinic Stella is a helpful tool that provides specific guidelines for you and your partner to better understand the menopause process.
According to the Forbes list, 73% of women do not treat their menopause symptoms. That's more than half of the population in the world not receiving the proper treatment to aid their bodies. Stella helps alleviate those symptoms and provide clarity for people to better understand their bodies. The plans and treatments Stella offers are unique to all users. Every woman has a different experience when it pertains to menopause, and Stella caters to their specific needs. 

Stella assists couples in bridging the gap of the unknown in hopes of making the idea of growing older a little less intimidating. Menopause is one of those changes people don't like to discuss until it hits like a tsunami. It's not an easy process, especially because women don't know how long it will last or how severe the changes can be for some women and their partners.
As women mature the changes they experience can be overwhelming. Having a resource that can help them and their partners become aware of the change they're going through is a relationship cheat code. Don't go through your golden middle years in pain and confusion. Instead, you can use Stella to gain knowledge from certified medical experts.
Providing Better Healthcare for All Women
Created in 2021, Stella is an app dedicated to assisting couples who are experiencing a new stage of menopause. It's safe to say that our healthcare system can be very negligent to women's needs and the changes they go through in life. Stella's sole purpose is to help women conquer their health complications. 
This app not only makes women more knowledgeable of the changes they go through, their partners can also learn and become a support system. The first vital step couples can take together to better understand menopause is to take Stella's free assessment, which gauges the exact stage of menopause users are in and what treatment would be best for them.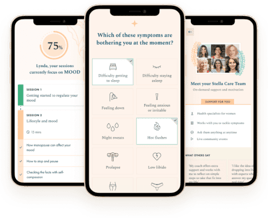 Information such as pain levels, sleep patterns, and stress levels provide specific guidelines for experts to use to help users understand their bodies, how to cope with the process, and how to be transparent with their partners. 
"Amazing service. It's helped me get back to feeling like me again!" said Isha, a Stella user in a testimonial on the homepage.
Women's healthcare has always been a serious issue. With the changes that women's bodies go through, it's clear that more resources are needed. There aren't many sources dedicated to women's health cycle in their older years, so it's a boon to have an app where the layout is there. The Stella team continues to pave the way for change and does so with smiles on their faces. 
How Menopause Impacts Intimacy in Relationships 
Couples need to understand that menopause will be a new process for both of them. It's not the common cold that will be there for several days and vanish. Thanks to Stella, no one has to settle for unanswered questions. Stella is known for going in-depth on topics  to help people better understand their results and what menopause is altogether.
Menopause symptoms include hot flashes, changes in monthly cycle, and impacts on fat cell distribution. Stella helps break down the symptoms for women to identify. On top of that, Stella provides women with a safe space to be vulnerable and transparent about their changing bodies — something that many find rare!
Another thing to consider is that menopause has an impact on many women's sex lives. Stella's marketing manager, Lara Crisp told us that hormonal shifts during menopause can cause all sorts of issues that can affect how sexy a woman can feel. Certain symptoms, such as weight gain and a loss of libido, can have an impact on a woman's confidence during sex.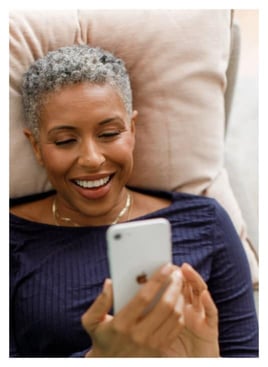 Partners need to get involved to help alleviate some of the challenges that come with the changes that affect a loved one. A new picture of your intimacy level you may not be prepared for will emerge. Menopause is known for causing a decrease in women's libido and causing pain during sexual intercourse. Being a supportive partner can make a world of difference in how the process is for them. 
"Partners should try and educate themselves on menopause. Read a few articles, and watch a few programs – quite a few of those around now! Then, they should listen," said Lara. "Menopause can be a really isolating experience so if anything it will deepen your relationship if partners make the time and effort to communicate."  
Stella also provides couples with advice on how to continue their intimacy on a new level. Menopause does not have to end your physical attraction and interaction with your partner. Lara advises couples to venture into new realms of sexual intimacy. This will give you both a new experience and give your partner a boost in her self-esteem.
Stella Offers Lifestyle Tips and Therapy Treatment 
Stella includes inexpensive helpful tips on how to alleviate the stress of menopause. For a three-month subscription, Stella includes an online appointment with certified physicians. Understanding your body and improving your overall health is a common goal that Stella shares. Stella recommends things like drinking less alcohol, exercising more, and exercise snacking for small bursts of movement to get where you want to be in menopause life.
A common treatment that Stella offers is Hormone Replacement Therapy (HRT). This is a process of taking medication that contains female hormones to replace the estrogen your body is not producing anymore because of menopause. Hormone Replacement Therapy has multiple myths and fears surrounding it, but Stella helps clients understand what the treatment will do and how it can be managed. It works differently for each person and side effects will range as well. 
Thanks to the Stella team, women don't have to worry about going down this road alone. Stella gives users a care team to support their process every step of the way. The team ranges from psychologists, gynecologists, nutrition experts, and general practitioners. 
Multiple challenges come with getting older, and as our bodies change, it's alright if we don't have all the answers. Stella is a woman's ally during menopause, and helps women relearn their bodies, get adjusted to their new stage in life, and help their partners learn how to be supportive through the journey.
"Menopause is your next phase of life and it's important to know that you do not need to struggle," said Lara. "Support and treatment are out there and it's really important for your long-term health, not to mention your sense of well-being to use the resources available and feel better! Your future self, not to mention your partner, will thank you."