The Scoop: Abortion access is becoming more restricted across the United States. For women in rural areas or from a low socioeconomic class, safe reproductive healthcare is even less attainable. Just the Pill is dedicated to providing safe and convenient abortions to American women. The nonprofit serves women through telehealth in Colorado, Montana, Wyoming, and Minnesota.
Accessing reproductive health care is becoming increasingly difficult for American women. After the Supreme Court ruling in Dobbs v. Jackson Women's Health Organization, many states have moved to restrict or entirely ban abortion. As I write this article, FiveThirtyEight has estimated that over 10,000 fewer abortions took place since the Dobbs ruling in the same period of time. While some might see this as a good thing, it is clear that women's decisions about their bodies are being restricted by a lack of legal and accessible care where they live.
Access to nearby legal care is vital for women in states that are restricting abortion rights and for women in rural communities that may not have an abortion clinic in town. These women need an affordable, safe, and supportive option so they can make choices about their bodies on their own terms.
Just the Pill is at the forefront of innovative abortion care. The mission-driven nonprofit focuses on providing abortion care to communities identified as healthcare deserts. The team provides telehealth-based medical abortions to pregnant women in Colorado, Montana, Wyoming, and Minnesota. Additionally, Just The Pill also operates a mobile clinic in Colorado where it serves patients who come from across the state and neighboring states for medication abortion care. The dedicated team's work makes abortions far more accessible for their patients in these states and their border states. In the near future, Just the Pill plans to open the first mobile surgical abortion clinic in Colorado.

"Abortion care is health care that everyone deserves access to, no matter their zip code," Dr. Julie Amaon, Medical Director at Just the Pill, told us. "The fall of Roe means the people who need health care the most  —  low-income, BIPOC, and rural patients  —  will be the least likely to have access. Our model lets us reduce costly and prohibitive patient barriers as we place our clinics on the borders of states with outright abortion bans or extreme and impossible restrictions."
Women who can no longer rely on their local healthcare providers and government to provide the care they need look to resources like Just the Pill for support. The organization's work keeps women safe, and ultimately, it gives them their choices back.
Pills for Rural Communities
Rural communities are often many miles away from a hospital, let alone an abortion clinic. That distance significantly strains the ability for pregnant women to get the care they need. They may have to drive hundreds of miles to get care, requiring time off work, overnight lodging, and gas money. In communities that largely restrict abortion, it may be more difficult for these women to keep their procedures private.
Wyoming and Montana, two of the four states covered by Just the Pill, have the first and second lowest population densities, respectively, in the continental United States. Driving to an abortion clinic would be incredibly difficult for many women in these states. 
The difficulties of accessing safe abortions in rural areas are exacerbated by poverty. The sacrifices necessary to get to an abortion clinic from a rural area can be impossible for women with little disposable income. Ironically, the same poverty that makes receiving an abortion difficult in the first place is often a reason women want an abortion. One study shows that women who want an abortion but are denied it struggle more financially afterward.
Just the Pill operates through telemedicine to address the difficulty of receiving care in rural areas. Patients can screen with a doctor online, from wherever they are in their state. They can then receive abortion pills by mail. With Just the Pill, abortion coverage is cheaper, more convenient, and more discreet. 
"Our model addresses obstacles in existing abortion service provision: travel or logistical issues, limited clinic options, financial issues, state restrictions, and clinic policies that are not patient-centered," Dr. Amaon said.
Providing Supportive Services to Safe Havens
With new restrictions on abortion in many states, Just the Pill needs to maximize its services in states that border those with strict abortion laws. The organization has centered much of its effort in Colorado, offering both telehealth and soon a mobile surgical abortion clinic in the state. Women from nearby states who can't legally access services at home are able to seek out Just the Pill in Colorado, where they can get safe care free of judgment.
"Once we learned about the Dobbs ruling, we knew we could make a difference by providing abortion care by a mobile clinic near states with abortion bans that went into place after Roe fell," Dr. Amaon said. "Colorado is considered a safe haven state for abortion access; according to the Guttmacher Institute, it is the nearest legal state for more than 1 million additional people post Roe."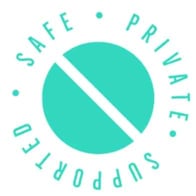 In addition to Colorado, Just the Pill is expanding into other safe states bordering those with severe restrictions. As more states crack down on abortion rights, these safe haven states will become even more vital for women trying to access reproductive care. 
"We are fundraising for our second fleet in Illinois and have plans to ultimately expand to Pennsylvania and New Mexico, where abortion is likely to remain legal that also borders states where abortion is restricted or banned," Dr. Amaon said. "Our mobile clinics will travel to parts of these states based on where the need is greatest. Our intention is to provide access to patients who are unable to access services in their state." 
As it currently stands, states with strict abortion bans cannot prosecute their residents for traveling to a state that permits abortion for the procedure. But with the constitutional right to interstate travel up for debate, this may not always stand true. Anyone concerned about their ability to legally travel out of state for an abortion should pay attention to their state laws and the related cases the Supreme Court chooses to hear. 
Get the Help You Need With Just the Pill
Finding out you're pregnant when you don't want a child can be devastating. You may feel like you have no options or adequate time and money to end your pregnancy. If you live in a state with strict restrictions on abortion access, your pain and panic is likely amplified. You may have no idea what to do.
Organizations like Just the Pill make it possible for women to make their own choices about their reproductive care without experiencing a significant burden to their expenses or forcing them to travel across the country. Just the Pill makes safe and accessible care possible for everyone, especially those who are the most vulnerable in the healthcare system. 
So far, Just the Pill has provided abortion care through telemedicine and its mobile clinic in Colorado. However, its programs are hampered by laws restricting abortion access via the mail. That's why the team is working on new solutions to help women access the health solutions they need.
"We see telehealth medication abortion as one tool to reduce barriers to abortion access, but in itself, it is not enough," Dr. Amaon said. "In 2023, we will operate the first mobile clinic for procedural abortion in the United States." Mobile abortion clinics have the potential to equalize abortion access, bringing both medical and surgical abortions to women across the country, no matter where they live. 
"Our model has the potential to revolutionize the way abortion care is provided in all clinics: we can make it excellent, compassionate, and durable," Dr. Amaon said.