The Scoop: Healthy sleep is a core tenant of overall personal health and can impact close relationships– for better or worse. Reverie, a sleep products company in the business for 20 years, wants to make great sleep happen for couples. The company is on the frontlines of the quickly developing sleep tech world and is home of the DreamCell™ mattress, one of the most personalized mattresses on the market. With highly customizable mattresses and adjustable bed frames, couples can find sleep solutions that fulfill all their specific needs.
I have always been a challenging person to share a bed with. I've been a sleeptalker and sleep-kicker since childhood (like I'm playing a game of soccer), and notoriously enjoy the middle of any bed. The ceiling fan must be on, I must only have one blanket, and there can absolutely be no top sheet. Coming up with bedtime solutions, like each person having their own blanket and the occasional pillow wall, has always been a part of my relationships.
Reverie, a mattress and adjustable base company, knows that sleep solutions are a necessary part of relationships.
Offering highly customizable mattresses and adjustable bed bases, Reverie has a bed that can meet the needs of even the pickiest sleeper. The company's catalog includes adjustable bases and mattress sleep systems that are specifically designed for couples who require very different things from their beds.
Lisa Tan, Chief Marketing Officer for Reverie, told us about the company's founding story, the importance of sleep, and how Reverie can help make dreamy sleep a reality. "We are in the business of helping people live better lives through the power of sleep," she said. "We see a lot of people trying to address sleep disruptors that strain their relationships, and our goal is to provide them with technology that gives both people better sleep without compromise."
Two Decades of Sleep Expertise
Breaking onto the scene in 2003, Reverie began with a mission to design a whole new kind of sleep. Martin Rawls-Meehan and Tony Chang, who were childhood friends in the Detroit area, saw an opportunity to start their business in 2003 after both had graduated from college. "Sleep isn't the sexiest industry," Lisa told us, "but they knew there was plenty of innovation to be done."
Martin and Tony saw an opportunity in the American market: adjustable bases for lifestyle purposes. "Adjustable bases had been used for lifestyle purposes in Europe for a while," Lisa said, "but only really used in the medical field in the U.S." Tony and Martin saw all the health benefits this sort of adjustability provides, and decided it was time to expand this technology to the U.S. market.
In its first 10 years of business, Reverie mostly made and sold sleep technology to other bedding companies. While it developed connections and a name in the sleep industry, the company continued to work on an advanced adjustable mattress base. In 2011, Reverie appeared on the consumer product scene with sleep systems, which paired adjustable bases and mattresses for a comprehensive sleep solution.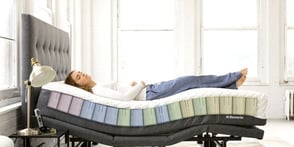 Still based out of Detroit, Reverie has maintained the authentic feel of a startup. Designers and engineers work with the CEO every day, constantly creating new ways to achieve the best night's sleep. Reverie utilizes a sleep advisory board of clinicians and researches to stay up to date with development in sleep science and health.
Today, Reverie offers mattresses in standard U.S. sizes, adjustable bases, upgrade packages, pillows, and sheets online and at select retailers. Reverie Sleep Specialists are available online and over the phone to help customers discern their needs and what products suit those needs. Couples whose sleep issues are beginning to invade daytime hours can find a solution that ensures a great night's rest for both parties.
Inventing a Great Night's Rest
Reverie recognizes the highly individualized needs of sleepers and how traditional mattresses and bases often ignore crucial aspects of healthy sleep. Spinal alignment, easy circulation, and airflow are leading concerns with mattresses, and Lisa helped us understand the consumer trends Reverie's technology came out of.
"Twenty-five or 30 years ago, the super basic coil metal springs mattresses were the primary products on the mattress market," she said. "Then came memory foam and a more intense focus on adjustability and personalization." Reverie's DreamCell technology was created out of dissatisfaction with both of these mattress styles, and the company saw vast opportunities for higher customization and comfort.
DreamCell mattresses are created with natural latex foam springs in place of the traditional metal coil springs. These springs have varying levels of firmness, from extra soft to firm, and can be arranged within the mattress to suit the needs of the sleeper. Reverie's hybrid collection combines foam springs and a hybrid memory foam-latex top to provide ultimate support and breathability. This kind of customizability was previously unheard of in mattresses and allows the mattress to develop with the needs of the sleeper over time.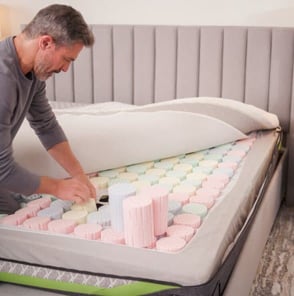 DreamCell mattresses come in the U.S. standard sizes of twin, twin XL, queen, king, and California king. King and California King sizes can be split, meaning two twins or twin XL mattresses next to each other on a conjoined but separately adjustable base. Lisa says this is an amazing solution for couples, giving each person the opportunity to have a fully customized mattress while still being able to sleep in the same bed as their partner.
Adjustable power bases complete DreamCell mattresses. These bed bases help alleviate snoring and acid reflux, improve circulation and spine alignment, and can even help with allergy or cold congestion. Lisa pointed out that head and foot elevation combos such as zero gravity provides a moment of restoration for people who work on their feet all day and eases lumbar pain.
Reverie's Sleep Specialists are available to help couples find the perfect mattress. Trained using a curriculum designed and approved by the Sleep Advisory Board, specialists consider the struggles and desires of an individual to match them with the perfect Reverie mattress and adjustable bed frame. Since sleep needs change over time, Reverie's product line and upgrade packages offer continued support to customers.
Never Go to Bed Angry Again With Reverie's Help
A bad night's sleep has far-reaching consequences, and if severe enough, can have a harmful impact on relationships. Contending with fatigue and irritability is a test for any couple, and Reverie wants to help eliminate conflict when it comes to bedtime. Beyond avoiding conflict, restful sleep is an important aspect of overall health and longevity.
Lisa said young people don't always recognize it, but sleeping habits can have long-term effects on health. "Our bodies are unique, and just like food and wellness choices should be personalized, so should sleep choices," Lisa told us. "Purposefully or not, we often undermine our sleep choices, making choices based on a five-minute in-store comfort test or budget alone."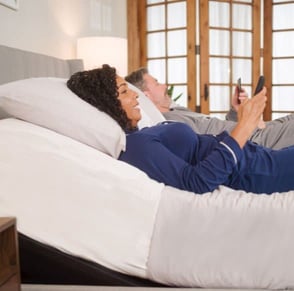 Reverie helps consumers make informed decisions by offering potential customers free consultations with its Sleep Specialists. These consultations pinpoint what a customer needs, including firmness level, amount of adjustability, and temperature control, among other details, and provide a personalized sleep profile at the end of the consultation. Sleep Specialists can help couples with varying sleep needs find the perfect solutions for both of them, meaning no more meeting in the middle for a mediocre night's sleep.
Reverie's mattresses and bed frames are designed for easy use with a paired app, which allows couples to set predetermined bedtimes and frame positions. Reverie's collection of products can help couples facing any variety of sleep problems from allergies to back pain to finally squashing the age-old snoring problem. 
While not often thought of as a leading issue in relationships, differences in sleep preferences and habits can cause discord in relationships. With 'sleep divorces' on the rise, Reverie wants to give couples who are considering sleeping apart due to sleep struggles a choice. "If sleeping separately works best, that's fine," Lisa said, "but we want to provide couples who are struggling with sleep the choice. Sleeping in separate beds or separate rooms is not the only solution to sleep problems."