The Scoop: The Georgia outdoors offer beautiful scenery that can make an excellent backdrop for a date. The Georgia Department of Natural Resources (GADNR) has a lot of expertise in this area and recommends some adventurous date ideas that are sure to make your partner swoon. People of all stripes can enjoy checking out these Georgia state parks on their next date.
Whether it's the first day of spring or a snowy winter afternoon, getting outside can be a wonderful way to bond with that special someone in your life. Research shows that spending time outside can strengthen family bonds, and the same is true for relationships as well. Being in nature improves your mood, decreases your stress levels, and helps you develop a strong sense of gratitude for the world around you.
Some outdoorsy folks say they can better concentrate and gain clarity by being in nature. Such an outing creates the perfect circumstances to deepen your relationship with your partner.
The state of Georgia offers residents and visitors a vast array of state and national park lands to explore. Georgians can check out the varied natural offerings of the North Georgia Mountains, the Piedmont region, the Coastal Plains, and the Georgia Coast to discover the parts of Georgia's gorgeous scenery that appeals to them and their partners. As a former Georgia resident myself, I know how stunning the state's natural attractions can be, just minutes away from city centers. The Peach Tree State is the place to be for couples who are ready to get outside.
We spoke to Kim Hatcher, Public Affairs Coordinator at the Georgia Department of Natural Resources (GADNR), about her suggestions for fun and interesting dates on Georgia public lands. While there are plenty of ways to get creative with outdoor activities in Georgia, GADNR has some helpful insights about where a Georgia resident can begin exploring the peach state with a partner. 
No matter the season, the weather, or the region, Georgia offers some of the best natural scenery and activities in the United States. Here are some ideas for checking out the sights at a Georgia state park on your next date!
Go on a Hike With a Guide or On Your Own
It's no secret that Georgia is a fantastic place to hike and backpack. Experienced hikers come to Georgia year-round to reach the southern terminus of the Appalachian Trail at Springer Mountain or explore the various trails and paths of the North Georgia Mountains. 
But casual hikers can find plenty of accessible trails and hikes in Georgia's state parks. Couples who would like a bit more guidance on their hike should check out the ranger-led hikes out of Panola Mountain State Park. The crown jewel of the Arabia Mountain National Heritage Area, Panola Mountain is known for its unusual natural beauty and cultural changes. Hikers will learn about the unique flora and fauna of the area while looking out onto Atlanta's Skyline at the top. Sign up online for a guided hike!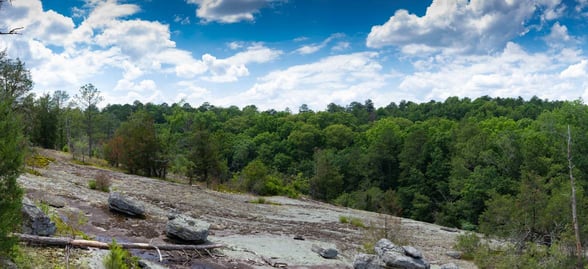 If you'd rather go it alone with your partner instead, consider checking out the hike to Heart Stone atop Fort Mountain. At the firehouse on top of the mountain, you'll find a heart-shaped stone that a Civilian Conservation Corps stonemason placed there in the 1930s when he was missing his sweetheart. If you want a romantic hike with your partner, it's the perfect place to go. You can visit Fort Mountain by a scenic drive on Highway 52 near the Cohutta Wilderness. Pack a lunch, roll the windows down, and get ready for a picture-perfect day trip you won't forget.
Take an Archery Class
Hiking isn't for everyone. Some people enjoy doing activities and learning new skills on their dates. If that sounds like you, consider taking an archery class. It may sound intimidating, but learning how to shoot a bow-and-arrow can feel really empowering.
Archery can be an incredibly fun sport or even a way to get into hunting down the line. A Georgia state park is one of the most picturesque places you could learn to shoot, enjoying the breathtaking views around you while you master a new skill.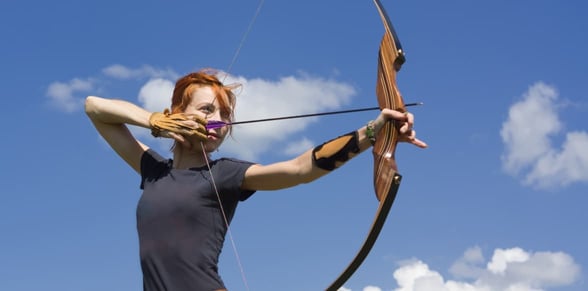 You don't need any experience to take an archery class at a state park — beginner classes really are for beginners. You can find affordable classes at state parks all across Georgia, including Hard Labor Creek, Mistletoe, Crooked River, Panola Mountain, and A.H. Stephens. Classes are very reasonably priced, at $15 per person at the time of this article. 
Research shows the benefit of learning a new skill with your partner to strengthen your relationship. Couples who learn new things together experience increased satisfaction and attraction in their relationship. Participating in archery with your partner is fun in and of itself, but it can also help you deepen your bond as you learn a skill together.
Pack a Picnic
Going on a picnic date is a sweet way to spend time with your partner outside. You can show how much you care about them by packing their favorite foods and drinks, setting up a fun seating arrangement, and planning the perfect picnic for your partner.
Picnics are easy on a budget, but they often feel more significant and thoughtful than going out for an expensive dinner. Great dates are all about the effort you put in, not the price tag.
Kim recommends taking your date on a picnic near the Watson Mill Bridge. The bridge is Georgia's longest covered bridge still in use, and its nearby park is especially serene. In addition to beautiful spots for picnicking, you can find lovely trails for hiking, biking, and horseback riding. The state park campsites are perfect for couples looking to make a weekend out of it.
Located just outside of Athens, Georgia, Watson Mill Bridge State Park is a great spot for UGA students or Atlanta residents looking for a day trip out of the city.
Georgia's State Parks Offer Many Romantic Adventures
There's always something fun to do outside in one of Georgia's state parks. When I lived in Atlanta, one of my favorite places to take friends (and my partner) was the Bamboo Forest in Sandy Springs. Located alongside the Chattahoochee River, this hidden Atlanta metro classic is absolutely breathtaking. You'll need to hike out to the bamboo, so make sure to give yourself enough time to get there.
While the parks of central and northern Georgia are incredible, GADNR gave us some great tips for folks looking to explore coastal Georgia as well. If you want to branch out into a more tropical climate, head to Savannah. The live oaks are absolutely breathtaking. In Savannah, you can drive the iconic mile-long Live Oak Avenue to Georgia's oldest tabby ruins. You'll reach Wormsloe State Historic Site where you can check out a colonial history museum and trails through a salt marsh.
This trip gives you beautiful nature and important cultural history all in one. When I first visited Savannah, I was awestruck. It's an experience you need to share with your partner.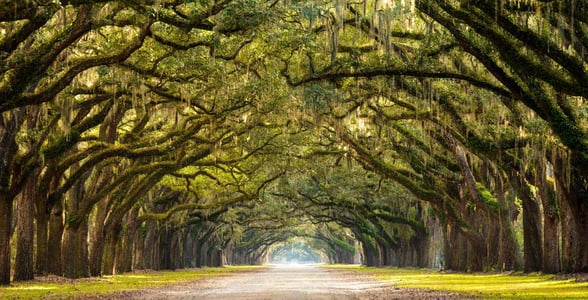 Anyone from Georgia can tell you how wonderful the state is, culturally and physically. But much of the state's beauty is unknown to many of its residents. At times, knowing what to explore in a place so rich in wildlife and natural scenery can be hard.
That's why the Georgia Department of Natural Resources (GADNR) is so dedicated to helping Georgia residents get outside and become familiar with the beautiful state lands in the state they call home. With a few quality park recommendations, you can give yourself and your date a fantastic time in a Georgia state park.