The Scoop: Creating a high-quality profile is essential for singles starting to online date. Singles need to represent themselves as attractive and approachable to succeed. Stylist and dating coach Alyssa Dineen is there to help them make a good first impression, while staying true to themselves. With her NYC-based service Style My Profile, Alyssa teaches singles how to create the best dating profiles and present themselves well in the dating world.
When Alyssa Dineen divorced at 41, she quickly realized that the dating scene was very different from the one she had known before she was married. Instead of exchanging numbers at a coffee shop or being set up by friends, singles primarily met online through dating apps. After setting up a profile for herself, she knew she needed to improve her digital appearance if she was going to meet someone worth her time.
"After figuring out which photos worked and which didn't, tweaking my bios, so they were engaging and unique, and then eventually meeting my soul mate online, I learned a lot along the way," Alyssa said. "That experience, coupled with my art directing and styling background, made me realize I could help other people avoid the learning curve and get right to the dating and meeting quality matches." 
So instead of leaving the dating scene entirely with her new, happy relationship, Alyssa decided to start a company using her skills and knowledge to help other singles find love in online dating. And Style My Profile was born.

As an expert personal stylist and dating coach, Alyssa knows how to help her clients present the best versions of themselves in person and online. She has created Style My Profile to be a one-stop shop for singles looking for guidance with their wardrobe, approach to dating, and of course, online profiles. Alyssa helps her clients through the process of creating a high-quality dating presence. 
Alyssa's personal and professional experience allows her to empathize with her clients and bring an expert eye to their dating presentations. According to Steve, a client of Alyssa's: "I didn't really have pictures that accurately reflected my personality. I was lacking any type of focus approach/strategy for my profile. From the very first conversation with Alyssa, she instilled in me a confidence that she understood my challenges. I'm seeing a much different (significantly improved!) mix of people in my 'match' queue and I'm honestly having a hard time keeping up which is, of course, a great 'problem' to have."
With Alyssa's help, many singles find that they have far more success in online dating than ever before.
An Objective Eye
Getting a second opinion on your profile is crucial when you start online dating. "We are not our most objective critics," Alyssa said. "We might think a certain top looks great on us; our friends might (kindly) beg to differ. We might think a certain anecdote represents us well; our friends might know that's not how our personality comes off to others. A dating coach might know a topic is overused in bios and will have ideas for how to write something catchy and unique."
Singles reentering the dating scene do not know the types of photos that online daters before them have used. They may not realize that some photo displays have been overdone or perform poorly with potential matches. A dating coach knows the trends of dating profiles and thus knows how to help their clients stand out and avoid simple mistakes. "Regarding bios, the biggest mistake I see people make (aside from not having a bio at all!) is being negative," Alyssa said. "Saying things like, 'If you're this type of person, move on!' or 'Never thought I'd wind up on dating apps, but I guess here I am.'" A person who is sarcastic or too direct may unknowingly write a negative bio, not realizing how poorly their humor will translate online.
Before putting their online profiles out there, Alyssa recommends that singles consult a dating coach, show the profile to their friends, or ideally, both. Your friends and family know you well enough to grasp whether your profile accurately describes you, while your coach can help you tailor your profile to find the right type of person for you. 
Additionally, working with a coach has the added benefit of objectivity. Your friends may have a better sense than you do of how your profile appears to others, but they still view it through the rose-colored glasses of your friendship. A dating coach will work through your profile with kindness, but they also have a more accurate idea of what your profile will look like to a stranger. They have a better sense than your friends do of what your online presence might say to someone who doesn't know you yet .
Profile Help on Every Timeline
Alyssa and her team at Style My Profile understand that singles have different budgets and timelines for getting their dating profiles up and running. They may also have various issues they must work on as they enter the dating scene. Some people may be willing to devote hours to preparing for dating, while others have little free time. Some singles may need help with their personal style, while others struggle to feel comfortable on dates.
Singles can find a wide variety of help options through Style My Profile. Singles who want quick help on their profile should check out Profile in an Hour. "Profile in an Hour is our most popular offering," Alyssa told us. "You get exclusive access to our library of proven materials and resources to DIY a winning profile that's inviting, attractive, and authentic. This is your step-by-step guide if you want to have a swipe-right profile ASAP."
Alyssa suggests that singles who want more substantial dating help look into her Mindful Dating 101 program. "Mindful Dating 101 is created specifically for individuals who are frustrated, overwhelmed, or just plain done with trying to find that special someone through online dating," she told us. "With 12 modules, complete with instructional videos, in-depth examples, and inspirational stories, Mindful Dating 101 is the only course that empowers you with the know-how, resources, and encouragement that men and women are using to get dates they actually want to go on."
Singles needing more personalized help can reach out to Alyssa for personal style and date coaching. No matter your dating goals, Alyssa can help you achieve them.
Put Your Best Swipe Forward With Style My Profile 
Online dating can be intimidating, especially when you're newly single or divorced. Luckily for singles, Alyssa Dineen has plenty of tips for optimizing dating profiles to get the best matches. 
For example, many singles struggle with selecting the photos for their dating profiles. They may be unsure what type of photo to show, how to appear the most attractive, or even how many photos to include in their profile. When it comes to the pictures on your dating profile, Alyssa believes it's worth some extra effort and thought.
"The photo checklist I recommend for your profile is at least one clear, smiling, shoulders-up shot (this should be your first photo!), a full body shot, a photo with others (but only one to two others, so you don't get lost), and a photo doing something you love," Alyssa told us. "Make sure you're smiling and not blocking your face with sunglasses or large hats, and that all your photos are well-lit and crystal clear."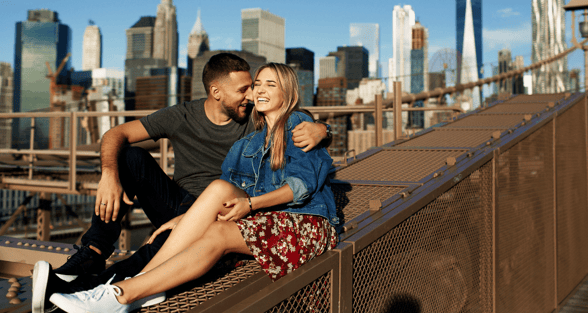 Some people may be tempted only to post one or two photos and leave it at that. But Alyssa thinks this is the wrong move. "No matter what, make sure to have at least six photos — anything less than that will look like you're not putting effort into your profile, which translates to not putting effort into your dating life," Alyssa said. 
Working with Style My Profile is a great way to ensure that your profile and outward presentation are the best they can be as you start dating.
In the end, Alyssa said she believes that being a kind and thoughtful person is the way to romantic success. "If you're friendly, polite, and warm, people will want to spend time with you — it's as easy as that," she said.