The Scoop: In 2015, a Muslim dating app called muzmatch (now it's known as muzz) took the UK dating scene by storm. The Muslim singles community jumped at the chance to mingle with one another online and form long-term relationships with someone who shared their faith and values. Today, muzz has over 8 million registered users worldwide. Under the leadership of Founder and CEO Shahzad Younas, the development team has translated the app into many languages to work for a global user-base, and created exciting updates and events to help users find love and marriage.
Islam is the religion of over 1.6 billion followers around the world making it the second-largest faith after Christianity. You may think most of these people live in the Middle East, but you'd be wrong. According to the Pew Research Center, 62% of the Muslim population (or more than 986 million people) live in the Asia-Pacific region.
The Muslim community is widespread and growing larger every day. That is a huge opportunity for Muslim dating apps like muzz, which launched in the UK in 2015 and has since expanded its reach around the globe.
"With 400M single Muslims around the world, we have a global opportunity," said Ryan Brodie, the Founder and CTO of muzz. "Despite this, for three whole years muzz was only available in English. In June 2018, we embarked on going truly global." Since then, the company has continued to grow, counting over eight million users as of 2023.
The muzz team intends to continue that success by making the app available in as many different languages as its users speak. It's a big goal, but the team is determined to create a dating product that reflects its users' diversity in culture, faith, and language.
"We respect the traditions of the faith," said Ryan, "and use cutting-edge technology to help our users find their life partners in the way they want to."
Modifications Have Made the App Language Agnostic
Altogether, muzz has members in over 190 countries, and its global network grows bigger every day. Singles in the US, Morocco, and even Uganda have used the app to find love. A majority of muzz users reside in the UK (the Founders live there, too).
While it has had great success in the UK, muzz is also ready to come into its own on the global stage. To date, muzz is available in English, Arabic, Dutch, French, German, Hindi, Indonesian, Malay, Persian, Spanish, Turkish, Urdu, and more
By continually adding languages, muzz has become more accessible and useful to Muslim singles across the globe. Even while muzz diversifies its languages on the frontend, the development team has streamlined its programming languages on the backend so that it is now 100% language agnostic. Because of these improvements, the team will be able to quickly and efficiently adapt its code to fit the app's needs.
This Muslim dating app is all about responsible growth. Its trademarked Selfie Verification process ensures new sign-ups are the real deal. Team members verify the identify of new users through a selfie, SMS confirmation, and GPS-location checks. Their logic is that they'd rather have half a million authenticated members than a million fake profiles.
Another unique, values-driven feature on muzz is the ability to add a Chaperone to an account. Chaperones can monitor another user's behavior and conversations, which is often important to more traditionalist Muslim singles and parents.
The In-House Team Strives for Overall Excellence
As a company, muzz makes an effort to do as much work as possible in-house. Ryan told us he doesn't want to rely on third parties to get stuff done, so he employs product development and engineering teams that work together under the same roof.
The muzz team is always looking for ways to make the online dating experience more efficient and productive for its users. Sometimes that means tweaking their own internal processes, and other times that means calling on members for input and support.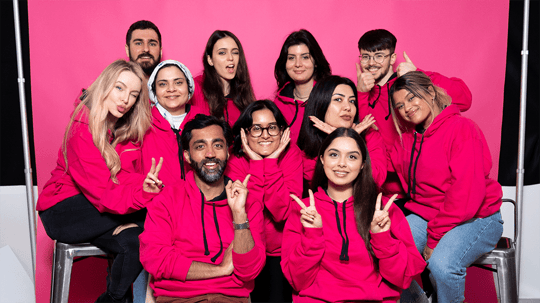 In 2018, muzz issued a clarion call to its members — they wanted to translate the app into as many languages as possible, and they needed significant manpower to do it. Fortunately, the app's members were more than up to the task. Many members sent in translations and offered guidance based on their experiences as dating app users and native speakers of various languages.
"The resulting translations were 20% the cost of an agency," Ryan said, "but had far superior quality thanks to the unique understanding of our product that our users have."
Empowering Users & Following Their Lead
Some dating apps assume they know what users want, need, and feel, and then launch features based on those assumptions. They'll think, "Users aren't engaged with one another, so we'll add video or voice recordings, and that will help them connect." The leaders at muzz don't assume they know what their users want — they rely on their users to tell them that.
The muzz team bases its improvements and innovations on user feedback because they want to grow the app in a way that is helpful and compatible to their user base.
"The developers are doing what they can to build and add on features to help." — Javeer Miah, a muzz user
Getting feedback from muzz users is so important that the team has created multiple avenues for everyday singles to get in touch. All users have to do is shake their smartphone while the app is open to report a bug or an issue with a member. Members can use this fast and easy feedback mechanism from anywhere in the app. The team takes time to understand the issues facing users so they can start working to fix them.
"It's a great app that allows you to meet others for the purpose of marriage." — Zkir Ali, a muzz user
"Users can even include a screenshot in their bug report which has proven invaluable when tackling translation issues," Ryan said. "We built a brand new mechanism for users to report feedback as we knew it'd be crucial to the app's success."
The team has created a community feel by asking users to invest in the app and provide their honest opinions, criticisms, and even translations.
"We're pleased to see this further our community's involvement in our product," Ryan said. "Our biggest learning from the launch was relying on the user's phone to determine the language of the app wasn't the right way to go."
muzz Has Helped Thousands of Singles Find Love
Since its launch in 2015, muzz has worked hard to meet the needs of Muslim singles in the UK and around the world. The dating app's story is one of rapid growth and global success, thanks largely to the team's willingness to listen to user feedback and adapt its processes to be more helpful and effective.
Though muzz serves a niche audience, its members live all across the globe and speak many languages, and that presents the team with both a challenge and an opportunity. In the coming months, muzz users can expect the app to add more languages, more users, and more features so that any Muslim single anywhere in the world can use the app to find a relationship and, eventually, marriage.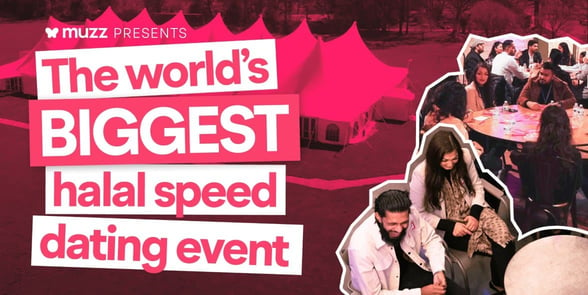 "We're proud to be solving for a community that has been entirely overlooked by the industry," Ryan said. "With unique features like photo privacy, chaperone support, and an entirely Selfie Verified community, we're thrilled to have helped over 15,000 people find their partner."
In April 2023, muzz will offer its users yet another opportunity to find love: the world's largest in-person speed dating event. The London event will include over 1000 Muslim singles from around the world ready to find their spouses. Interested singles can sign up here.
"As the world's leading muslim dating app we are always trying to break boundaries and give our members the best experience," Sofie Ahmed, PR Manager for muzz, told our team.