The Scoop: Lovewick is an app for couples to learn about each other, reconnect, and prioritize time for their relationship. Founder Ali Maggioncalda was inspired by her educational background and experience with dating and relationships to create a resource that couples can use to keep their relationship thriving. The app features thousands of prompts that open the door for better communication, along with date night ideas, wish lists, and shared journals.
There are hundreds of apps dedicated to helping people find relationships. But how many are there dedicated to helping people keep them? Relationships can be challenging no matter how much a couple loves each other, so relationship-strengthening resources remain crucial to keeping couples on the same page.
The strongest relationships are born out of a commitment to tackle challenges as a team whenever and wherever they may arise. Many long-term partners attest to the same struggles – keeping open lines of communication, dealing with the routine monotony that can come with a long-term relationship, and contending with shifting values and goals.
Whatever struggles a couple faces, tools are available to help them overcome these challenges and rediscover all the magic that attracted them to each other in the first place. Besides counseling and other types of professional support, couples can benefit from simple and easy-to-implement routines that set aside time each day to reconnect with each other.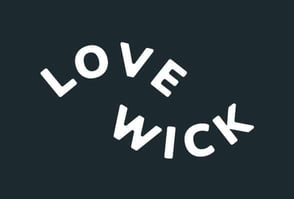 Lovewick makes this daily reconnection easier than ever. Lovewick is the all-in-one app for couples that includes thousands of bond-building prompts, date night ideas, relationship reminders, and couples wishlists, among other tools, to help couples build stronger, more communicative relationships. The app serves as a hub for couples to check in and take each other into account, especially in the little ways.
Ali Maggioncalda founded Lovewick to bridge the gap between dating apps and couples therapy, after observing there were few resources of the like for couples. She comes from a diverse background in human biology and service design and taps into this background to create a user-friendly app experience that yields tangible results. "I think it's really bizarre that we have dozens of apps to help us find a date and then virtually nothing to help us actually cultivate and sustain a relationship," Ali said.
Healthy Habits Made Simple
Ali earned a BA in human biology from Stanford, and during her time there, she met and fell in love with her college sweetheart. They were together for a couple of years and eventually reached an impasse in their relationship. Both were pursuing graduate school and had to consider the right move for their relationship.
Ali's therapist presented her with questions she could ask her then-boyfriend to decide whether the relationship, as lovely as it was, was prepared for the long haul. After many discussions about the big stuff – marriage, children, religion – Ali and her boyfriend decided to amicably call it quits. Despite being best friends and very much in love, they realized their relationship wasn't the best thing for either of them anymore.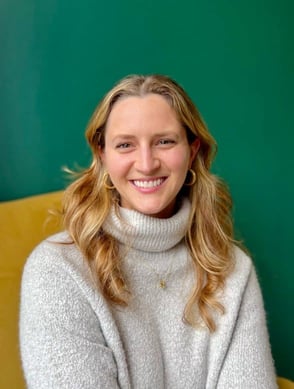 Shortly after, Ali moved to London to pursue her graduate studies at the Royal College of Art. Newly single and halfway across the world, she started experimenting with dating apps. She went on over one hundred first dates and went on the roller coaster of emotions that comes with dating as a 20-something.
When choosing a topic for her dissertation, she was interested in exploring the complicated world of dating and relationships. Leaning on her background in human biology, Ali focused her dissertation work on the future of love tech and design.
"I looked at dating apps, virtual reality porn, sex robots, all that stuff," Ali said. "My biggest takeaway was that we are headed in a Black Mirror direction if we continue to outsource our intimate needs to technology instead of using technology to become closer in our human-human relationships."
With that, Ali began developing Lovewick. She took a data-driven approach that focused on specific habits couples can cultivate that then lead to higher relationship satisfaction. She focused on the triangular theory of love, which says that, if someone feels understood, they feel important, and if they feel passion and excitement, they feel love. "As a designer, it was really fun to think about how an app could make people feel understood, feel important, and feel passionate," she told us.
Lovewick was launched in 2020 and has been 100% free and without paywalls since its conception. The app is in-tune with the characteristics of modern relationships and was built to consider intercultural, interfaith, long-distance, and LGBTQ+ relationships. The app boasts over 350,000 registered users.
1,000s of Relationship-Strengthening Questions
Inspired by her experience of asking her partner questions to learn about their relationship and its direction, Ali made one of the main features of Lovewick the Discovery Cards. Discovery Cards offer thousands of prompts couples can ask and discuss together. Research has shown that couples who regularly open up to each other about their feelings, beliefs, and fantasies tend to stay together longer and have higher relationship satisfaction.
There are six categories of Discovery Cards that couples can explore. These include affection and sex, beliefs and values, family and home, interests and hobbies, personality and habits, and work and money. These categories allow couples to keep the conversation focused and dedicate time to the more sensitive topics. Couples can play the game together or, if long-distance, share their answer in the shared notes section.
Lovewick also has Discovery Card collections, which bring together the most important questions for specific occasions, like meeting the family for the first time or going long distance. These questions can make difficult conversations a little easier and guide couples on where to start the discussion. All questions are designed to ignite productive conversations and have been co-designed and reviewed by licensed therapists.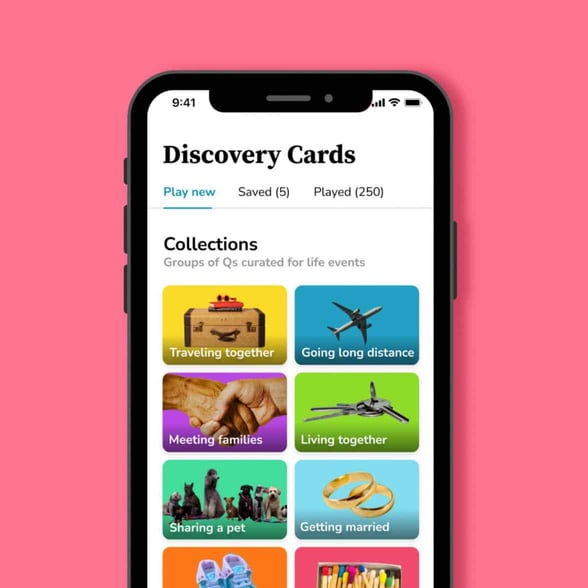 Beyond Discovery Cards, Lovewick offers hundreds of romantic date ideas. There are ideas for every budget, mood, and location, making romantic gestures accessible. Couples can browse and save date ideas, so when it's time for a date night, they have a whole library of inspiration. Wishlists is another Lovewick feature that helps users store their favorite date ideas and refer to the list anytime.
It's not unusual for couples, especially those who have been partnered for a while, to experience monotony in the bedroom. Sex and intimacy are foundational aspects of a healthy relationship, and Lovewick's library of resources can help couples spice up their sex lives. These resources include tips from licensed sex therapists and along with suggestions from other Lovewick users, like playing a game of Battlestrip (sexy Battleship) and taking a kink quiz as a couple.
One of the best things about Lovewick is that the collection of Discovery Cards and date night ideas is continuously being updated and improved. Ali told us that her highest priorities while developing Lovewick were user-friendliness and ensuring the app is compatible with extended use. Couples don't have to worry about reaching the end of the app's resources, as they are constantly growing and changing.
Forget-Me-Nots, Wish Lists, and Scrapbooks
It never feels good to have a partner forget something important, whether as small as a coffee order or as big as an anniversary. Lovewick's Relationship Reminders gives couples a place to store all the information that shouldn't be forgotten, called forget-me-nots, in the app. Couples can input their own information about their favorite things, including food, stores, and colors, along with details about clothing and shoe size to make gift-giving all the easier.
Couples can also note their partner's forget-me-nots, and each piece of information they add can be set to be accessible to just them or their partner as well. It can be embarrassing for some people when they struggle to remember things they feel they should be able to remember without having to write them down. Besides being an invaluable resource to have at hand come time for birthdays and anniversaries, the feature also helps couples be attentive and remember the little details.
Reflection and gratitude are two habits that cultivate healthy relationships, and Lovewick's Relationship Tracking feature makes these habits all the simpler. Couples can use the Relationship Tracking feature to celebrate everything they have done together and all the upcoming things to look forward to. Couples can add the big memories, like milestone anniversaries or moving in together, along with the smaller victories, like recording the recipe for a delicious meal they prepared together.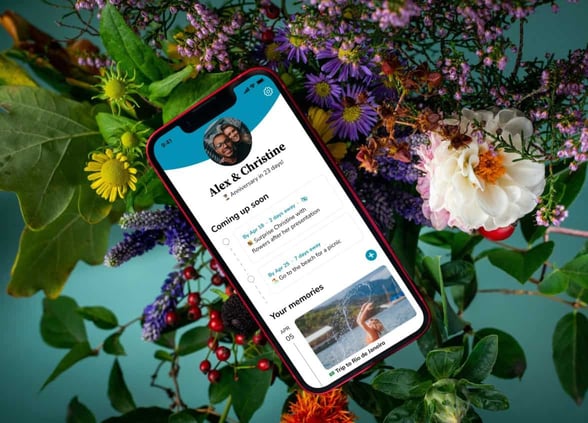 The Relationship Tracker is like a relationship highlight reel. Making an entry can remind a person how much they appreciate and value their partner, while looking back on the tracker can help them reflect on their strengths in the relationship and where they may need some work. 
When all of Lovewick's many features are combined, they present a comprehensive resource that can help couples at any stage of their relationship. Each feature encourages authenticity, communication, and reflection and was designed to make couples feel empowered in and optimistic about their relationships.
Ali told us about some feedback she's received from Lovewick users. One couple told her that, because they both have ADHD, remembering important dates or date night ideas can be challenging and Lovewick has come to the rescue many times. Another said they had tried many do-it-yourself relationship savers, but nothing worked quite how Lovewick did. "I didn't want Lovewick to feel cold or clinical like couples were in relationship boot camp," Ali said. "It was designed to feel easy so that these habits can continue for years."