The Scoop: Looking for the best international dating site? Then look no further than Dream-Singles.com. For the last 20 years, Dream Singles has distinguished itself as a safe and reliable international dating service for Western men seeking love on foreign shores. The site connects Western men with beautiful Russian and Ukrainian women, providing verification tools, instant messaging, and hands-on guidance to turn an online romance into something real. Marriage-minded singles have trusted Dream Singles with their hearts and found contentment in the arms of a dream date.
Western culture is full of popular sayings about love and all its mysteries, joys, and nuances. You've probably heard people say that love is blind, that love is patient, and that love is a many-splendored thing. These sayings may be cheesy, and even overused, but they're also undeniably true for a lot of loving couples out there.
It's the same with the phrase love has no borders. So many people have plastered those words on T-shirts, protest signs, and Facebook posts that it's easy to dismiss it as just another clichéd saying. But it's actually a philosophy that changes lives.
An international dating site called Dream-Singles.com put that saying into action and created a virtual place where singles from all over the world can meet, chat, and fall in love. The dating service appeals particularly to Western men and Eastern European women and has inspired many cross-cultural relationships and marriages over the last 20 years.
Dream Singles was built on the idea that love has no boundaries, and that physical distance shouldn't be a barrier to emotional intimacy and romantic relationships.
Thanks to Dream Singles, people from different backgrounds and countries can come together and bond over the deeper similarities that make a marriage work.
"Dream Singles strives to provide a safe and secure platform for men and women to connect from across the world," said a representative of the site.
International dating sites can get a bad rep for having more fake profiles than real dates, but Dream-Singles.com strives to put authenticity and transparency at the forefront.
According to the team, "We aim to be the leading service provider in the dating industry, known for our legitimacy, the beautiful women in our database, and the impressive technology connecting our clients."
A Convenient & Safe Online Dating Experience
It takes less than five minutes to sign up to Dream Singles and get a dating profile up and running. The signup process starts with some basic information (gender, email, birthday, and country), and then it gets down to the nitty-gritty (height, weight, occupation, marital status, religion, and more).
As singles set up their profiles, they can choose to specify the age range of their dream partners, and they can also put in their own words what their ideal relationship looks like.
Dream Singles offers an abundance of search filters and messaging tools to help singles get the lay of the land. There's also a Live Video Chat feature that allows full members to schedule virtual dates using their personal webcams. This is a fun and flirtatious way to make sure the person you're chatting with is the real deal.
"Our services are designed to provide a virtual dating environment that is convenient and ultra-personal," according to the Dream Singles representative. "This enables our members to develop lasting relationships, or if preferred, to just engage in friendly encounters with one another."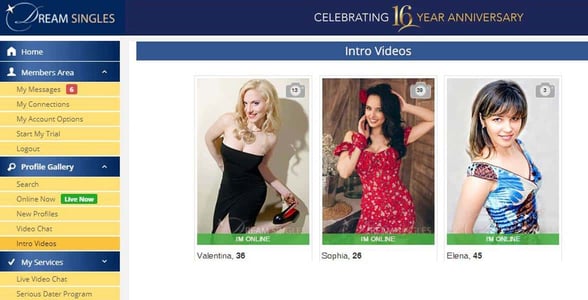 Dream Singles verifies all users and facilitates live chats via email and video.Dream Singles goes to great lengths to build trust between its members. The site verifies the identities of new members, and singles can see a Confirmed Profile badge on all vetted profiles. The Dream Singles team prides itself on providing a safe and secure platform where marriage-minded singles can chat with authentic love interests.
Many international dating services can get a bad rap for supporting scammers, fakes, and con artists, but Dream-Singles.com has made a point to operate with integrity and transparency.
The website's Anti-Scam Protection Policy can keep the unsavory characters at bay and invite real singles to get to know one another.
"Dream Singles is a great option for those looking for something new," the team told us. "We offer an international dating service that is unmatched with women from Slavic countries who are sure to entice our male users."
The Culturally Diverse Team Reaches a Global Audience
People from all over the world have used Dream Singles to expand their romantic horizons and find love abroad. The typical male user is over 30 and interested in settling down. He respects the traditional mindset of Slavic women and pursues dates who share his sensibilities.
The Dream Singles team is just as worldly as its membership base. The team members represent all different cultures and races, and they bring a variety of talents together to make the international dating site the best it can be. It's a fun and engaging work environment that's all about creating more love in the world.
As a Dream Singles team member said, "Many brilliant minds come together and provide unique perspectives with the united mission of helping people connect and find loving relationships from anywhere in the world."
Integrity, innovation, and unparalleled service are the three pillars of the Dream Singles business model. The site has thrived because it gives singles what they want and makes it much easier to get in touch with a dream man or woman.
Over the last 20 years, the site has raised the bar for international dating services and given singles the chance to follow their hearts online and offline. Its success stories and testimonials can speak to the impact it can have on everyday people's lives.
"David and I found each other on Dream Singles just a couple of months ago, but very soon we both realized that this meeting is the very beginning of a long way that we can go together!" said Inna, who lives in Ukraine. 
Inna said that David flew 7,000 miles just to spend a few days in her hometown. "I don't believe in fate and destiny, but when I see my David's smile, I believe that our way to true happiness for two has begun here," Inna said. "Many thanks to Dream Singles for this opportunity to connect two parts of the world and two hearts into one love story." 
Looking to the future, Dream Singles continues sparking values-driven matches and facilitating long-term relationships between people all over the world.
"It provides the utmost gratification that our website gives many men and women the chance to meet each other from different sides of the world and create many years of successful love and partnership," the spokesperson said. "Our 20 years of business have been filled with success and we look forward to many more years of turning dreams into reality."
Dream Singles: Where Love Has No Boundaries
Dream Singles has used the power of the internet to help singles overcome arbitrary borders and find a great love in another country. The international dating service can help Western men woo Eastern European women without ever leaving home. That's an exciting prospect for singles who are frustrated by the date prospects in their own backyards.
Whether they're looking for an online flirtation or an offline relationship, Dream Singles can introduce singles to authentic, beautiful, and charming date prospects who come from different backgrounds but share similar values and goals.
"The sharing of love between two people is a beautiful connection Dream Singles is happy to be a part of," said the Dream Singles representative. "Seeing people from different walks of life come together in finding true love and sharing their special connection is the best part of Dream Singles."