The Scoop: A wedding photographer plays a central role in the whole wedding process. From the instant the couple says "I do," to guests enjoying themselves on the dance floor, it's a photographer's duty to capture those precious moments. Wedding photographer Jenna Lee steals the hearts of her clients with her breathtaking photos of celebrations and adventures in Hawaii and around the world. Whether it's a wedding or an engagement, Jenna Lee Pictures will make a memory last a lifetime. 
At a very young age, Jenna Lee fell in love with the art of photography. After years of showing an interest in cameras, Jenna realized that her passion for photography could lead to a dream career. She started as the friend who would photograph and document every group experience and turned it into a business, Jenna Lee Pictures, which served people in more ways than one. 
Photography can bring you back to a moment in time. An engagement and wedding are some of the biggest moments in people's lives, so it's important to hire the perfect photographer. Pictures from these significant moments can help couples remember where they first started. An argument can quickly be resolved after one glimpse of a memory from a couple's past.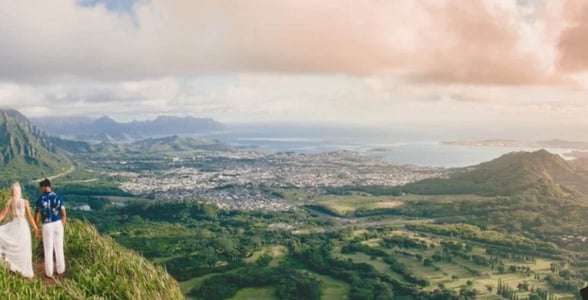 Or perhaps pictures remind us of who used to be in our lives. If a loved one passes away, pictures can help you reminisce over all the good times you all used to share. For example, a daughter who has lost her father can reflect on pictures of him walking her down the aisle on her wedding day. Photographs are more than just something captured to show off on Instagram. They're a form of therapy. 
Jenna told us that's why she loves her job. She confessed that she loves human interaction and capturing couples' stories. Jenna Lee Pictures was born in 2012 when Jenna decided to move to Hawaii and combine her passion for adventure and capturing weddings in photos. 
"Everyone else was taking photos on the beach. That seemed fun but it didn't resonate with me. I just wanted to have these wild experiences with couples and adventure with them so that's what we started doing. That progressed into fun weddings and fun stories and adventure elopements," said Jenna.
A Picture is Worth a Thousand Words
We have all heard the phrase that a picture is worth a thousand words. And as we get older, we discover that this phrase is more meaningful than we anticipated. Pictures speak volumes whether it's a photo of your best friend delivering the best man's speech or your drunk aunt singing the night away at your reception.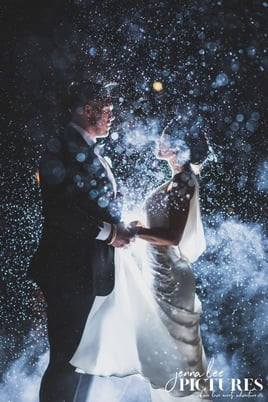 It's safe to say that some of life's events are easier to describe through pictures than with words. Pictures are more than just a piece of paper but a friendly reminder of a moment you never want to forget. According to a Kelly Heck Photography article, people remember only 10% of information three days after reading it, and adding a photo to that information can improve recollection by 65%.
Jenna told us that she never really considered photography as a career until she began to work with her aunt in 2008. She couldn't deny her calling to capture the best pictures. When she graduated from Colorado State University, her aunt helped her build connections with other photographers and mentors who helped sharpen her photography skills. 
Jenna Lee Pictures include digital image packages to give clients the best possible results for their dollar. Digital images allow clients to easily access their photos to share with friends and family members. Although Jenna Lee Pictures has a full offering of digital images, Jenna and the rest of the team encourage couples to get prints for framing and hanging on their walls. 
From Engagements to Wedding Ceremonies 
Jenna Lee Pictures is based in Hawaii, and many lovers can take advantage of the breathtaking scenery for a beautiful engagement session or wedding ceremony. However, Hawaii is not the only place Jenna Lee Pictures serves. Jenna told us that the photographers are always down to travel and have taken photos at weddings in Thailand, Iceland, Mexico, Rome and many more exotic destinations.
After clients book with Jenna Lee Pictures, they will receive a guide to ensure they know what to expect for their session. Jenna allows couples to have full control over their session whether they prefer to be barefoot or wear a specific color pattern. When asked what advice she gives her clients, Jenna said that she advises couples to wear whatever makes them feel the most comfortable. 
"You'll be comfortable and free-flowing in something you love. If somebody wants more advice I say watch out for conflicting patterns," said Jenna. "Don't go out suntanning, you don't want to have weird tan lines or a burn. I also don't believe in photoshopping people either so I'm not the judge of beauty and what that's supposed to look like. I like to celebrate people as they are and we aim to capture people as they are."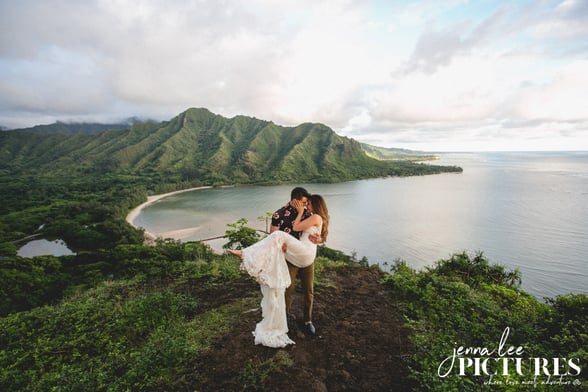 We all know how difficult and awkward posing can be. Thoughts of looking too stiff or worrying about whether you have something in your teeth naturally comes to mind. But Jenna's clients don't have to worry about it alone. Jenna shares a handful of photography tips with her clients to help them be as authentic and natural as possible. 
"As I learned from the great Tony Robbins when I was 21 years old, 'Motion Creates Emotion,' and those are words I live by with my business. I give loads of guidance so that moments can unfold naturally in the most beautiful way possible," Jenna told us.
Jenna told us that she introduces an element of playfulness to the photo shoot and encourages the couples to play with each other as well. She confessed that she avoids telling couples how they should stand or act because that usually leads to unnatural poses. Instead she asks couples to cuddle and hold each other in a way that they naturally would. By doing so, Jenna said she feels she is partaking in storytelling. Capturing the couple's story through pictures is the ultimate goal. 
"I like to capture their story. I'll start by playing with the couple and asking them fun questions such as tell her what you love most about her," said Jenna. "I have lots of fun things I've developed that lead to fun natural responses that then lead to fun authentic moments where they're cracking up together. It's so much more than capturing portraits of people. You're capturing the personality of their relationship and how they light up and all these elements between them."
Jenna Lee Pictures: Where Love Meets Adventure
Jenna Lee Pictures serves couples who love a good adventure. Jenna Lee Pictures adheres to the slogan "where love meets adventure," and creates one memorable photo session for clients. Along with her knowledge of photography, Jenna also brings her passion for her clients with her to every session.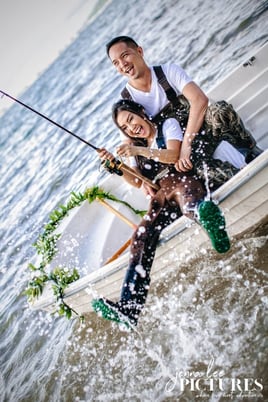 "Jenna Lee was extremely professional but, most importantly, she was compassionate and the love she has for photography is shown through her character and the quality of the photos she takes. I would highly recommend her to anyone and especially close family members and friends that would need a photographer in the future," said couple Carolina and Jr. in a testimonial. 
Jenna said that she plays more than one role for her clients beyond just a wedding photographer. She told us that she can act as a coordinator, a therapist, and even a coach for her clients. Jenna said she believes that bringing a positive attitude, regardless of the situation and challenges that come along the way, can create a better experience for herself and for the couple as well. 
"If it rains I go, "rain photos, I'm excited!" or if the stars are out, I get that shot, and create fun moments that wouldn't otherwise happen," Jenna told us. "It's about slowing down and connecting with the people important in your life.  It is super important and that can get lost in the hustle and bustle of the day. I like to honor the day and create little moments so everyone's day can be as special as possible."
Jenna said she plans to continue to capture beautiful moments for couples worldwide. Jenna ensures that she doesn't overwhelm herself and balances her work schedule and her personal life by spending time with loved ones on the mainland. Thanks to the Jenna Lee Pictures team, whether Jenna is available or not, couples can still select other photographers with the same quality and professionalism to share their big moments.