The Scoop: It takes more than buying a white dress and selecting a delicious menu to prepare for a wedding. The vows the bride and groom exchange are among the most important parts of a wedding ceremony. Many couples miss out on the full potential of a great speech at their wedding because they just don't know how to translate their feelings into words. Speechy wedding speech experts come in handy when a couple are looking for the right words for their vows or ceremony speeches. Speechy continues to successfully deliver spot-on speeches that end up being the highlight of a couple's wedding day.
I remember watching my friend deliver her vows with tears in her eyes. I choked up midway as I heard her and her now-husband express how deeply they loved each other. I couldn't help but think how happy I was to witness this special moment for the both of them. 
Preparing the wedding speech is such an important part of the ceremony. The carefully selected words share a glimpse of the couple's love to the audience. It's a reminder of why they love each other and are willing to say "I do" in the first place.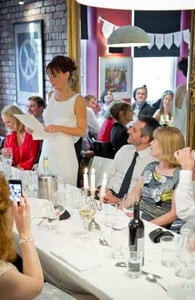 But sometimes writing a speech that captures how you feel about your partner isn't easy to do. Coming up with the perfect words for the big day is intimidating. That's why the multitalented Heidi Ellert created the company Speechy in 2015. The company is on a mission to help the world deliver a better class of wedding speeches.
Heidi started her career as a TV producer, director, and writer for a range of entertainment shows. After over a decade of working in the industry, Heidi decided that she wanted to shake things up a bit and become her own boss. 
"When I got married it gave me the opportunity to write, not only my bride's speech, but my groom's speech too! He was more than happy to take up my offer of help after we had witnessed a number of terrible or rather predictable and boring speeches over the previous few years," said Heidi.
The speech Heidi wrote for herself was a great success. In fact, she said guests complimented more than her dress. Motivated by that experience, Heidi came up with the idea to create Speechy in hopes of helping others do the same. 
Heidi said that, instead of following outdated etiquette guides or resorting to Googled speech examples and clichés, Speechy produces unique and quality speeches tailored to each couple. 
A Team of Writers With Credentials
Speechy's stable of talented writers know a thing or two about moving people with their words. Just like Heidi, some of the writers on the team have a background in TV screenwriting and have contributed to a range of high-profile shows.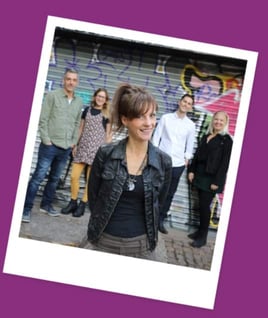 "Through my TV career, I had already met a range of talented writers and so I set up Speechy – allowing everyday people access to their very own ghostwriter," Heidi told us. "Why should speechwriters only be for privileged celebrities?"
The team will proudly admit that they are on the creative spectrum but remain conscious of the client's end goal. Mixing jokes with meaningful content is one way the team aspires to achieve quality monologues that will touch people's hearts. 
Clients praise the Speechy experts for their passion for storytelling and their ability to properly convey on paper how couples feel about each other. 
"The speech was spot-on. It hit the mark, and I've had some lovely comments," said a Speechy client in a review. "We had laughter and tears, and overall, a splendid reaction to a rather spiffing delivery of a rather magnificent speech."
Making Memories One "I Do" at a Time 
Speechy offers different services to ensure that clients brim with emotion when saying "I do" at the end of their wedding ceremony. These services include: speech templates, bespoke services, and speech advice, among other options. 
Every wedding speech Speechy writers pen is different because they tailor their words and sentiments to the couple. The Speechy team knows just how to get to the heart of the relationship. Speechy's goal is to encourage couples to create a speech that's unique to them. 
"Make sure your vows reflect the type of couple you are. If you're generally silly and whimsical, don't feel you need to be profound," said Heidi.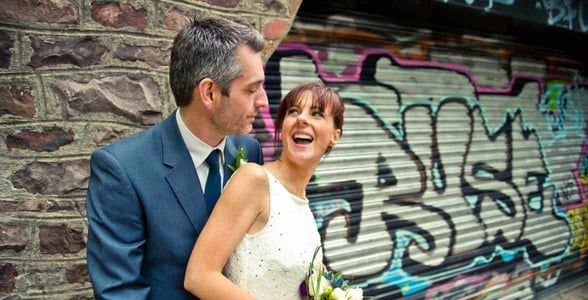 Wedding speeches should be well thought out and focused on your partner's best attributes. Heidi told us that one of her favorite parts about her wedding speech was the once-in-a-lifetime opportunity to shout about the person she loved without anyone throwing things at her. 
She said she coaches her clients to start their speeches by being humble, self-deprecating, and even slightly humorous, if necessary. This allows room for guests to understand the tone of the speech, while making the sentimental lines in between more powerful — hence, a memorable speech for the win! 
Speechy: A Global Service for All
Speechy is based in the United States, but its clientele has expanded since the company launched in 2015. Speechy's reputation extends internationally and has successfully reached the title as a global company. 
"We work with anyone who wants to say something memorable at a wedding – brides, grooms, mums, dads, friends – as well as people around the world," Heidi said. 
Couples from all over the world have the opportunity to work with seasoned writing professionals. Speechy was rated as 'Excellent' on TrustPilot —- and it's no surprise considering the team goes above and beyond for its clients. 
Speechy relies on a collaborative effort to create a speech that clients are not only satisfied with but proud of. Team members meet with the client to get a sense of who they are, and then they begin writing and send off the first draft. 
Heidi told us that sometimes, after the first draft, clients will tell team members that they don't like a particular line or they'll want something added or removed. To reassure clients at all times, Speechy offers a Delight Guarantee policy that leaves room for clients to request for changes, seek refunds, or share their concerns about the services. The Speechy team implements client feedback and works on polishing every speech until it's just right.
"We're happy to keep editing the speech until the client is delighted with it and can't wait to deliver it!" said Heidi.