The Scoop: Many singles use online dating sites and apps for their dating needs nowadays. Although online dating has its perks, it can be an uncomfortable experience when dealing with the wrong people online. Unfortunately, some singles find themselves encountering catfish users who can disrupt their dating experience. The Social Catfish platform is on a mission to help people avoid such scammers and uses powerful tools to help people find and verify people they've met online. Social Catfish gives people peace of mind while on their quest to find true love. 
Since the COVID-19 pandemic, singles had to adopt a new way of date. The typical in-person meet and greet were no longer possible as singles found themselves confined to their homes. Quarantining certainly changed the way we view dating altogether. After some time, people started navigating the online dating world to fulfill their social and dating needs. 
Online dating is a great way to get to know people from all over the world — all while being at home in your pajamas. But singles need to watch out for scammers and catfish users if they want to have a better online dating experience. The truth is that not everyone online is who they say they are which can cause problems for daters down the line. Social Catfish is a platform dedicated to helping people detect catfishers and find people they wish to stay connected to.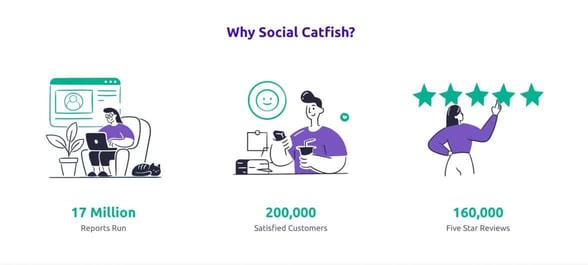 Social Catfish was founded in 2015 by two entrepreneurs, David McClellan and James Meyer. Since launching, Social Catfish has been on a mission to help people stay safe online and to verify online identities online. Inspired by the hit TV show "Catfish", David and James realized people needed a resource that would allow them to detect catfishers. 
According to the Social Catfish team's research, Americans have lost a record $6.9 billion to online scams in 2021. The team told us that the amount lost has nearly doubled since the global pandemic began in 2020 as people were forced to work, shop, and date online. Social Catfish is committed to helping decrease this number and help people feel more secure to use the online world for their social and dating needs. 
"I have sent this information to other sites with his email address so this person can't do this to anyone else. I would highly recommend SocialCatfish.com for anyone who questions any relationship that they are in," said Patricia, a Social Catfish user in a testimonial on the homepage. 
Using Advanced Technology to Secure Connections
Have you ever met someone and lost their contact information? It's a sad situation to get disconnected from a person you felt a spark for. Thanks to Social Catfish, singles can hunt down their mystery someone with just the smallest piece of information. Whether it's an email or a phone number, Social Catfish can help people rekindle relationships they've lost. 
Social Catfish's reverse search technology helps people locate lost connections. The reverse search tool collects additional information about a person through name, image, phone number, email, username, and address. 
The website's reverse-image search tools are unique and particularly useful to online daters because all that's needed is a photo of a person to conduct a quick background check and verify a mystery person's identity.
"In the long run, we want to protect your identity from any scams and give our customers the tools to easily identify anyone's online identity," said the Social Catfish team.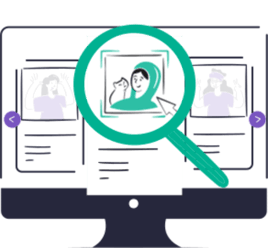 There's no such thing as being too careful. Social Catfish believes that everyone should be cautious and take the proper steps to ensure that those they encounter online are truly who they say they are. The reverse image search is popular because a catfisher can use fake information, such as a name and phone number, so it's helpful to search a person's image to find out their identity. 
With scammers becoming more tactical, Google image search may not be enough. Don't fret because Social Catfish has taken the image search process to a whole other level. The reverse image search feature uses image metadata to scan millions of social profiles. In just seconds, people can discover the truth about a person's identity with just an image. 
This tool also helps you protect your identity from being used by others. The reverse image search grants you access to see if someone is using your pictures without your permission. This is a useful tool not just for daters, for example, but for business owners or models. 
"I'm a photographer and was able to find out companies who were using my images without permission," said Josh, a Social Catfish user in a testimonial on the homepage. "I should be able to reach out to them to get them to stop or pay me for the use. 10/10 would use your service again."
From Tracking Photos to Background Searches
Daters should learn safe online dating tips before joining a dating site or app. Learning how to detect catfishers and scammers can make all the difference in your dating journey. It's important to know who you're speaking with online — it can be a scary situation if you don't. 
"We verify the information to confirm if the person that you've met online is really who they say they are," said the Social Catfish.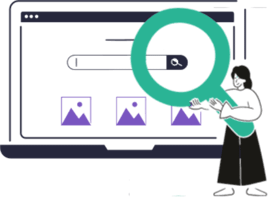 No one wants to waste their time investing in someone who is a complete lie. Finding out the truth about someone may be hurtful but it's better to discover the truth than to be fooled. 
To conduct an efficient background search, Social Catfish has search specialists available to do a deep dive to verify someone's identity. That way no one has to feel like they're alone in the search process.
"Too many red flags were rising so I have discontinued contact with him," shared a Social Catfish user in a testimonial on the homepage. "This saved me a lot of wasted time and stress. Can't thank you too much and will continue to use the service until I find one." 
Social Catfish is a great resource for daters and offers helpful online dating advice such as catfish signs to look out for and what to do if you do run into a catfisher. Social Catfish uses proprietary online tools to verify a handful of things such as images, profile pictures, phone numbers, emails, and more. 
Social Catfish Has Over 200,000 Satisfied Customers
Over the years Social Catfish has successfully created a name for itself. The company currently has 200,000 satisfied customers and counting. Many people say they adore Social Catfish, which has 2 million users per month, for getting the job done. The Social Catfish team actively works toward finding new ways to support the online experience for members. 
Depending on the membership plan you choose, Social Catfish offers unlimited social search and unlimited image search. Regardless of the plan they choose, all members have access to finding out about someone they're either skeptical about or want to know more about. 
The online dating scene sounds intimidating but with the right support and tools, anyone can succeed at finding love online. To always stay up to date with the company, Weekly videos that highlight how the team was able to identify someone for a client online are posted on Social Catfish's YouTube channel. 
"I've used [Social Catfish] off and on over the years. It is a great tool, especially when you are dating online. They seem to have an accurate search feature that will show you if the image you have is used anywhere else online. The online dating scene can be a little daunting, but this helps for sure!" exclaimed Kris, a Social Catfish user in a review.