The Scoop: Inclusive and diverse spaces are so important nowadays –– especially for online daters. When it comes to dating, it's important for individuals to feel comfortable and supported throughout their dating journeys. Thanks to the sex-positive dating app Feeld, singles have the opportunity to date in a new and refreshing way. Feeld was created so people could be honest and open about the relationships they want without fearing judgment. Since its launch in 2014, Feeld has continually promoted sex-positivity and focused on how to better serve human relationships. 
Online dating has become a popular resource for people seeking to build new relationships like they never have before. The world is evolving, and so is the way people are dating –– and it's about time! From monogamous to polyamory relationships, online dating can be used to find any kind of relationship you want. There's no need for you to spend your Saturday nights alone when you have the web to help you find a companion or two. 
On a mission to elevate the human experience of sexuality and relationships, the dating app Feeld is paving the way for open-minded singles and couples to connect without judgment.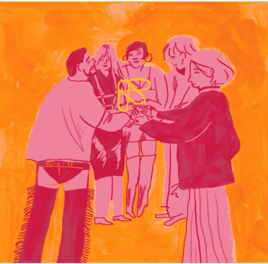 Feeld was launched in 2014 by partners Dimo Trifonov and Ana Kirova. After being in a monogamous relationship with Dimo for two years, Ana confessed that she had feelings for a woman as well. What initially started as a heart-to-heart conversation ended up being the ignition to the creation of Feeld. 
"I was worried that this might mean the end of our relationship. Dimo, in response, founded Feeld – a space where people like us could date as a couple and meet like-minded humans," said Ana.
Whether you're single or in a relationship, Feeld is the perfect dating platform to explore new connections without judgment. Feeld welcomes all curious and exploratory people to take advantage of its dynamic dating resources. 
Where Open-Minded Meet Like-Minded
Dating is a great time to explore what you like and don't like in a relationship or partner. Some people discover their sexual orientation while others discover they don't want to be in a committed relationship. The best part about dating is that nothing has to be set in stone –– and that's the credo behind Feeld. 
Feeld members can explore their desires using the app's many features. Feeld's user base mostly consists of curious individuals who want to indulge their fantasies. Even members who identify as heterosexual discover new things about themselves when using Feeld. Ana told us that many people who typically identify as straight find themselves embracing broader sexual curiosities and embarking on a deeper exploration of self.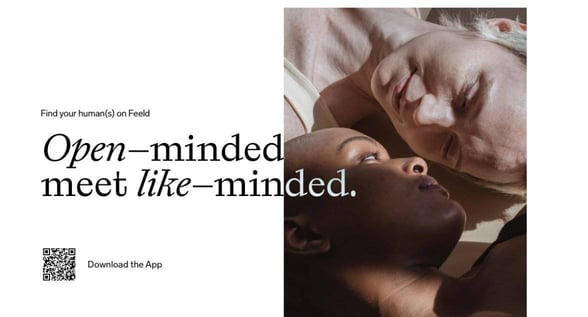 With its slogan, "Where open-minded meet like-minded," Feeld stands out as one of the few dating platforms that has a safe space for people to explore and celebrate different identities and sexualities. 
Feeld team members said they believe people thrive in dating spaces where the community is open and honest. Although Feeld users represent a remarkably diverse group of people from different backgrounds, they all share a common mindset about having fun and making meaningful connections outside of traditional monogamy. 
"As a trailblazer in the industry, Feeld is designed as an inclusive platform," Ana told us. "From its inception, the app and the growing community have welcomed users of all sexualities and gender identities — as well as with desires of all types – with open arms and provided a safe space for our users."
Experiencing New Connections in a New Way
Traditional dating is fine for some, but it's not the only way to date. The Feeld app is bringing forth a new style of dating and helps educate people along the way. Ana said she sees a cultural shift away from binary, hierarchical, conformist, and more traditional gender roles – and Feeld is embracing that shift. 
As a non-prescriptive space, Feeld encourages users to look for matches and browse profiles as they please with no agenda. The choice is yours, and that's why a lot of people favor Feeld.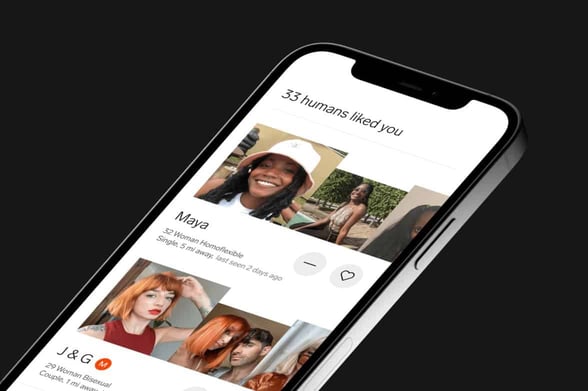 "Everyone I've connected with and met on Feeld has been respectful and able to hold a decent conversation," said an anonymous Feeld user in a review. "In the early days of using it, I met people via group chats, that's where I learned about most of the events I go to. But recently I connected with someone I'm really into and we've been exploring the poly scene together."
Feeld creates a fun experience from the moment members join the app. The team pays close attention to design and creativity. The app's layout is as beautiful as it is efficient. Feeld has a unique design structure that helps legitimize and destigmatize sexual desire. 
Ana said the first thing users can do when joining the app is add options to their Desires section to help communicate their intentions upfront to other members. This method is easy and efficient as it allows members to get to know one another without having to slide into each other's DM's.
On the app, members can identify with over 20 sexualities and gender identities found in the Feeld Glossary. The Feeld Glossary makes dating on the app a lot clearer. Members can find other singles to connect with or even couples who share the same interests and desires. 
It's important to note that trust and safety are core tenets of the Feeld experience, and the team uses features to help maintain a safe environment. Certain features, like screenshot protection which prevents members from taking screenshots of messages, help make members feel more secure using the app.  
Feeld: The Evolution of Online Dating
Feeld sets the bar high for online dating. Online dating is progressing and adapting as people are. Ana told us that team members are always talking to Feeld users –– asking them questions and conducting research on how to improve the app's services. 
Since it launched, Feeld has remained steady in helping people connect and embrace self-discovery. As a result, many users have confessed that they have gotten out of their comfort zone and grown from their Feeld experience.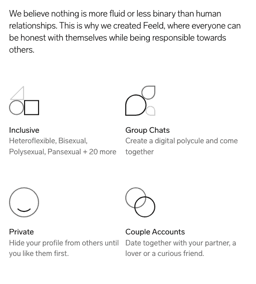 Feeld is accessible to anyone over 18 and is completely free to use. Those looking for an enhanced experience can pay for a majestic membership which provides access to more benefits on the app. Paid members can see who likes them on the app and have access to more privacy options. This is a great option for users who want a more private and discreet dating experience. 
From romantic to platonic relationships, Feeld is ready to help daters find the right fit. Feeld's unified community and supportive team truly can make a difference in a person's dating life. We can expect more from the Feeld team in the future. Ana said that team members will continue to set themselves apart and encourage users to consider connections outside the social norms. 
"Vivid connection describes the true value we create in the inner lives of our members. When people embrace Feeld, they unlock themselves and enrich their lives," said Ana. "We hope to continue welcoming more people to the platform and community."