The Scoop: The best spot to hit after a long day of work is the neighborhood bar. Bars are known for helping people cope with their daily woes. It's a casual space to become more familiar with neighbors and socialize with people you may never have met before over some good drinks. Woods Boss Brewing Co. is a great spot to check out with your partner. It's time to switch up the routine by going on a date where you can get out of the house and enjoy some of the best beer you'll ever taste.
Bars have a way of bringing everyone from different walks of life together. Sharing drinks and stories has been one of mankind's best ways of making friends since the caveman days. So it's safe to say bringing your partner for a date at Woods Boss Brewing will be a night to remember. 
Woods Boss Brewing Co. was established in 2017 by owners Chad Moore and Jordan Fink. Woods Boss Brewing places customer experience first by making it its goal to serve the community and cater to people's tastes. The brewery is located in Five Points, Denver, and has a variety of beers for you and your partner to try. 
Bars aren't just places for you and your friends to hang out. There's so much to gain from visiting a bar with your partner. The typical 5-star restaurant date can certainly get played out at times. Enter a scene where you can visit different parts of the world with just a drink. Woods Boss Brewing takes people on a trip without having to pay for an expensive plane ticket. 
According to the site, "Woods Boss Brewing Company specializes in good quality craft beer. We strive to satisfy every customer with a wide variety of both craft beers and non alcoholic options. Our craft beer options range from the simple yet refined to the complex and funky big beers. Our atmosphere will leave you smiling and relaxed." 
A Beer Lover's Hangout With Boss Drinks On Tap 
Woods Boss Brewing Co. focuses on bringing visitors diversity in their drink options. The staff are dedicated to creating a hub where guests can feel at home and get some quality time to relax and wind down. Woods Boss Brewing Co. has a handful of tasty options to choose from such as root beer, seltzer and gluten free drinks. Dedicated to having an inclusive atmosphere, Woods Boss Brewing Co. is a go-to bar for access to a rotating tap selection. 
Technology has given Woods Boss Brewing Co. accommodations for all visitors. Wood Boss Brewing Co. has a touchless pay option through the Arryved app for visitors to close their tab when the night is over. This method also makes it easier for guests to add their tips and keep track of their card information.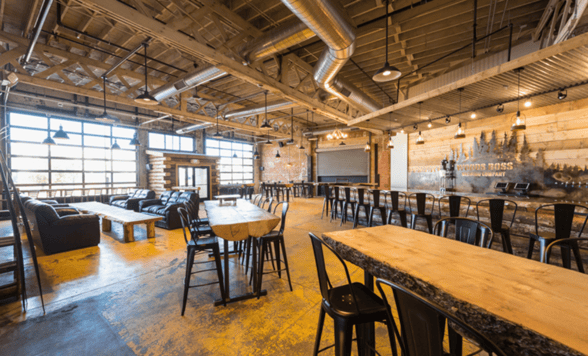 Couples can swing by Woods Brewery even if they don't plan to stay for long. This venue offers curbside pickup and shipping for customers to get their order if they're on the clock or want to make the date night at home. Even if you don't live in Denver, Woods Boss Brewery Co. offers shipping for those who are craving a nice brew. In two to three days, you and your partner can experience the brewery's amazing beer from miles away. 
"Woods Boss Brewing Co. is a really amazing neighborhood brewery. I've liked every beer I've tried there, and that's all of the 20+ they keep on tap. It's pretty awesome to see a local place with so many different styles so well," said Brent Gardner in a Google review. "These guys make me feel very lucky to live in this neighborhood!" 
Good Vibes on Meetups, Music Nights, or Even a Wedding! 
You don't have to go to a bar for just the drinks — that's what makes them so versatile!Woods Boss Brewery Co. also hosts live events at their venue throughout the week if beer isn't the driving point of your visit. The brewery has events such as open mic nights, burlesque shows, and comedy nights for entertainment. Give your partner an immersive bar experience full of entertainment and good drinks. 
If you're not good at remembering dates, don't fret. Woods Boss Brewery Co. has a monthly schedule with event dates listed on their website, so you and your date never have to worry about missing out. The brewery is hosting a special date night event called Build Your Own Plant Bar this February.
No bar is complete without music, and Woods Boss Brewery Co. offers live music to turn things up a notch. Woods Boss Brewery Co. wants to make sure that the vibe of the night is just right for you and your date. Come in and check out the local talent in Denver and enjoy an ice cold beer while you're at it. More than a bar and more than a venue, Woods Boss Brewery Co. is an example of a place for the people.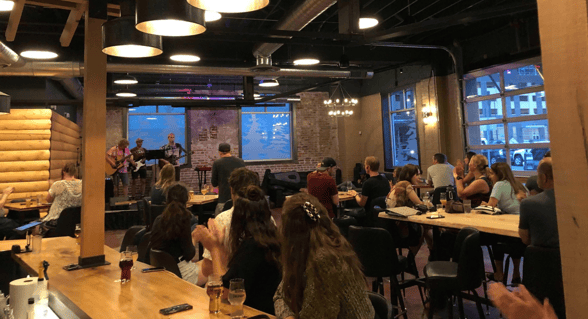 "Incredible, had a flight, all the beers were complex and creative. Music fit the vibe and the bartenders were extremely friendly, we ended up having beer shots and talking about random things with other patrons. It was a really great time," said Misha in a Yelp review. 
Along with hosting events from public organizations, Woods Boss Brewery Co. meets customers' needs by allowing them to rent out the venue for their own private event. Want to throw a reception for your wedding at the place where it all started? It can be done at Woods Boss Brewery Co., where the team is eager to work with you to bring your event to life. 
"We had our wedding at Woods Boss this past weekend and I can't even begin to explain how perfect it was! The venue was so gorgeous, the beer was delicious and the owners were a delight to work with!" said Meghan Maxson in a review. "We had family and friends come from all over the country and so many of them complimented the beautiful space and incredible beer.
It is a day I'll forever treasure and it was EXACTLY how my husband and I hoped it would be. Woods Boss was amazing!" 
Woods Boss Brewing's Friendly Crew Serves Great Brew 
No matter the occasion, visiting Woods Boss Brewing Co. is always the right move. At Woods Brewing Co., the mood is already set inside and outside with comfortable, sustainably sourced redwood tables to make you really feel in touch with your wild side. You and your partner will enjoy the dim lighting for some nice alone time, or celebrate as the Denver Broncos football team steals the night with a great game playing in the background. 
Bars are an essential place for bringing out the best in everyone. Ignore the stereotypes about bars being a hub for lonely singles, it's for the entire community! Dive into a world where you and your partner can explore each other in a different way and meet other down-to-earth people who are also looking for a good drink. Who knows, you may find out your partner knows more about beer than you think.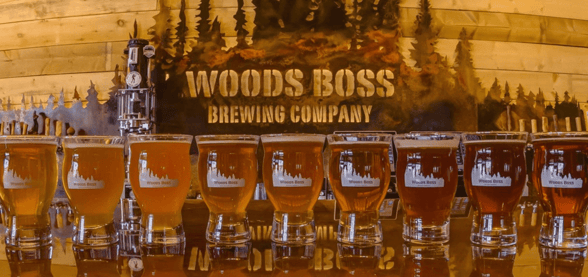 One of the best experiences about a bar is not just the taste of the beer, but the experiences you have with the people there. Woods Brewery offers customers the opportunity to venture into a scene where they can have a bar experience like no other. Bring your date to Woods Brewery so they can see how Denver gets down. 
"We hosted our rehearsal dinner at Wood Boss and it was perfect! The space was just what we needed, and the bartenders were so friendly. I definitely recommend inquiring about hosting an event at this brewery. Great location, great beers, and great staff!" said Melissa in a review.