The Scoop: The tropical date experience doesn't have to be found overseas. Located in Pittsburgh, Pennsylvania, the National Aviary offers couples the opportunity to escape to paradise without having to use their passport. As the country's largest aviary, the National Aviary has an array of eye-catching tropical birds to see. From parrots to flamingos, a day at the National Aviary never ceases to amaze those eager lovebirds traveling from all over the world. 
The urge for a change of scenery — especially a tropical one — is not unfamiliar to most people. Often we find ourselves daydreaming of being on the beach or on a private island with our significant others. We cling to the thought of such luxury, but unfortunately, making it actually happen is a different story. 
Most couples juggle so many daily responsibilities that they tend to set aside their tropical date dreams. The obstacles to exploring exotic spaces may be financial constraints or simply finding the time to travel such distances —  but it doesn't have to be that way. Couples can get a taste of paradise — without having to renew their passports — by visiting the National Aviary.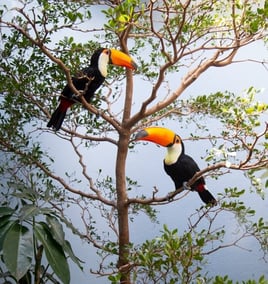 Since 1952, the National Aviary has been working toward its mission to inspire respect for nature through an appreciation of birds. The National Aviary stands out as the only aviary in the United States with national designation. 
Couples can go on a once-in-a-lifetime date to explore and learn about the National Aviary's efforts to save birds and protect their habitats. As a result, couples not only get to learn how they can help, but they also go on a warm memorable adventure together.
"It's an unforgettable experience, and you get to take part in the care of species that are endangered in the wild, which makes it rewarding and fun. These experiences are so memorable for animal lovers!" said Molly Toth, the National Aviary's Communications Specialist.
Couples Enjoy Unique Bird Shows 
Without having to travel all the way to Rio, guests of all ages can take advantage of the National Aviary's serene scenery. The National Aviary is home to more than 500 colorful and rare birds and mammals that come from all over the world. Exploring the diverse habitats maintained by the institution has stolen many couples' hearts. 
"Visited here a couple of days ago with my partner. It was amazing, and we would highly recommend it. Super fun for all the family, and we even got to see a sloth, he was adorable," Rebecca said in a Tripadvisor review. 
The National Aviary understands that not everyone is an expert on birds, and that's OK. Couples can take advantage of the different bird shows and programs during their visit. These programs are designed to introduce ideas and enlighten people on the various birds at the exhibit. Couples can enjoy the tropical scenery and bird shows without having to travel around the world.  
"You don't have to be a bird lover to enjoy a visit to the National Aviary. The tropical habitats and beautiful birds (plus a sloth) are fun for everyone," Molly said.
Many guests favor the Penguin Point habitat where the African penguin colony resides. Due to human encroachment and overfishing, the African penguin is an endangered species. The National Aviary prides itself on leading the Association of Zoos and Aquariums' SAFE (Saving Animals From Extinction) program for African penguins. According to the National Aviary, the penguins at the habitat play an important role in helping the species rebound and keep the genetic lines of African penguins housed in zoos strong, diverse, and healthy. 
Couples looking for a more intimate experience can book a personal animal encounter with these rare penguins. That means they can enjoy an incredible view of the penguins waddling their way throughout the habitat. National Aviary penguin experts will engage couples eager to learn about these beautiful flightless birds, and in the process create a bond that will last. In doing so, visitors get to learn how they can help this endangered species not to go extinct.  
From March through November, couples can participate in the private penguin feeding where they can get a hand-feed experience with the penguins – it doesn't get any cuter than this!
From First Date to Weddings
Since the opening of its all-seasons event space, the National Aviary has been a hot spot for weddings. Couples looking for a memorable and beautiful experience can rent out the Garden Room for a night they'll always remember. Known for its elegance, the Garden Room has left many happy couples with smiles on their faces. 
The Garden Room is a large space with industry-leading sustainability elements, including bird-friendly expansive glass windows and doors made specifically for viewing the Rose Garden, Lake Elizabeth, and the surrounding park. Guests can enjoy celebrating the lucky couple while having access to explore the park and garden.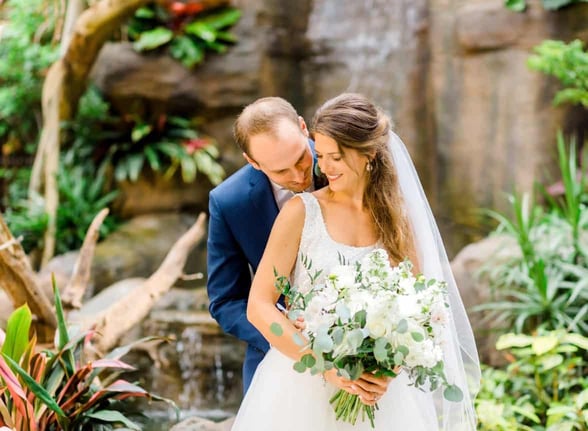 "I feel so fortunate to have had my wedding at the Aviary. The event staff and in-house catering through Atria's made the planning process smooth," Jennifer said in a review. "Guests from around the world got a unique experience, and my husband and I got to support an organization with a mission that aligns with our values." 
The National Aviary also offers small wedding ceremonies in its Tropical Rainforest habitat. At this location, guests can enjoy watching birds fly freely overhead as the couple exchange their vows in front of a 15-foot waterfall — how beautiful is that? 
But the party doesn't stop there. The National Aviary offers Sunday brunches open to the public that typically coincide with holidays such as Easter and Father's Day. Couples have the option to choose to host brunch for their guests after their wedding with the National Aviary's catering services. 
"Couples of all ages attend our brunches – it makes for a great Sunday date because admission is included so you can spend the afternoon together exploring the National Aviary after you've dined," Molly told us. 
The National Aviary Celebrates Its 70th Anniversary
As it approaches its 70th year, the National Aviary team can't withhold their excitement. To start off the celebration, Molly told us the team will be releasing a commemorative book with beautiful  full-page photos chronicling the National Aviary's history. The book will also be highlighting the birds that reside at the aviary. 
The National Aviary is a Pittsburgh fan-favorite with a long-standing reputation for its quality attractions and good-hearted team. Many have appreciated its persistence in providing high-quality animal care. The team's dedication has helped inspire many people to respect nature.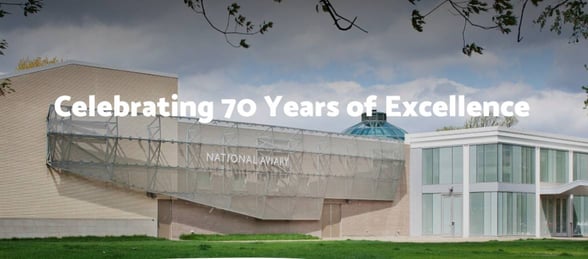 Improvements to the facility are planned for 2022. According to Molly, the public can expect to see upcoming renovations, including upgrading the second oldest habitat at the National Aviary: the Wetlands habitat. 
"With this renovation, we will be replacing the existing glass with bird-friendly glass and making other upgrades to make the habitat even more immersive for guests and provide a comfortable, natural home for the more than 130 birds in the space," Molly said. 
People who wish to help celebrate the National Aviary's 70th anniversary can do so by visiting or making a donation to save and support more endangered birds. From food and medical care to maintaining enriching habitats, couples can bond over their shared commitment to support a great cause. In doing so, they can expect to enjoy the aviary for many more years to come. 
"This summer, we will be launching a new seasonal theme with exciting daily programs, many of which are included with admission," Molly said.