The Scoop: The Chicago Children's Choir offers performances that are treats for music-loving couples looking to spend quality time together. The organization includes a network of singers from throughout the city who aim to entertain and inspire through virtual and in-person events. The nonprofit was established in 1956 and continues its mission to strengthen the community through a love of music. Today, its diverse team of performers offers a safe and fun activity that can bring couples and families together to celebrate unique cultures and musical styles.
The Chicago Children's Choir was formed in 1956 to champion diversity in response to the civil rights movement. Today, the nonprofit continues to present family-friendly performances and events that celebrate the city's unique cultures and musical styles.
In its early years, the choir was among the few groups that welcomed young people of all races and backgrounds. Founder Christopher Moore, who was a Unitarian Universalist minister who passed away in 1987, started the organization to bring people together.
"Christopher Moore wanted to create an environment where people of different races and ethnicities could come together and celebrate their common humanity," said Kevin Beerman, the Director of Marketing for the Chicago Children's Choir.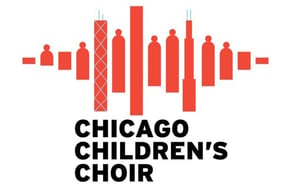 Since Chicago was one of the epicenters of the Civil Rights Movement of the 1960s, it made sense for the choir programs to focus on creative ways to help young people find their voices. Through the years, the organization has grown into a network of choirs with practices held in person in schools and virtually. It connects thousands of students each year and puts on performances that are perfect for a family outing or an energetic date night.
The high-quality music education brings the students together, and Kevin said the organization wants to inspire participants and communities to unite. He said the challenges from the COVID-19 pandemic have helped make the choir stronger for the future.
"We're excited about this year and the road forward (in bringing) Chicago together through the use of song. We look forward to welcoming people from all over," Kevin said.
Student Participants Reflect the City's Diversity
The Chicago Children's Choir is as diverse as the city itself. The organization welcomes children from every zip code in Chicago and beyond. Kevin said 36% of performers are Black, 36% Latinx, and 16% are white. The nonprofit recently counted 4,900 youth participating in 144 choirs throughout the city.
Participants represent 25 nations and perform songs in 40 different languages.
The children also participate regardless of whether their families can afford to pay for high-quality musical education.
"All of our students receive subsidies of some kind. Our tuition is on a sliding scale," Kevin explained. "We take into account the student's specific financial situation to make sure programs are affordable across the board."
The choirs are based in 92 Chicago schools and focus on more than just the music. It's an opportunity to mentor children and encourage them to stay on a positive path. All of the children who participated in the choir have graduated high school.
Kevin said the organization offers three program types: in-school choirs, after-school choirs, and virtual lessons. Choir programs meet around two or three times a week, and sizes vary, with in-school groups sometimes as small as nine students. The choir's premier ensemble, which is its top after-school program, has 100 children, two conductors, and support staff.
"The students and families love it for multiple reasons. It provides students an opportunity to perform and tour," Kevin said. "This is high-caliber music education that is provided to them so affordably and accessibly."
Alumni Form Bonds and Become Community Leaders
The team behind the choir is proud of the students for more than their musical talent. These children also learn the tools they need to succeed in their communities and become leaders of tomorrow.
"We are all oriented toward the same goal of inspiring and changing lives through music and using the power of music to replace division. We just do it on a larger scale now," Kevin said.
Today, 40 people work behind the scenes at the choir, and everyone is committed to using music as a tool to empower, challenge, and connect young people. They work to strengthen the communities throughout Chicago with that strategy. Each member of the team brings different skills to the program.
"We have conductors who are experts in culturally responsive music pedagogy and really at the forefront of music, as opposed to leading with prescribed, stuffy, traditional musical education," Kevin said. "We are a nonprofit, so our staff includes leading program designers. We all have equal commitment to the core values and goals of the CCC."
Chicago Children's Choir President Josephine Lee has been at the forefront of music education and child empowerment for nearly 25 years. She is an acclaimed conductor, pianist, singer, producer, and nonprofit leader who has doubled the number of children the program serves during her tenure. She was also a key player in solidifying partnerships with the Chicago Symphony Orchestra, Grant Park Orchestra, and other leading musical groups in the city.
Kevin told us the music educators are the heart and soul of the team. They're passionate about fostering connections and communities through a love of music.
"These are talented, committed, selfless folks, and that trickles down," Kevin said. "What binds us all together is our commitment. Everyone is a leader in their own world."
Events and Performances Are Safe and Suitable for All
Attending a performance of the Chicago Children's Choir can give couples a sneak peek at some of tomorrow's musical leaders. Among its 50,000 alumni are Grammy award winners and musical prodigies, including Ted Herne and Jamila Woods. Many others have found success in various fields, including aeronautics and tech start-ups.
All in-person events require proof of vaccination or a negative COVID-19 test, and the choir always offers virtual programs that are even safer. For Black History Month, the Chicago Children's Choir will offer online performances for music lovers throughout the nation.
The organization quickly pivoted to virtual programming at the beginning of the COVID-19 pandemic to continue contributing quality to the lives of children. The choir had to pause in-person rehearsals based on the safety precautions and the latest city transmission data. Kevin said the organization acts as if COVID-19 is always present, and it protects students through social distancing, air filters, staggered rehearsal schedules, and other creative measures.
The point is to continue bringing joy to people's lives by sharing talent with communities despite the challenges.
"We were acutely aware, from the beginning, that it would prove challenging for us and the kids. The pandemic made their lives stranger, more isolated, and lonely. We did not pull any wool over our eyes about the needs that would be there for our students," Kevin said. "We didn't take a pause, and we listened to the experts."
Along with the Black History Month programming, the choir is also working on a banner program called "Paint the Town Red" on May 26. In June 2022, it is planning a program called "Canto Latino," a celebration of Latin American and Hispanic culture and its influence on the constantly evolving Chicago music scene.