The Scoop: La Panaderia is a popular café and bakery where the warm smells of freshly baked goods intermingle with friendly conversations between locals. The original bakery began as the passion project of two Mexican brothers in 2014, and now it has three locations in San Antonio. Couples can stop by La Panaderia to enjoy a coffee date or pick up some delicious treats for a picnic lunch. The casual atmosphere makes it a perfect place to slow down and enjoy the sweet things in life.
Brothers José and David Cáceres have been baking since they were young boys. They helped their mother Doña Josefina bake and sell loaves of bread on the streets of Mexico City. When they were old enough, the boys took over her business and built it up into a franchise that supplied bread and other baked goods to businesses across Mexico.
Now they have made a new home for themselves in San Antonio, and they have continued their family's baking traditions.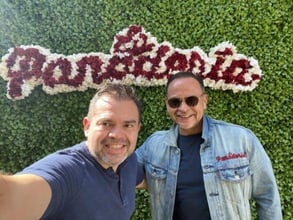 In 2014, José and David opened La Panaderia, which is Spanish for "the bakery," to share their Mexican heritage with people in the States. The bakery offers many unique and flavorful items that tantalize the taste buds. All its pastries and breads are made by a savvy in-house team.
La Panaderia is a popular place for an early breakfast or a light lunch. The bakery currently has three locations in San Antonio, and it offers pickup and delivery options for those who want to skip the line.
The local bakery made national headlines when it was featured on "Diners, Drive-Ins, and Dives" in 2017. Food Network star Guy Fieri brought his son along to watch the bakers in action. The bakery wowed them with its tequila almond croissants, which are the best-selling item on the menu.
Many families, friends, and couples have fallen in love with La Panaderia and enjoyed sampling baked goods infused with Mexican flavors and traditions.
 "I've tried all their sandwiches and their Conchas," a customer named Barbara said. "Don't tell my grandma they're better than hers!"
Treat Yourself to Something Delicious & Affordable
La Panadería is a wonderful daytime date spot in San Antonio. The bakery specializes in making handmade bread and pan dulce. The baking techniques hearken back to Mexico's Epoca de Oro — the Golden Era — when French, Italian, and American breadmaking styles intermingled with those in Mexico.
At La Panaderia, the bakers put a lot of care into every loaf of bread and pastry that comes out of the kitchen. Customers can watch them at work and smell the freshly made items being pulled from the oven. This isn't a cookie-cutter operation — it's a labor of love.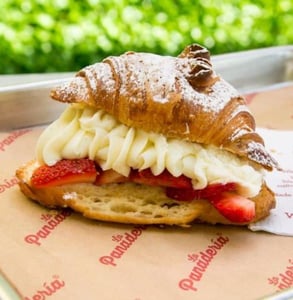 According to the website, "La Panadería's unique approach to breadmaking includes a 48-hour fermentation process that results in artisan baked goods unlike any other."
Couples can get a loaf of bread to take on a picnic date, or they can grab a seat at the outdoor patio while enjoying pastries and coffee. This bakery is a longstanding staple in San Antonio, and it has hosted many first dates in particular because of its charming yet casual atmosphere.
Of course, during the COVID-19 pandemic, a first date with a stranger is a riskier proposition. Some couples have struggled to find a good balance between romance and safety. La Panaderia has done its best to help by expanding its outdoor dining areas and implementing contactless ordering through QR codes.
The longstanding bakery had to adapt its operations during the COVID-19 pandemic, and it continues to keep abreast of public health advisories as the U.S. reopens.
La Panaderia has fully reopened for indoor and outdoor dining, but it has maintained some alternative options to accommodate folks who want to avoid the crowds.
Couples can use the pickup and delivery services to enjoy La Panaderia's baked goods on a date night at home. The bakery delivers its breads and pastries throughout Texas.
A New Location Brings Fresh Tastes to the Table
La Panaderia started with two men with a passion for fresh baked goods. José and David have been baking all their lives, and they still use many of the skills their mother taught them. As a result of their hard work, La Panaderia has flourished into a thriving small business.
The bakery recently opened its third location, which is situated in La Cantera Heights. The 4,200-square-foot café has indoor and outdoor seating available, and its menu includes never-seen-before items. The bakers have used this new location to unveil the Elvis Croissant, which comes stuffed with peanut butter, whipped cream, banana chunks, and bacon. It is a decadent treat that's perfect for sharing with a date.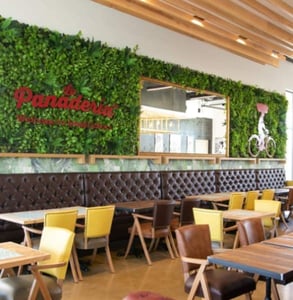 The extended bar offers the Besos — a house blend of frozen margarita and frosé — as well as boozy coffee specialties. Couples can get a pick-me-up while on their dates and savor the rich aromas wafting through the bakery.
Despite the hardships of the last year, La Panaderia has managed to keep baking and even expanded its operation. This success is in no small part thanks to the loyalty of customers in the area. During the 2020 lockdowns, many people showed their support for their beloved local bakery by ordering online or buying a gift card.
"Just had our Support Local basket delivered! I can't express how grateful my family is that this basket was made available during these times," said Maria in a Facebook review in March 2020. "Easy to order, courteous driver (maintained social distance), and the bread [is] simply divine!"
Looking ahead, La Panaderia is poised for further growth by hosting friends, families and couples at its new location.
"We believe in our beloved San Antonio, its resilient economy, and the support of our local community," José Cáceres said "Our La Panadería family looks forward to welcoming new and returning guests to our La Cantera Heights location."
La Panaderia is a Hidden Gem in the Local Dating Scene
Two brothers brought their family's baking traditions to Texas in 2014, and people have lined up out the door to get a taste. La Panaderia is a neighborhood bakery with a lot of flavor and spirit, so it's no wonder it has made such an impression on the San Antonio community.
As of April 2021, La Panaderia has three locations where people can gather for breakfast, lunch, or dinner. The bakery's freshly baked goods have won awards and been featured on The Food Network, but the best reviews come from people who stop by for a coffee, sandwich, or quick bite and end up falling in love with the bakery.
TripAdvisor has ranked La Panaderia among the top bakeries in town, and it has tons of stellar reviews from locals and out-of-towners alike.
One man said La Panaderia was his and his wife's first stop after their plane landed in San Antonio. "Pastries were all extremely fresh, cooked on site, and were the best my wife of 49 years and I have ever had," he said. "I cannot say how pleased we were after a long trip to discover this local treasure."