The Scoop: Couples ready to get away to a charming city with striking mountain views should look no further than Harrisonburg, Virginia. The city is in Shenandoah Valley and perfectly balances mountain adventure and city excitement. Harrisonburg's residents are known for their friendliness and broad, multicultural identities. The downtown area offers farm-to-table cuisine and eclectic shops, and the nearby Shenandoah Valley offers opportunities for hiking, biking, and all kinds of exploring.
My family would take regular summer trips to see grandparents and cousins in New York, and each trip meant two drives through Virginia. Every time we would cross the state line, the slogan on the welcome sign always struck me. "Virginia is for Lovers" was simple yet intriguing, and even though I didn't know much about the state, I figured it must be true.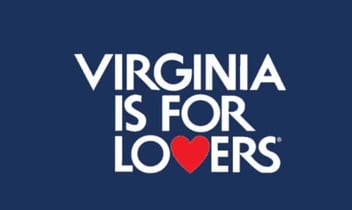 The now-famous slogan was part of a marketing campaign in the 1960s that targeted the younger generation. Woodstock 1969, peace sign-laden Volkswagen vans, and Erich Segal's novel "Love Story" were all cultural phenomena indicative of a generation that valued free love, peace, and artistic expression. The slogan went on to win awards and accolades for its genius.
Whether it was true all along or a case of a self-fulfilling prophecy, Virginia today really is for lovers. And its 12th largest city, nestled in Shenandoah Valley, proves this. Harrisonburg, Virginia, is a quintessential Virginia town steeped in rich history and stunning natural beauty. The city has a charming downtown, plenty of outdoor activities, and an accepting, multicultural community. 
Harrisonburg's nickname is "The Friendly City," and the folks there live up to this name. Couples who have decided it's time to get away, experience something new, and reconnect with each other will find Harrisonburg's offerings aren't only diverse and exciting – they're made with lovers in mind.
Jennifer Bell is the Tourism Manager for Harrisonburg, and she shared some of her favorite things about the city with us. "Harrisonburg is very welcoming. You'll see that in restaurants and shops and in the culture. If you drive around Harrisonburg, it's easy to see we are a really welcoming, diverse place."
Fall in Love All Over Again on Main Street
Harrisonburg's heart is in its downtown, a 40-block district that many restaurants, bars, and shops call home. Downtown includes the Virginia Arts & Cultural District and the Culinary district. Historic buildings line Main Street, which can be explored by foot or bike. The downtown area is great for couples looking for a charming and dynamic downtown area.
Couples can start their day downtown by downloading a free self-guided tour app called Traipse that has several walking tours, including historic tours, pub crawls, and a mural tour. This is a great resource for exploring as much of the downtown area as possible.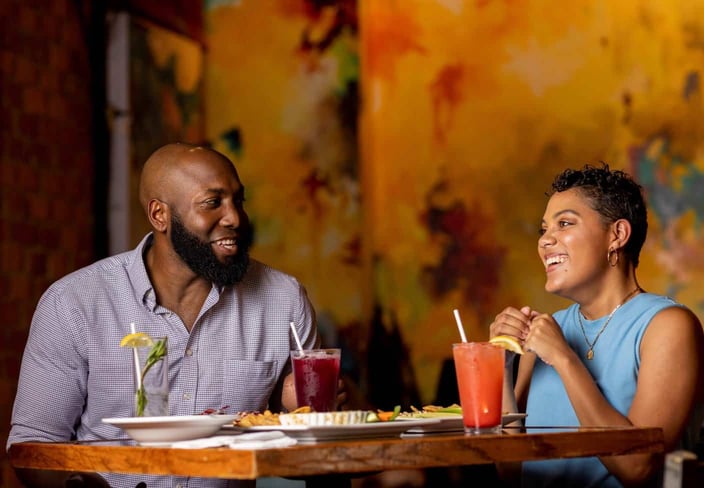 Harrisonburg is a shopper's dream come true. Downtown offers an array of locally-owned shops, art galleries, and boutiques. Couples planning to explore the outdoors while in Harrisonburg can prepare for their excursion at one of the many outdoor supplies shops. There's something for every taste among these businesses, so every couple can find something that strikes their fancy.
Food couples rejoice – Harrisonburg is a culinary enthusiast's dream. The culinary scene was founded on farm-to-table cuisine heavily influenced by Harrisonburg's multiculturalism. Jennifer recommended a few of her favorite restaurants around Harrisonburg to us.
Joshua Wilton House in a restaurant attached to an inn in a historic building. The menu is elegant and sophisticated with dishes like filet mignon and butter poached fingerling potatoes. Jennifer also recommended BoBoKo Indonesian Cafe, which serves traditional Indonesian food with classic ingredients like ginger, lemongrass, and nutmeg. 
That's just the tip of the iceberg when it comes to dining options. Harrisonburg restaurants serve a wide variety of African, Asian, Latin American, Mexican, and Mediterranean cuisines. There are veggie options for vegetarian or vegan couples and plenty of health-forward choices.
Endless Outdoor Pursuits
No matter what level of comfort couples have with outdoor activities, Harrisonburg offers a fun excursion. Sarah said hiking is a popular tourist activity and trails around the area cater to every skill level. Experienced and novice trailblazers can find hikes they'll enjoy using the Harrisonburg-Rockingham Trail Guide.
Summer is a popular season for the city, as the Blue Ridge Mountains are especially verdant and sunshine is common. Couples enjoying a summer vacation in Harrisonburg can enjoy camping, live music and arts events, and gorgeous weather.
While summer is beautiful in Harrisonburg, Sarah said, "I think fall is so romantic because we have the changing colors and so many fall activities." Couples can enjoy apple picking, drinking locally made cider, getting lost in corn mazes, and seeing stunning red, orange, and yellow leaves.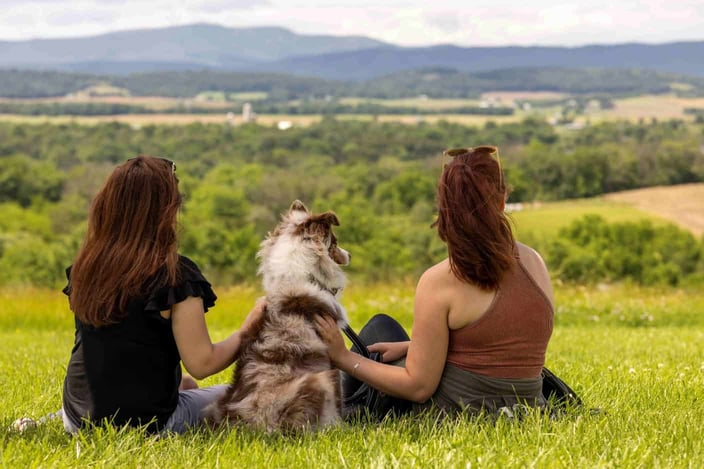 Couples visiting during the winter can enjoy skiing and snowboarding at nearby Massanutten Resort or just take a scenic ride up the ski lift if that's more their thing. Couples can cozy up in one of Harrisonburg's many hotels and rentals and enjoy snow and mountain views.
The Friendly City Trail is a shared-use path spanning more than two miles from one end to the other. The trail connects two city parks and is perfect for walking or biking. Just a short drive from Harrisonburg is George Washington National Forest. Hone Quarry Cliff Trail is in the national forest, offering a picturesque rock ledge overlook.
Shenandoah National Park isn't a far drive from Harrisonburg. The 197,000-acre park is considered a national treasure and sits along the Blue Ridge Mountains. Skyline Drive is a park tour road that spans 105 miles through the park. The park has 500 miles of hiking trails, including 101 miles of the Appalachian Trail.
The Enchanting Shenandoah
Harrisonburg's tourism department has recently expanded many of its tourist resources, meaning it's never been easier to plan a trip to the Friendly City. Couples can begin planning their trip using the Harrisonburg Trip Planner, which helps them find lodging and create an itinerary.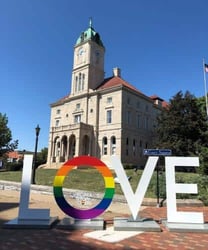 Once the trip is planned, couples should download Harrisonburg's free app, called Visit Harrisonburg. The app has up-to-date information about the city, including news about restaurants, attractions, and events. This means visitors can have access to the latest happenings.
Harrisonburg is the most diverse city in the Shenandoah Valley, and high school students there speak over 50 languages. The city is home to Eastern Mennonite University and James Madison University. Couples can explore the city's compelling and diverse history at the Hardesty-Higgins House Visitor Center.
Harrisonburg fulfills that 'Friendly City' nickname quite well. "We pride ourselves on being friendly," Sarah said. "We're very diverse, so LGBTQ+ couples should feel comfortable and welcomed in Harrisonburg." Sarah also said that Harrisonburg is proud to be a city that welcomes refugees and immigrants and strives to build true diversity.
People with busy lives usually want vacations that feel like a step away, especially when taking time to vacation with a partner. Whether a step away looks like good food, retail therapy, or some time in the great outdoors, Harrisonburg's got it. "We've got great architecture, independent restaurants and shops, and a unique museum," Jennifer said. "It really is a great place."