The Scoop: It's hard to navigate dating in college, but students in Denton, Texas, have a lot of great options. Students at Texas Woman's University can find fun and affordable dates on campus and around town. We've selected seven must-try date options for TWU students that fit within a young person's budget and varied interests.
Dating in college is a challenge no matter where you live. Students often have limited means of transportation to get to dates, limited money to spend on their partners, and limited time to devote to going out. They also have to navigate the widely varied intentions and relationship goals of different people, ranging from exclusively wanting casual partners to looking for a future spouse.
Many college students move from other cities to attend their university and often know little about the city in which they now live. They may have a hard time coming up with fun and creative places to take a partner on a student budget.
Fortunately, college towns usually have a variety of fun local venues designed to cater to students and local residents. From mid-priced restaurants to university events to local fairs, college towns are great places to get out and experience local culture.
Denton, Texas, home to Texas Woman's University (TWU), hosts a plethora of exciting and student-friendly spots for all your date night wants. Students can find free activities through TWU, explore Denton's cuisine, or experience nearby nature. While it may feel like the obvious college date night options just include going to parties or bars, Denton offers plenty of unique places to take a date to show them that you care. The bars of Fry Street and the breweries of The Craft Beer District offer students vibrant nightlife in Denton, but there are other interesting and affordable places to go, even if you're underage.
Whatever your interests, you can plan a great date in Denton. Whether you're a TWU student or another young person in the area, Denton is a great place to find fun, friends, or love.
1. Catch a Show at TWU Theater
If you're a TWU student, consider keeping your date plans simple with on-campus activities. There's no need to worry about transportation, high prices, or unfamiliar parts of town.
TWU has an extensive and high-quality theater program. In addition to the university's major program, TWU offers a variety of shows that would make for fun, affordable, and convenient dates.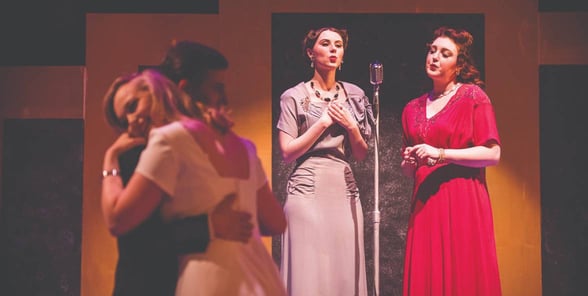 The 2022-2023 season includes "The Effect," running Oct. 12-16, "The Children of the Queen's Writ," running Nov. 16-20, "Bull in a China Shop," running Feb. 22-26, and an unannounced mystery musical, running Apr. 21-23 and Apr. 28-30. Each show is unique in style and plot, so theater-goers will have something new and exciting to look forward to all season long.
Hosted in the recently renovated Redbud Theater Complex, performances at TWU are dynamic and extremely professional for college-level theater. And at $10 for adults, and $5 for students and seniors, tickets to see TWU shows are affordable on any budget. 
2. Take an Adult Art Class
If you're willing to get off TWU's campus, Denton offers plenty of unique date spots for you and your partner to explore. For an activity that can help you show your creative side, check out Painting With a Twist. The art studio hosts a variety of fun painting classes, date nights, and even group parties where you can show your skills to your date. Whether you're a skilled artist or can barely draw stick figures, the staff at Painting With a Twist can help guide you through the painting process as you get to know your date.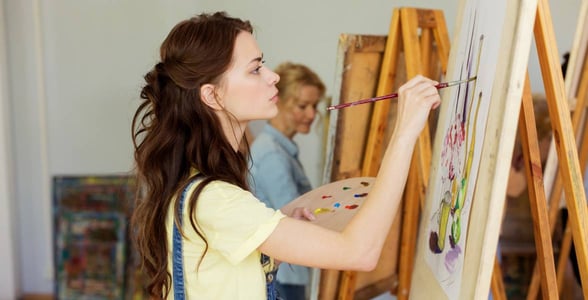 For students over 21, you can even drink some wine while you paint! At Painting With a Twist, you get drinks and a fun activity all in one. Light drinking can be a fun way to relax on your date and liven up the night. 
The price varies by the class, all of which have a specific canvas and topic that you can pick. Make sure to think about what your partner would like to paint and book a date they'll never forget! They'll even get to take a souvenir home with them to hang on their dorm wall.
3. Grab a Beer and Watch a Film 
Coming up with new and creative date ideas is a great way to show your partner that you care. But sometimes, there's nothing like the classic date: watching a movie. Cuddle up with your beau while enjoying the latest release on the big screen. Whether you're on a weekly date night with your significant other or a first date with someone new, taking in a movie is a fun way to bond with someone without constantly needing to keep the conversation going.
The Alamo Drafthouse is the perfect place in Denton to go on a movie date. See the latest film in comfortable reclining chairs. The Alamo Drafthouse has only been around since 2018, so you can expect state-of-the-art equipment and ambiance. The theaters have 4k digital laser projections with 3D capabilities, making for a realistic and high-quality viewing experience. It's the perfect place to spend time with your new partner.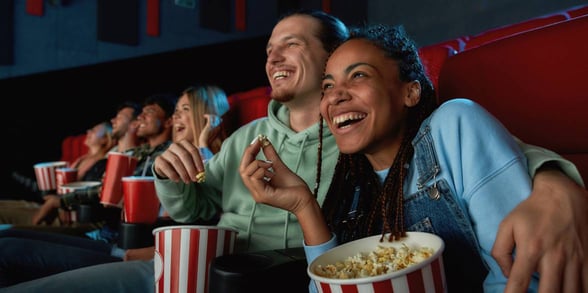 If you can legally drink, the Drafthouse is a great place to bond over a craft beer or order off the cocktail menu. You can enjoy your drinks at the Drafthouse's outdoor patio area or even order food and drinks directly to your seat as you watch a film. The Alamo Drafthouse offers a fun and cozy movie-going experience that any potential partner would enjoy. 
4. Enjoy a Retro Treat
Sharing a date activity that requires limited conversation is nice, but you need to get to know your partner eventually. A great way to get to know your date is to go out to eat at a restaurant. You have ample time to talk while you wait for your meal and even get to know each other's food and drink preferences. Restaurants are a great place to get deep without going into a private space where you might be uncomfortable or participating in an activity that requires concentration.
But you probably can't afford to buy your date a $200 dinner or necessarily take them to a bar when you're in college. Eating at the dining hall might feel lackluster, so you need to find somewhere to go in your price range.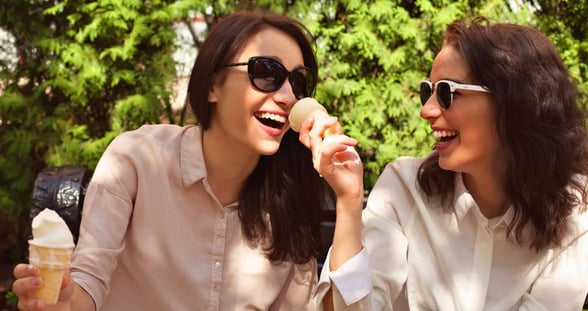 Consider getting through those first-date questions over a milkshake or soda at Beth Marie's Ice Cream and Soda Fountain! Sit at the counter or a table and have fun at this classic Denton hangout. Beth Marie's offers tasty sweets, including locally famous ice cream that you can enjoy as a milkshake or in a cone. 
Instead of paying for a full meal, you can opt for a much more affordable ice cream date. Eating at Beth Marie's is more thoughtful than your standard coffee date, but it still won't break the bank. Date like your grandparents did at this classic Denton spot!
5. Axe Throwing Fun
Dating doesn't always need to be serious, especially when you're a college student. You can have fun, be silly and wild, and maybe even break a sweat! If having a more light-hearted date appeals to you, take your partner to Ironwood Axe Throwing in Denton. It's a great way to let loose and show off your athleticism.
If you've never been axe-throwing before, it's exactly what it sounds like. You and your partner take turns throwing axes at a target, similar to darts or archery, just with an axe. It's harder than you might expect, but over the course of your 75-minute session, you'll get the hang of it!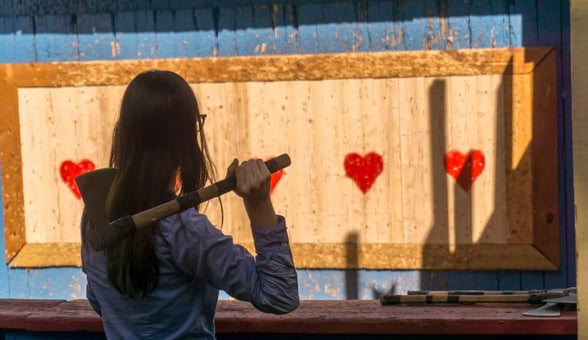 Ironwood is BYOB and surrounded by many of Denton's best breweries and restaurants, so feel free to pick up takeout before coming over. Throwing axes for 75 minutes is a long time, so you'll be glad you brought snacks and refreshments to take breaks and chat with your date.
A 75-minute session at Ironwood costs $25 per person, making it a bit on the pricey side for a student, especially if you're bringing food and drinks. But axe throwing can be a fun date night option for special occasions or an affordable venue if you're comfortable splitting the bill with your partner. And with a set price, you know exactly how much you're going to spend before you even go on a date. For anyone who struggles with financial self-control, this can make it even more affordable than dinner or going out for drinks.
6. Cheer on the Pioneers
If you'd rather watch sports than play them on a date, show some school spirit by cheering on TWU's Pioneers with your partner. Watch softball, volleyball, wrestling, or basketball with your date and enjoy the athletic excellence TWU has to offer. Pioneers games offer a great opportunity for you to show non-student dates the community you have at your university. You can introduce them to life on campus, your love for TWU culture, and the camaraderie between students.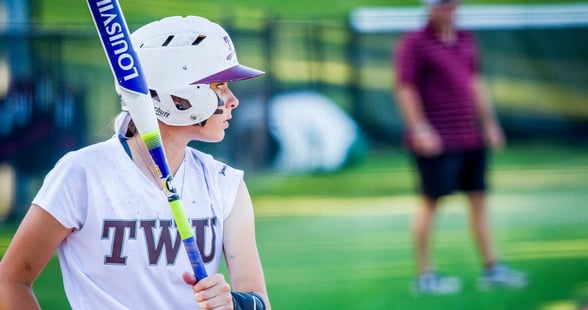 If your date also attends the university, cheering on your school teams is a wonderful way to bond over your shared community, show your school spirit, and even give them a sense of what your on-campus hobbies entail. Catching a home game is also a very convenient way to go on a date, as you won't need to leave campus. Student tickets for games are affordable, making them a fun and accessible activity that you can both enjoy, no matter your budget.
Going to a game is also a great option for double dates or just to introduce your new partner to your friends. Sporting events create energetic, casual environments that make it less awkward to introduce a new person into your social scene. 
7. Take a Walk by the Water
Sometimes the best way to get to know someone is to get out of the hustle and bustle of day-to-day life and connect in nature. Getting outside gives you a great opportunity to focus just on each other and put yourselves in the positive mindset you need to give love a chance. If you're passionate about exercise or the outdoors, it can be a great chance to share your interests with your new partner and see if you're compatible. 
Students living in Denton should check out Ray Roberts Lake State Park for a fun day trip with their partners. Hike or camp on the land, swim or paddle on the water, and enjoy the gorgeous scenery. Going to the lake is a great way to remove yourself from your everyday responsibilities and focus on finding love with your new partner.
Going to Ray Roberts Lake is a great option for anyone concerned about cost as well. While you'll need to find some transportation to get there in the first place, going to the lake is free and accessible to all.
Denton Has So Much to Offer
Getting to know your new city in college can take a while, but dating is a fun and easy way to make new friends in the area and check out the best local hangouts and destinations. You can use dates as a chance to try new foods, watch the latest shows, or even go outside the city limits. College can make your world feel small, especially when you live on campus or don't have your own car. But going on dates around town can help you connect with the broader community of your new city.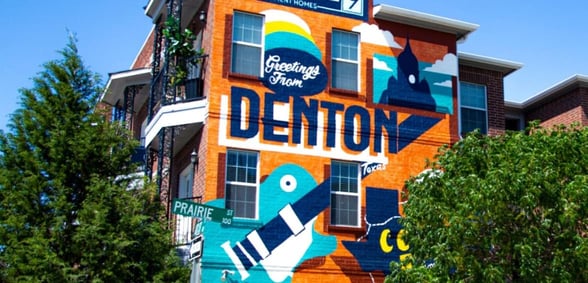 Denton, Texas, is a wonderful place to be dating as a college student. With the University of North Texas nearby, TWU students can find plenty of other students in town ready to check out the exciting places Denton has to offer. TWU students can find fun activities to share with their partners on campus, like checking out performing arts productions or attending sporting events. They can go to the wide variety of restaurants, breweries, and ice cream shops in town. They can participate in local art and games or even get out of town to explore the beautiful nature that Texas has to offer.
Denton is full of affordable, fun, and beautiful places for young people to go on dates. Check out Discover Denton for more fun activity ideas in town!