The Scoop: One of the comforts of home is being able to sleep the day's troubles away on a comfortable bed with your partner. But what if the bed you have doesn't bring your body ease? What if it's not a good size or a good fit for you and your partner and you're constantly tossing and turning to get comfortable? If you're looking for a better way to drift off to sleep, Amore Beds is a mattress company that can help change that dynamic. Amore Beds' innovative mattress design, specialized material, and customer service will surely put you and your partner at ease. 
The Amore Beds story starts with Todd Summerville, who decided to rethink the mattress design and make sleeping a luxury for people – as it should be.
Todd purchased a mattress from a less-than-desirable store that had poor customer service. The quality of the mattress wasn't great either. After spending many sleepless nights and seeing his partner struggling to sleep as well, Todd decided to take action.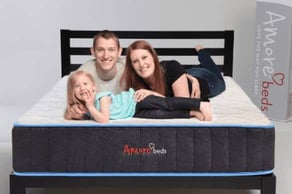 Todd put his head together with multiple experts who have been in the mattress industry. Together, they created three kinds of bedding for couples and individuals alike. 
It's important to prioritize your sleep. A good night's sleep is an important part of your physical, emotional, and mental health. Todd Summerville has created a way for couples to bond by getting high-quality sleep. 
You and your partner shouldn't have to compromise when it comes to your mattress. That's why you should consider investing in one that will let both of you count sheep in peace. 
"All our mattresses are hand-crafted right here in Chicago using the best American materials available in the industry," said Todd Summerville, Founder of Amore Beds.
An American Brand With Quality Materials 
The Amore Beds company is located in Chicago and has been making quality mattresses since 2015. Amore Beds is a traditional American business that focuses on customer service first. Couples should be able to have a sleeping platform that supports their individual needs, and this is something the founder Todd took seriously when creating this business. 
"There aren't too many two-sided mattresses available these days, so we have reintroduced this to the industry with foam and hybrid options," said Todd.
The unique design takes into account the specific needs of the sleeper and offers dual-sided comfort levels on their mattresses.
Todd and his team use high-quality material that allows customers to feel the most comfort while highlighting hygiene for an easy clean. This shows how dedicated Amore Beds is to fulfilling customer needs. The designers understand that a mattress is a long-term commitment for couples and should add comfort and ease to their love story.
Todd said he knows that couples may want to keep their options open, so he gives customers some advice on what to look for when they're shopping for a new mattress. 
"Do your research and don't get woo'd into fancy advertising. Compare layers, thickness, value, and even the quality of the fabric used, " Todd said.
Reviews Are In: Customers Enjoy Luxury Naps 
Multiple reviews showcase the brilliance of Amore Beds mattresses. Most describe how comfortable the bed is and the way it has changed the buyer's quality of sleep. One of the reviewers even said that the bed had saved his marriage. Whether hyperbole or literal, it's amazing to see that these beds are making couples happy in the bedroom. 
"When I spoke with their customer support and explained my back pain issues, they told me that their mattresses do not perform miracles, but I beg to differ. They did explain that the issue could be my old mattress and that their mattresses will provide proper comfort and support, but it still feels like a miracle to me," said Jennah Class in an Amore Beds review.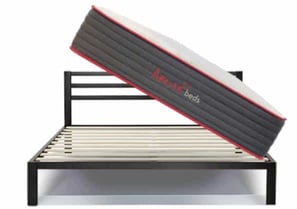 One of the most important parts of Amore Beds is the attention given to customers. The team's mission is to satisfy customer requirements, instead of offering false promises and a generic bed. The reviews show that customer service employees are helping couples and families in need of a solution to their sleeping problems. 
"Been very happy with this company and their products. We like their mattresses so much, we bought them as gifts for our adult kids. They said they [didn't] have any problems with their existing mattresses, but they both said that their Amore was indeed an improvement," said Cindy Pritchet, who recently purchased a mattress from Amore Beds 
Beds are an investment in your health and happiness. There are pros and cons to the quality, of course, but many couples find it's worth purchasing a quality mattress that will ensure they're at peace when night comes.
One of the problems that can pop up is the price of the beds. Some companies require upfront payment, which isn't in the budget for all couples. Amore Beds allows customers to finance their new mattress, so they're not breaking the bank for comfort! 
"With every vacation that I go on, I'm so happy to get home back into my Amore Beds mattress. From hotels to Airbnb's, none of them can compare to my Amore. I've started checking what the mattresses are that I'm sleeping on just to tell friends and family how much better Amore is in comparison," said Tory Lynn, a purchaser of an Amore Beds mattress.
Amore Beds: A Comfortable Option for All Sleep Styles 
There is beauty in being able to sleep peacefully without constantly adjusting your body to get in a comfortable position. You may have different sleep needs from those of your partner so you have to think about your needs and theirs. With Amore Beds, you don't have to settle for a too-firm or a too-soft bed. You can have both adjustments in one mattress thanks to the company's workmanship. Amore Beds' split mattresses have created a haven for couples in their bedroom. 
Everyone has different sleeping styles, and whether it's for you, you and your partner, or for kids, a mattress should accommodate each style. Amore Beds is a great investment, and it'll add more luxurious comfort for you and your significant other. 
Amore Beds is a prime solution for sleeping quandaries. Shoppers can browse online and look at how these mattresses compare to other brands. The website even breaks down the costs and the reasons to ditch a bad mattress in favor of a good quality one.
Not only is Amore Beds a quality option, but it comes with affordable prices and many deals for customers.
"We are currently offering 20% off mattresses with one or two free pillows. You can also get the copper ion fabric upgrade for free," Todd told us. "We are also only charging tax in Illinois, so that is a big saving that many folks do not factor in. And we also have a few different financing options available on the Checkout page."