The Scoop: Little Beet Table is a restaurant in New York City that many couples seek out for its date night vibe. It offers a rare combination of a high-end menu that accommodates diverse dietary preferences and an upscale atmosphere that isn't pretentious. And as social distancing becomes a thing of the past, many daters are planning their date nights out at the eatery, though it still offers take-out and catering.
When couples want to eat healthy food on date night, they aren't confined to cooking at home. They can go out to restaurants known for fresh ingredients and thoughtful plating.
Little Beet Table in New York City offers a comfortable yet high-end dining experience that fits the lifestyles of health-conscious daters. The restaurant promises healthy food for all diners, especially those with specific dietary needs, without sacrificing a fine-dining experience.
The eatery initially launched with a 100% gluten-free menu, but it has since to be more inclusive of other health goals, allergens, alternative diets, and lifestyle choices. The mixologist team has even added a new cocktail menu with seasonal options that bring extra spirit to the meal.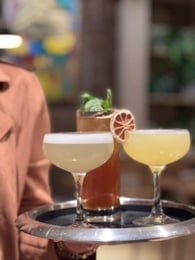 Little Beet Table's vegetable-forward menu ensures that couples won't roll out of the restaurant feeling too stuffed. Vegetarian and gluten-free diners, as well as those who prefer lighter meals with meat, will find plenty of options. Whatever your diet or lifestyle, you can bet that a delicious appetizer or main course can suit you and your partner.
The meals often lead diners to stay and discuss their evening at Little Beet Table, especially as New York City lifts its COVID-19 pandemic restrictions.
"Since the mask mandate was lifted, it has been date night central," said Ruthie Ofrasio, Service Manager at Little Beet Table. "Lots of dinner and cocktail parties will linger a while after their meal or event has ended. Guests are lost in conversation, connecting with each other, and enjoying the ambience. It gets pretty cozy here after the sun goes down."
The restaurant also delights diners with healthy versions of their favorite comfort foods. The Watercress Guacamole, for instance, is made with a charred jalapeño-scallion pebre (a Chilean salsa) and lime, while its Mushroom Reuben comes with sauerkraut, swiss cheese, caramelized onions, and a side of sweet potatoes. It can pair nicely with the Spicy Blood Orange Margarita, which has proven a fan favorite on the cocktail menu.
Serving Delicious Brunch, Lunch, and Dinner Options
Little Beet Table serves lunch, dinner, and brunch. Its lunch and dinner menus are similar and are separated into categories that include appetizers, soups and salads, entrees, and an Eat Your Vegetables section for sides.
For a lighter option, couples can choose the Roasted Shrimp Salad served with mixed greens, quinoa, avocado, spiced almonds, golden raisins, and a white balsamic vinaigrette. Diners who want more than a salad might choose slightly more dense alternatives, including a Grass-Fed Burger or a Mushroom & Bean Burger served with pickled onions, tomato, sprouts, avocado, and chipotle aioli. Both can be prepared on gluten-free buns or as wraps.
Little Beet Table's brunch menu offers many of the same options. It also adds breakfast staples, such as pancakes served with strawberry compote and whipped cream. Another popular item is the avocado toast prepared with sunny side up eggs, pickled onion, flaxseed, and market greens.
Many diners on OpenTable share what they enjoy most about Little Beet Table.
"We were very pleased with our experience at The Little Beet Table. The menu had quite a range of choices which satisfied a vegetarian diner and two omnivores. The Beet Falafel was a winner! So tasty. The shrimp tacos were also delicious with a tangy sauce. The interior is pleasing with a feel of space while also being cozy," one diner wrote.
"Not usually turning to a mostly vegetarian restaurant, but I would definitely go back. Had the mushroom black bean burger, very tasty, and nice kick. The butternut squash soup was very good as well. Both were seasoned uniquely and stood out. Service was very good as well. For brunch, prices were very reasonable," another diner added.
An Intimate Setting to Get to Know Your Date
The Little Beet Table has also established itself as a cocktail powerhouse in New York City for couples who enjoy unique drinks.
One of the restaurant's mixologists recently created a drink called the Tarragon Sunset with a sweet tequila and smoky mezcal base. The cocktail comes shaken with bright pineapple juice and a savory house-made tarragon simple syrup. The bartender then garnishes it with a dehydrated lemon wheel on the rim of the glass that alludes to a beautiful sunset.
"The inspiration came from the idea of the sunset itself, a perfect balance between day and night; the brightness of the sweet day in harmony with the smoky darkness of evening," said Ruthie.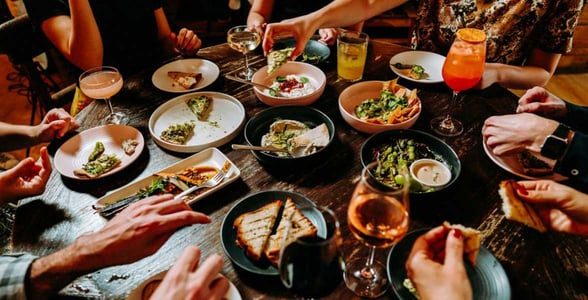 The restaurant's cocktail menu offers a refreshing blend of classic favorites and innovative concoctions. For example, its & The Beet Goes On cocktail is a blend of vodka, beet, lemon, and ginger. The Persimmon Orchard mixes bourbon, basil, apple, and lemon. Classic drinks also include mimosas, Palomas, greyhounds, and Bloody Marys.
"Every few months, we switch out two or three drinks with new ones, using fresh ingredients that are in season," Ruthie told us. "However, some crowd favorites have lasted a few years and will remain a fixture, like the Spicy Blood Orange Margarita, made with Blanco tequila, jalapeño, lime, and cayenne."
Cocktail lovers who want to cut back on alcohol also have several options, including the Spicy Pineapple made with jalapeño, pineapple, lime, and coconut water.
And of course, the drink menu includes plenty of beers and wines for couples who aren't big on trying new seasonal cocktails.
Little Beet Table: A Comfortable Getaway in NYC
Little Beet Table shut down during the COVID-19 pandemic and only offered take-out for an extended period. The restaurant finds that some diners still choose to order online and take their meals home for date night, which is a better alternative to fast food or greasy spoons.
The restaurant also offers on-location catering for events that host from four to 50 guests.
Many diners who frequented the restaurant before the COVID-19 pandemic have returned, bringing a lively environment back to the eatery. On any given night, the staff sees friends reuniting over cocktails, families enjoying comfortable nights out, and, of course, first dates.
Now that Little Beet Table is back in full swing, the team has some ideas to make things even more exciting in the next year.
"The Little Beet Table has big plans for 2022! We won't give away too much, but we can confidently share that we are expanding the dining room and adding tables to accommodate more guests," Ruthie told us. "We look forward to welcoming back the city with open arms, delicious meals, and tasty drinks, all crafted with care."