The Scoop: OnlineFreeChat is a free and dynamic chat room for adults with particular interests and desires. The live chats offer niche topics for sex seekers, gay singles, and even trivia buffs, and members can create private rooms to make their own rules, themes, and vibes for their online friends. In addition to the live chats, the OFC discussion board features a slow-paced arena for exchanging flirty messages and photos, and only registered members can post there. Singles can explore OnlineFreeChat if they want to practice their flirt game and meet new people without leaving the comfort of home.
It's easy for people in relationships to think wistfully about their single days or tell their single friends, "I wish I had as much freedom as you do." But the truth is when you're at home alone night after night, being single can be anything but glamorous. It can be lonely. It can be boring. It can be incredibly frustrating for a single person who thrives on being social and building relationships.
Fortunately, singles don't have to go very far to find new connections and start interesting conversations — they don't even have to leave their homes or social distancing bubbles. 
OnlineFreeChat offers a virtual community where people can express their feelings, find common interests, ask questions, and even pick up a hot date. The anonymous forum has everything from trivia game chat rooms to live sex chat rooms, so individuals can choose if they want to play it safe or walk on the wild side.

Since its launch in 2007, OnlineFreeChat has supported online users who are feeling chatty and want to explore a unique social network. The website's tech team has developed an in-house chat software that doesn't require any plugins to use. It is also fully mobile compatible, so people can connect from anywhere and any device.
"We wanted everyone to be able to use it, and for it to be safe, secure, and compatible with as many devices and browsers as possible, so we made that our primary development goal," the OnlineFreeChat team said.
Whenever you're feeling stuck in a single-life rut, you can always count on a free chat room like OnlineFreeChat to mix things up and provide opportunities to meet new people.
Joining a Chat Room & Meeting Someone New Is Easy
OnlineFreeChat has been around for decades, and it has earned that staying power because it's quick, easy, and free. The website asks new chat room users to supply a username, birthdate, and gender, and they can either save the information for next time or chat as a guest, and the information will not be saved to an account.
As the name indicates, OnlineFreeChat does not charge fees for its live chatting or direct messaging features. Anyone who is over the age of 18 is welcome to join the chat rooms and communicate by sending text or photos.
Only registered members can engage in conversations in the discussion boards. That means everyone in the posts and replies has an OnlineFreeChat profile that anyone can view. This adds a layer of trust to the boards by ensuring that spammers, creeps, and trolls can be booted and blocked, if necessary.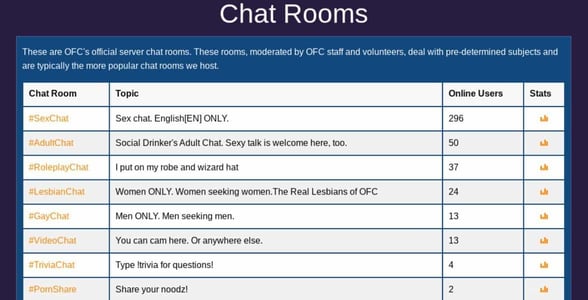 The Terms of Use clearly state the content or behavior that can get a person banned. The moderators have a zero-tolerance policy when it comes to serious offenses, including the proliferation of hate speech, spam, revenge porn, or child pornography. Users who try to solicit funds from others on the sites will also be flagged and removed.
OnlineFreeChat's team is based in Florida, and the website focuses on connecting American singles — though it is accessible to people outside the United States. 
The forum's most notable members have sent tens of thousands of messages and received tons of likes from the user base. Some hang out here just for fun, while others are more purposeful in seeking a new friend, relationship, or hookup.
One popular member has a tagline that reads, "I long to feel your soul pressed against mine. Invite me into your darkness, and let our souls intertwine."
The Discussion Forums Offer a Variety of Engaging Topics
OnlineFreeChat has many avenues for flirtation and communication. The live chats are a thrilling place to enjoy a little anonymous sexting and strike up a new personal connection with someone currently online.
However, not all users feel comfortable in this fast-paced and often X-rated environment. Some people enjoy the more relaxed vibes of OnlineFreeChat's old-school discussion board.
This forum includes breakout sessions for more personal discussions about certain topics. Users can opt into a conversation about their favorite books or movies, or they can engage in more sexually explicit chats about sexual experiences and desires.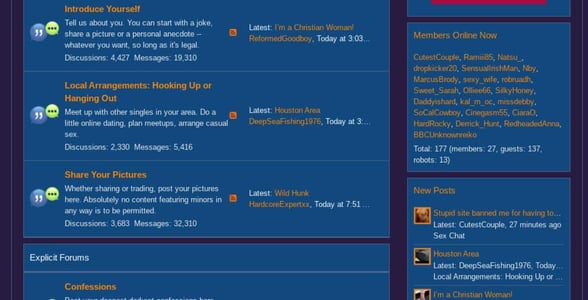 OnlineFreeChat has created niche groups for lesbian women and gay men. It also has interest-based boards that revolve around the arts, science, current events, and higher education.
The adult content spaces tend to have a lot of people looking for sex, and one section offers the chance to arrange a local hookup with a willing partner. 
If you're new to the forum, you can start by introducing yourself to the community and talking a little about your background and expectations. These posts can get hundreds or even thousands of views, and they're a great way to break the ice and set yourself up for a flirtatious chat.
Members can also create their own chat room that follows their rules and invite people to join in. The room will exist for as long as it is populated. Once all users leave, it will be gone without a trace.
Whatever your interests or sexual proclivities, OnlineFreeChat has plenty of fun ways to engage with like-minded people and create a promising new connection.
OnlineFreeChat Connects Bored, Lonely & Horny People
Being single isn't all cocktail parties and date nights. It also involves a lot of alone time, and that can wear on a person's mental health — especially during times of lockdowns and social distancing. If you're looking for a safe, fun, and free escape from isolation, a chat room could be the perfect solution. OnlineFreeChat has spent years perfecting its chat system, and countless anonymous users have benefited from its adult services.
OFC users never know who they'll meet when they log into the chat rooms or discussion board, and that's an exciting prospect for singles who want to spice up their love lives. A lot of adult activity happens during the wee night hours, but the board is open 24/7, so people can always find someone who's sitting at home alone — or bored at work — and willing to chat.
"Our server chat rooms are busy around the clock," the team told us. "Whether it's sex chat, video chat, or something a bit more in-depth, there is always activity and fun, exciting people to talk to in our busy server chat rooms."