The Scoop: Chat rooms are old-school, predating apps and texting by decades. While it's true that many are dying out, the 321Chat platform has stood the test of time and continues to attract users from all over the world. 321Chat is one of the web's longest-running chat sites that offers people a segway into the social world. Before jumping into a relationship, singles like to chat and explore with potential partners to see if the spark is there. Thanks to 321Chat, singles have the opportunity to find friendship, romance, and even true love in a chat room filled with laughter and good vibes.
Chat rooms have been around for generations. The first text-based group chat, called Talkomatic, was created in 1973 by Doug Brown and David R. Woolley. Ever since then, people have turned to online chats for their social needs. Anyone can use chat rooms to make friends, find partners, or sometimes just vent to a random stranger they don't have to pay to talk to.
Over time, we have seen how chat rooms allow singles to get to know each other online. And although chat rooms have played a major part in social connections, it's no secret that some find them outdated. 321Chat is on a mission to keep people engaged. The platform is packed with innovative features and niche chat rooms for everyone to use to meet people.
321Chat established a network in 2002 where members can chat with like-minded people and feel safe being themselves . It's a friendly space where building a strong community is at the core of the company's heart. 321Chat chat rooms are available on all mobile devices and welcome people from different backgrounds. 
"Our community is unlike any other because we moderate the rooms with an even hand. Chatters can speak freely and have fun or have fights. But moderators are around to step in when trolls appear," said the 321Chat team.
One of the Web's Longest-Running Chat Sites
The 321Chat team takes pride in knowing that 321Chat is one of the web's longest-running chat sites still in the game. Many chat rooms have fallen in the face of competition. Luckily, 321Chat is still active and team members continue to challenge themselves to ensure that they remain that way.
The team takes credit for being not only the best chat software but having the best features as well. "We challenge anyone to find a better chat that offers as many wonderful features," said the 321Chat team. Users don't have to register or pay a cent to get an online experience like no other with 321Chat.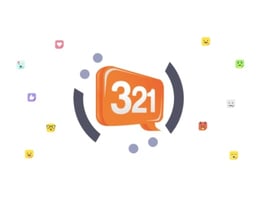 "Excellent chatting platform, plus it is free. The graphic user interface is very easy to use. 321Chat has many awesome chatters and many topic-based rooms. The chat is not a sex chat, but a friendly platform," said Jade, a 321Chat user in a review. 
321Chat doesn't hold the title as one of the longest-running chat sites for nothing. According to the 321Chat team, the moderation of the chat rooms is what sets them apart from other chat sites. Users praise the team for giving them access to a wide variety of different chat rooms on the site and ultimately a safe and anonymous experience in finding their next date. 
Unlike mainstream dating sites and apps, 321Chat doesn't ask its users to write an autobiography or upload photos of themselves to join. A new person can join under a nickname and strike up conversations without revealing their true identity. Singles can protect their privacy and engage in live chats, no swiping or mutual matching required. 
There's a Niche Chat for Everyone Online
321Chat offers users niche chat rooms where they can explore topics from teen life to religion. Since 2002, the chat room topics have evolved and grown to 14 different chat rooms tailored to age, race, religion, and even sexual orientations. This allows singles to join chat rooms that highlight what's important to them — and where they can find a potential partner who shares the same values.
Unlike dating sites, a user can explore multiple niches via one platform. For example, if a Black woman who is a Christian wants to participate in both Black chats and Christian chats, she is free to do so. In doing so, it expedites the dating process. 

Instead of having to go through 21 questions to understand a person's background and values, the specific chat rooms help users gain a solid understanding of other members even before saying hello.
The 321Chat team proudly noted that they have a global community of chatters from over 100 countries. This includes people from the United Kingdom, Canada, India, and other parts of the world. Although it's available widely, the team has discovered that most of the users are from the United States. 
Another cool way for new members to feel welcome into the community is through 321Chat's message board. This is where everyone is welcome to join in friendly conversations across the board. 
321Chat prohibits any advertisement or promotion of any product on the message board. Mixing business with pleasure defeats the purpose of the message board and can blur the line between getting to know people, so the moderators remove any posts that ask for sales rather than chats.
321Chat Supports Fun, Flirty & Casual Conversations
People share plenty of different conversations on the 321Chat site. Some are flirty, while others are super casual. But they all can lead to two members ending up as best friends. The chat room is a free space where people can send public and private messages as they please. Unfortunately, like any other online chat site, 321Chat has encountered members who don't follow the community guidelines.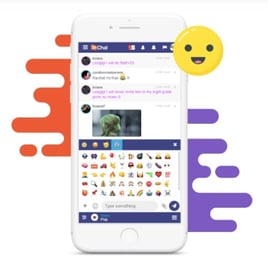 To protect users from catfish users, inappropriate language, or offensive behavior, 321Chat automatically blocks words and websites that are deemed inappropriate. Its security measures help people feel safer on the site and ensure that people are abiding by the rules. 
321Chat understands that disagreements may arise in conversations, but what is neither acceptable nor tolerated is offensive language that can lead to cyberbullying or people feeling unsafe. 321Chat moderators are given full access to take any required action toward members' accounts if they are found to be disruptive. 
Users who want to upgrade their membership to VIP can do so for only $15. VIP members have access to features such as special emojis, name and text colors, and chat history, among others. The best part of it all is that once you're a VIP member, you're always a VIP member. "Whether you're a gamer or a foodie… runner or a photographer, you'll be able to find people who share your passion and are eager to chat with you about it," said the 321Chat team.