The Scoop: Taking on new adventures and traveling with your significant other is an experience worth taking. Two Drifters experts help couples learn the benefits of traveling together and how road trips can help a relationship grow. Amy and Nathan, the couple behind Two Drifters, express their love for travel in their blogs to inspire other couples around the world. From date ideas to travel guides for couples, Two Drifters knows a thing or two about how to keep romantic partners from drifting apart from one another. 
I absolutely love traveling with my boyfriend. There's nothing like seeing the world with the one you love by your side. Traveling to new places with your significant other can benefit your relationship in many ways. According to a survey from the U.S. Travel Association, couples who travel together have healthier, happier relationships compared to those who don't. 
Couples who travel often enjoy deeper conversations with one another and feel more connected. Traveling creates romance, which can lead to a better love life. But where should couples start? I'd say road trips are a great way to incorporate traveling with your partner. Whether it's a day trip of just one hour or 10-hour drive, road trips make for a fun opportunity to bond and strengthen relationships. 
Dreamers and adventurers — Amy and Nathan — created the Two Drifters blog to share tips and stories on how couples can and should travel more together. Since 2012, Two Drifters has been a leading couples travel and relationship blog. Couples who don't know where to start or what adventure awaits them next can benefit from Amy and Nathan's pro-traveling tips. 

Two Drifters give couples the tools to plan a trip properly. Amy and Nathan said road trips are a great way for couples to reconnect and strengthen their marriage. Regardless of how old the relationship is, a road trip can surely help it go the distance. 
"We believe that marriage and long-term relationships take effort, but it doesn't have to be difficult, and it can certainly be fun and should involve lots of adventure!" said Amy and Nathan. "From date night ideas to daily habits to simple ways of better communication, our site offers dozens of articles on creating a better marriage and a deeper relationship. We just LOVE love, and it is our mission to help you have the best relationships of your life."
Couples Who Travel Together, Stay Together
Couples often discover that it becomes harder to spend quality time together as their relationship progresses. That's when many relationships start to go downhill. Couples need to maintain a healthy balance of taking care of responsibilities (such as their children) and making room for fun couple activities.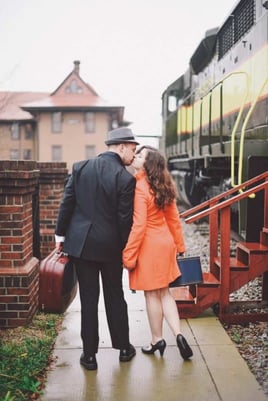 Do you know the saying, an apple a day keeps the doctor away? Well, I like to think one trip a year keeps the marriage counselor out of fear. As corny as it sounds, marriage counselors highly encourage couples to travel and explore the world together as a healthy way to connect and for some — reconnect! 
In "25 Best Road Trips In The USA For An Epic Adventure," a Two Drifters blog post, authors Amy and Nathan share some of the best destinations for a road trip.  Couples can take advantage of the travel expertise Two Drifters has to offer —  from tips on road trip routes to fun activities. When it comes to taking detours or stops along the way, Amy and Nathan said it's lovely to include some room for spontaneity, but it also depends on the couple. 
"For some people not having a predetermined route would be incredibly stressful. If you're road-tripping as a couple, it's important to make sure you're taking both partners' approaches into account. I personally think the ideal road trip would be a mix of the two: an overall set structure with some room for spontaneity," said Amy and Nathan. 
Taking Road-Tripping to the Next Level
Some people would say that road trips are boring and too long to give them a try. But what they don't know is that there are so many cool things you can do to make a road trip one for the books. Thankfully, Two Drifters shares how couples can turn a road trip into THE trip of a century. 
Yes, taking a plane is much faster and can arguably be considered much more convenient. But road trips make traveling all the more special. Amy and Nathan told us that they love taking road trips with one another. They shared that they have great conversations on the road and have a massive list of questions for couples to ask one another.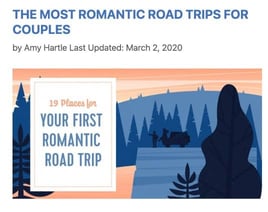 "There's just something different about a road trip. It's an adventure that allows you to discover more than just a single destination, and really makes the journey part of the overall experience," said Nathan and Amy. "Plus in many ways, there is a great deal more freedom with having a car on a trip. And compared to public transportation it's much more private for a couple."
Whether you want to sing along to your favorite tunes or play a game or two, road trips are great for team building. Couples just need to spend some quality time together to get back into the love game. The spark is there — it just needs to be tended to, and a road trip is known to do just that. 
Some people are planners  and others are not. The good news is that you don't have to plan a road trip alone. Couples can also check out Two Drifters' "Most Romantic Road Trips" blog to discover how to make their road trip just as romantic as it is memorable. In the blog, Amy and Nathan discuss budgeting and keeping a flexible schedule so the trip meets the expectations of each partner. 
Two Drifters: Where Love Meets Adventure
Two Drifters is proud to be known as the place where love meets adventure. Amy and Nathan's primary goal when creating Two Drifters was to help build better relationships so people can find more romance and adventure as a couple. 
Readers love Two Drifters' advice and the blog guides with recommendations regarding romantic travel. Road trips are cool, but when you add romance and love in between, it honestly is the best thing ever.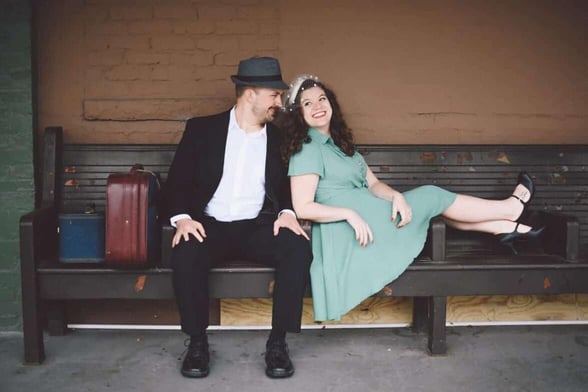 Amy and Nathan share their experiences in hopes to help other couples overcome challenges or concerns that come along. In 2018, the two lovebirds took a trip through Wales in their camper van and found it to be cozy, romantic, and convenient. Whether it's an RV or a station wagon, invest in a road trip with your loved one — you won't regret it!
"Have patience with each other. Driving is one of the leading causes of arguments between couples (ask us how we know lol) so remember to give one another grace and try to keep a sense of humor," advised Amy and Nathan.