The Scoop: Picking the right venue is a major first step when planning a wedding. Located in central Queens, New York, Terrace On The Park has earned our Editors' Choice Award for its all-inclusive services and eye-catching venues for weddings. Terrace On The Park gives couples an unobstructed view of the New York City skyline while saying their vows. Weddings at Terrace On The Park are like no other and remain a top choice for New Yorkers. 
Planning a wedding can be extremely stressful and challenging at times. You have to pick the right attire, decor, and menu — so your nagging mother-in-law doesn't criticize you. But some stress can be removed simply by picking the right venue. The venue sets the tone for your wedding and makes all the difference. From churches to beaches, you want your wedding venue to be a perfect fit for you. 
As a top venue in New York, Terrace On The Park is an exceptional venue for spectacular weddings that create memories that last a lifetime. Terrace On The Park is an iconic landmark that many New Yorkers love to visit for its one-of-a-kind breathtaking views, luxurious decor, impeccable service, and world-class cuisine.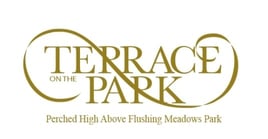 Many couples and guests have praised Terrace On The Park for creating new fond memories during special events. Its unique backdrop includes the 140-foot-high Unisphere sculpture, which is a fan-favorite for wedding photos. 
The day after one wedding at Terrace On The Park, the mother of the groom raved about her experience. "The chapel was beautiful, the service to our son and his bride was perfect, and the food (what I ate of it while talking to my guests and dancing up a storm) was delicious and amazingly presented," Donna said in a review. "It was a wonderful event, thank you, Terrace On The Park!"
Terrace On The Park's team continues to provide excellent services to all couples and families. The team actively tries to find new ways to satisfy and exceed clients' expectations. According to Terrace On The Park's general manager Bruno Marques, the success of the company is only accomplished through its hard-working staff. 
"We have a phenomenal team – without them Terrace is nothing. I have to give everyone huge credit from the managers to the bartenders to the waitstaff. Everyone who puts it together is superb," Bruno told us. 
From Breathtaking Views to Impeccable Service
Wedding venues should be more than just a place to say "I do" to your significant other. It sets the tone for a lifetime of commitment for you and your partner. If you're as superstitious as I am, you believe that it's important to start new beginnings the right way — or you may not get the ending you want. 
Terrace On The Park's team understands the importance of helping couples start their journey off the right way. With a variety of rooms to choose from, couples can be satisfied knowing they can have their wedding indoors, outdoors, or a bit of both. Terrace On The Park offers ballrooms, suites, rooftops, and a variety of reception areas for weddings. Bruno told us that the building is so versatile that events can range from approximately 50 to 1,100 people.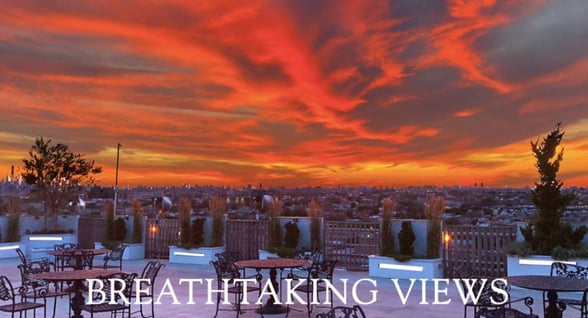 "My wedding was gorgeous, and the venue helped me execute what I wanted, plus I had enough space to accommodate my guests. The quality of service, attention to detail, responsiveness was beyond what I could imagine and the food was very good!" Aisha said in a review. 
"Terrace On The Park took care of absolutely everything: food, drinks, planning, service, recommendations, tasting, cakes, linens for the tables," said Caroline Siu in another five-star review. "It took immense pressure off our shoulders."
Terrace On The Park plays a major role in helping couples plan their special day. The team helps couples pick the menu items that fit their budgets and tastes. The on-site catering services and vendors are experienced professionals who can handle all types of requests. 
"It's a stress-free option. The bride is going to have enough stress with choosing flowers and DJs and all that, at Terrace On The Park she can sit back and let us do what we do best," said Bruno.
New York's Most Recognized Wedding Venue
When looking for a wedding venue, you can read the reviews to determine which companies are the most popular and trusted. Nine times out of ten, the top places will be credited by an array of different people as the best. For more than two generations, Terrace On The Park has earned the reputation as one of New York's most recognizable venues for making wedding dreams come true. 
WeddingWire bestowed the 2022 Couples Choice award to Terrace On The Park, which has an 88% approval rating from couples. In addition to the beautiful views and decor, couples give thanks to Terrace On The Park's diligence in helping weddings continue even during the COVID-19 pandemic. The last two years have been challenging, but the team made it a priority to still make that special day still feel special for New York couples.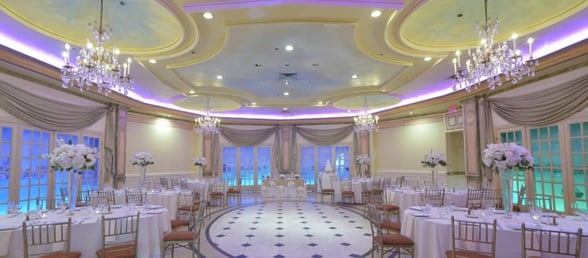 "We chose this place and the date July 8, 2021, in the middle of a pandemic. We struggled with the threat of postponing or having a masked wedding. Jennifer F. was so supportive and calm through it I've gained a friend," Elnetta said in a review. "We had people making sure all our needs were met… They made the beginning of our marriage a fairytale!"
Throughout the COVID-19 pandemic, Terrace On The Park has adapted to changing circumstances and restrictions and helped its couples adapt as well. Couples who had to reschedule or postpone their weddings could take comfort knowing that the team was with them every step of the way. 
"We try to work as best we can with our clients. You know, it was a crisis for everyone, people, businesses, everyone. But the show must go on. Weddings have to go on," Bruno said. 
Terrace On The Park Hosts a Spring Event Showcase
Terrace On The Park helps couples create memorable experiences for their wedding day, and its team support system starts from day one of wedding planning. One popular annual event  is the Spring Event Showcase, which features an array of vendors that the team works with frequently and highly recommends. Guests attend the showcase to meet potential vendors and get exclusive deals from some of the best in the business.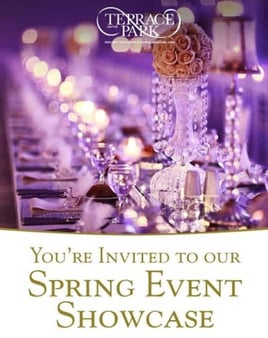 "Attendees check-in and can take the elevator up to ballroom levels for the showcase rooms with all these vendors, and they get great rates, great specials. It's a great time to come in and get what you need. And it's all the vendors I recommend, they're great, stable, professionals. I stand by them 100%," Bruno proudly told us. 
The Spring Showcase is set to be on April 5, 2022. Advanced tickets are only five dollars, and day-of tickets will be $10 at the door. During the event, guests will have the opportunity to sample award-winning cuisine while listening to fine tunes playing in the background. 
As the year progresses, we can expect even more long-lasting memories created during special events at Terrace On The Park. Already booked for the rest of the year, the team expects 2022 to be a year for more opportunity, more growth, and more weddings being celebrated. 

"It'll be 25 years since my husband and I got married at Terrace on the Park. We still talk about the food when we go to other weddings and nothing has compared. We had the best time that day," Sheryl said in a review.