Chicago is known for its iconic architecture, beautiful outdoor spaces, and location on the shore of Lake Michigan. It's ranked as one of America's top travel destinations and is packed with unique experiences and landmarks. Think along the lines of the quintessential Cloud Gate sculpture, the tree-lined, winding pathways of Lincoln Park, and the Willis Tower.
Diverse seasons, unique venues, and bustling city energy combine to attract thousands to get hitched in the Windy City every year. Whether a couple is looking for a grand ballroom experience for their large wedding, or a hidden gem tucked away in one of the city's many neighborhoods, Chicago has hundreds of offerings.
Navigating venue selection in Chicagoland can take time, with couples having to contend with a nearly 10,000-square-mile metropolitan area. Couples searching for any vibe — from historic hotels to charming outdoor spaces — can find something perfect for their celebration in this list of Chicago's premiere venues.
Best for All-Inclusive Packages: The Seville
The Seville is located just outside of Chicago in Streamwood, Illinois. The venue boasts three separate ballroom spaces that can be combined to cater to the size of the wedding. The Seville has a grand lobby with a balcony, a double staircase, and 25-foot ceilings.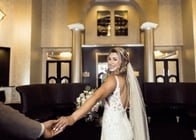 When couples decide to tie the knot at The Seville, they have a large team of dedicated professionals helping them create a beautiful ceremony and reception. Packages include customizable food, cake, bar, and decor options. Couples can opt for an experienced personal wedding coordinator to assist them every step of the way in preparation for the wedding day.
Whether a wedding expects 100 guests or 800, The Seville offers a variety of ceremony and reception options. The Seville creates custom packages, pricing specific to each couple, and special seasonal rates. No matter what a couple has in mind, The Seville can work with them to deliver.
More About The Seville
Located in Streamwood
Elegant and versatile spaces
Wide variety of packages
Award-winning food options
Best for Historic Elegance: Stan Mansion
Stan Mansion hasn't always hosted beautiful and elegant weddings. The historic building, situated along the two-and-a-half-mile-long Logan Square Historic District, was built as a Masonic lodge to house a chapter of the Knights Templar. Couples looking to get hitched in a place steeped in history should look no further than Stan Mansion.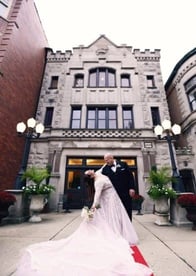 The historic building has been a venue since its restoration in 2018. Stan Mansion is women-owned and strives to be a place for all couples, regardless of sexual identity and religious or ethnic background. Stan Mansion offers wedding packages from micro-wedding sized to weddings with over 300 guests.
Venue spaces in Stan Mansion include the Grand Ballroom, Ceremony Room, and Versailles Lounge. Stan Mansion's gathering areas are all marked by colorful and extravagant details that express the venue's history. Stan Mansion is ideal for couples who want to celebrate their love in a small piece of Chicago history.
More About Stan Mansion
Located in Logan Square Historic District
Originally built to serve as a Masonic Lodge
Romantic, Baroque-inspired Versailles Room
Women-owned
Best for Sprawling Grounds: Concorde Banquets
Concorde Banquets brings manicured greens, romantic outdoor spaces, and two ballrooms to Chicagoland's wedding venue scene. Located in Kildeer, Illinois, Concorde Banquets is an excellent choice for Chicago-area couples who want to step outside the city for their nuptials. Just 20 minutes from O'Hare Airport, the venue's location is convenient for out-of-town family and friends.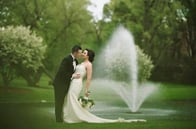 The Concorde has various wedding spaces, including separate areas for the ceremony and reception. Wedding spaces include the Grand Ballroom, the Junior Ballroom, the Mezzanine, and a patio over the pond. Concorde Banquets offers three wedding packages so couples can customize their experience.
Known for luxury and elegance, the Concorde offers spacious ballrooms, lush grounds, and delicious cuisine. Putting together a wedding in Chicago can take time, effort, and money. Moving outside the city while staying within Chicago's metropolitan area gives couples the best of both worlds.
More About Concorde Banquets
Located in Kildeer
Beautiful and lush outdoor space
Four distinct wedding spaces
Highly customizable
Best for Outdoor Spaces: Salvatore's
Salvatore's is nestled in Chicago's Lincoln Park and exudes timeless elegance. The historic venue is situated on a street lined with peachy brick buildings and large, old trees. Everything about Salvatore's, including its prime location, is classically Chicago. Salvatore's building is over 100 years old, with dark wood walls, crystal chandeliers, and checkered black-and-white floors.
The venue can host up to 200 guests for indoor and outdoor ceremonies and receptions. Packages are customizable, and Salvatore's team works with couples so their big day can genuinely reflect their love. Salvatore's also offers full bar service, in-house catering, valet parking, and a dance floor.
The in-house catering service is Italian-inspired with touches of classic American cuisine. Tasting sessions are available, and the catering team is happy to work with dietary needs and restrictions. Salvatore's offers all-inclusive wedding packages for weddings of any size and type.
More About Salvatore's
Located in Lincoln Park
Classic Chicago feel
Historic building
In-house catering inspired by Italian and American fare
Best for Luxury Hotel Experience: The Langham, Chicago
A part of the family of legendary luxury hotels, The Langham, Chicago offers couples the wedding they've always dreamed of. The Langham is committed to providing sophistication, style, and glamour. The hotel is located along the Chicago River and occupies a building that has been a fixture of the Loop's landscape since 1971.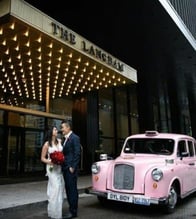 The Langham has several venue spaces throughout the expansive hotel, including private outdoor spaces. All venue areas feature remarkable views of downtown Chicago and the Chicago River. The hotel has a nearly unrelenting glamorous feel that imbues any wedding day with elegance and extravagance. 
The wedding team at The Langham includes an experienced head coordinator and award-winning chef. The team works with couples to create formal weddings that make magic and romance. Packages at The Langham are highly customizable, including decor, lighting, food, beverage, and photography options. Not to mention the special couple and their guests have the opportunity to spend the night in one of Chicago's most iconic hotels. 
More About The Langham, Chicago
Located in downtown
Part of the family of iconic Langham Hotel Group
Full of luxurious yet elegant glamour
Specialized food options from award-winning chef
Best for Full Customization: Loft on Lake
Loft on Lake is Chicago's premiere wedding loft space. Fully customizable for ceremony, reception, and cocktail hour, Loft on Lake can host up to 175 guests for intimate and thoughtful weddings. The venue is located in the West Loop neighborhood and has exposed brick walls, 20-foot timber ceilings, and a large skylight that fills the loft with natural light.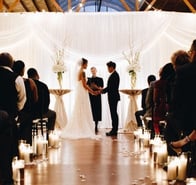 Wedding coordinators at Loft on Lake work with couples to fully customize the loft space. The interior transforms to fit any look and style a couple has in mind. Loft on Lake has close relationships with over 25 amazing caterers and has a photography company called Lofty Weddings. Lofty Weddings offers customized photography packages at special rates for couples who decide on Loft on Lake for their wedding.
Loft on Lake is family-owned and -operated. The Green Wedding Alliance approves the venue as Earth-friendly and encourages recycling and composting. Loft's team appreciates how important the wedding day is to a couple and is dedicated to providing premier service at a good value.
More About Loft on Lake
Located in the West Loop
Rustic loft-style space for intimate weddings
In-house photography company, Lofty Weddings
Family-owned and -operated
Best for Unique Spaces: Chicago Athletic Association
Celebration abounds at the Chicago Athletic Association, which calls a beautifully restored 1893 Venetian Gothic hotel home. The venue offers four ballroom spaces with unique features that combine historic Chicago charm and modern elegance. Located in the heart of downtown, the Chicago Athletic Association offers restored 19th-century glamor to any wedding celebration.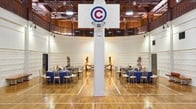 The Chicago Athletic Association can host weddings with up to 500 guests. The White City Ballroom captures all the elegance of Old Chicago grandeur. The ballroom features floor-to-ceiling windows, vintage stained glass, and views of Lake Michigan. Another ballroom space, Stagg Court, brings a new twist to courtship as the Association's gymnasium.
Couples who choose to tie the knot at the Association will find support every step of the way from the wedding planning team. The team assists couples in vendor sourcing, meal planning, and cocktail crafting. The venue boasts an unrivaled banquets and catering team led by executive chef Kaleena Bliss.
More About Chicago Athletic Association
Located in downtown
Unique basketball court ballroom
19th-century building with deep Chicago history
Catering program led by award-winning executive chef
Best for Large Weddings: The Geraghty
The Geraghty is one of Chicago's most significant and versatile event spaces. Offering 25,000 total square feet of space and 22-foot ceilings, the Geraghty can be fully customized for every wedding. The large space is transformed into several distinct wedding layouts, including room for the ceremony and reception. Couples can curate their wedding layout and design, whether understated, grand, sleek, modern, or traditional.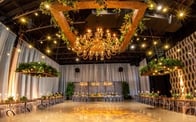 Couples planning extravagant weddings with hundreds of guests will find their needs dedicatedly catered to throughout the planning process. The wedding coordinators and designers at The Geraghty know a lot about event production and lighting design, and they incorporate thoughtful touches unique to the couple.
The Geraghty transforms from a blank slate to an intricately designed wedding space. The team has cultivated close relationships with Chicago-area vendors over the years. The Geraghty prides itself on meeting a couple's most specific needs and desires for their wedding.
More About The Geraghty
Located in the Pilsen neighborhood
Known for hosting high-profile events
25,000 square feet of venue space
Detail-oriented team
Best for Vintage Charm: Firehouse Chicago
If Firehouse Chicago sounds like it would be a one-of-a-kind venue, it's because it is. Firehouse Chicago is a rustic and intimate wedding venue in the Edgewater neighborhood in Chicago's Northside. The beautiful indoor space opens to the cozy Chicago street with large wooden doors. Outside, the quaint garden space exudes a romantic atmosphere full of magic.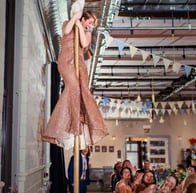 The wedding team at Firehouse Chicago takes a personalized and hands-on approach to planning. They help couples by making vendor referrals, creating a timeline, and customizing a floor plan. Every wedding at Firehouse Chicago includes month-of coordination, curated vintage furniture, and multiple bourbon barrels.
Firehouse Chicago is a charming wedding venue perfect for intimate weddings. Its layout encourages closeness and conversation, with several distinct spaces close to each other. One of the best parts of this venue is its historical significance for Chicago. Before Wrigley Park or the Adler Planetarium was ever built, Chicago built a firehouse for Engine Company 70. Today, couples celebrate their love in the historic building.
More About Firehouse Chicago
Located in the Northside
Renovated, historic firehouse building
Indoor and outdoor spaces
Rustic, vintage charm 
Best for Skyline Views: Penthouse Hyde Park
Chicago couples looking to tie the knot with the backdrop of gorgeous skyline views, tall ceilings, and historical architecture should look no further than the Penthouse Hyde Park. The Penthouse Hyde Park is 15 minutes from downtown, just blocks from Lake Shore Drive, and is situated among vintage greystones and historic homes.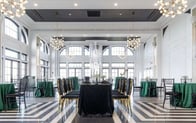 Penthouse Hyde Park has a distinctively Chicago feel. Perched atop the historic Piccadilly Building, an icon of the Hyde Park neighborhood,  the top-floor ballroom offers incredible views of Chicago against black-and-white elegance. The rooftop terrace extends from the penthouse ballroom and provides an outdoor space with an urban feel. 
The dedicated team of wedding professionals at the Penthouse customizes ballroom layouts, menus, and drink options for every couple. The venue transforms with each wedding, capturing each unique couple's style, story, and celebration.
More About Penthouse Hyde Park
Located in Hyde Park
Art Deco ballroom
Rooftop terrace
Sleek, elegant, and modern black-and-white finishes
A crucial part of planning a wedding is selecting the right venue. Most couples would agree they want a wedding that feels specially made just for them. While selecting a delicious menu, designing the perfect beverage list, and choosing outfits for the wedding party are all critical parts of wedding planning, there's no wedding without a venue.
Engaged couples planning an intimate wedding may feel overwhelmed by venues that feel too large for their celebration. When arranging a large wedding, ensuring the venue can handle the number of guests that plan to come is essential. The venue's location, design, and feel can impact the final wedding product.
From rustic and charming to luxurious and polished, these wedding venues will surely create unforgettable wedding days. Couples with any kind of taste and image for their Big Day will find a team of dedicated professionals at each venue who will work with them to create a celebratory and romantic experience.