The Scoop: Nest Bedding is a family-owned company that offers high-quality and long-lasting mattresses and bedding perfect for couples. Nest products focus on sustainability and increasing the lifespan of a mattress. They are made in the U.S. and are free from toxic chemicals. Nest offers mattresses in a wide selection of sizes, firmness levels, and materials, giving every kind of sleeper plenty of options to choose from. Known in the mattress industry for making the best mattresses for couples, Nest has the bedding solution that fits even the most demanding sleeper.
A lot of important things happen in a relationship in bed. It sounds obvious, but having a comfortable space that provides reliably good sleep is crucial. Personal health and relationship wellness rely on achieving consistent quality sleep, quality sex, and quality time – all of which happen in one specific spot.
Online mattress shopping has boomed in the last 10 years. That has prompted a surge of low-quality products that have saturated the market. The affordability and accessibility of these low-quality mattresses pose real competition for high-quality mattress and bedding brands, despite the vast difference in materials, construction, and lifespan.
Nest Bedding believes couples deserve the highest quality when it comes to a place where so much important time is spent. Established in 2011, Nest Bedding appeared at the beginning of the online mattress shopping trend and has since been dedicated to designing high-quality, sustainable mattresses. Nest mattresses are designed to have a longer lifespan, come with a lifetime warranty, and a year-long trial period that includes free exchanges and returns.
Brooke Alexander, Chief Brand Officer for Nest Bedding, sat down to tell us about how couples can find life-changing sleep with a Nest mattress. Nest Bedding gained notoriety in the mattress industry for its Love Bed, which was touted as the best mattress for sex. Continuing this focus on sleeping solutions for couples, Brooke said, "What's going to be best for one person isn't necessarily going to be the best for their partner. We help couples find the perfect solution for both of them."
Made with Couples in Mind
Nest launched in 2011 with the Love Bed, which was marketed as a bed designed with sex in mind. Brooke told us this came at a time when the market was full of motion-absorbing foam mattresses, which are super comfortable, but not great for bedroom activities. Obviously, the Love Bed was great for more than sex, and Nest became a reputable name in a competitive market.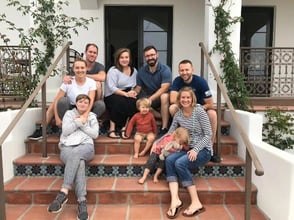 Brooke joined her father in running the family business in 2014, bringing a background in holistic medicine and sports therapy to the bedding business. Soon after, Brooke's brother and current Nest Bedding CEO Christian Alexander hopped on board. The brother-sister duo established Nest Bedding Showrooms as they continued to innovate bedding solutions.
Nest Bedding was one of the first bed-in-a-box brands, a concept that is now a standard in mattress sales. The factory-direct model combined with compact shipping and innovated mattress sales forever. Customers could now order a mattress online and have it delivered to their door in days – all in a box that one person can carry.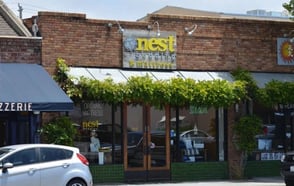 While online sales make up a sizable portion of Nest Bedding's business, brick-and-mortar showrooms remain an essential part of the brand. Showrooms let customers test out beds and explore the full range of Nest products, including pillows, linens, and bedroom furniture. Nest features lines of products that were designed to work well with each other, and the showrooms put that on display.
Nest Bedding has been creating sleep solutions for couples for over a decade, making beds that are good for more than just sleeping. Couples start and end every day in bed, and the quality of a night's sleep — besides sex — can have a big impact on the mood the next day. Nest has made it its mission to help couples make their bed a place of relaxation.
Building the Perfect Nest
Couples wondering which mattress is the best fit for them should start with Nest's mattress quiz. This quiz takes a lot of important factors into account, including who sleeps in the bed and the firmness level they prefer. Nest Bedding also provides plenty of information for customers unsure of what firmness level they want, giving parameters for each level.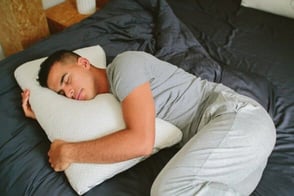 At the beginning of the quiz, couples note that they're shopping for themselves and a partner. Then, they can select their sleeping position – on their back, side, stomach, or a combination of the three.
Nest Bedding's support levels are classified as firm, medium, and soft, with the firm option providing the most support and soft providing gentle support.
Couples will then be met with a checklist they can use to mark the features in a Nest mattress that are most important to them. These features include comfort, affordability, sustainability, and longevity. After making this selection, couples will be given the mattress that most closely aligns with their needs.
All Nest mattresses are aptly named after birds, with models named Sparrow, Owl, and Quail, just to name a few. When shopping online, couples will find the layout of the website super helpful in comparing the features, price, and material of mattresses. The Owl and Sparrow models in king and California king sizes can be split, offering specialized comfort for couples.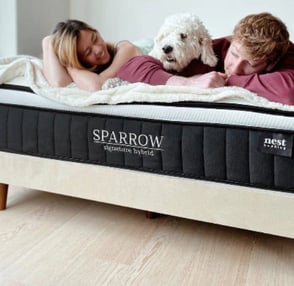 Brooke was excited to tell us about Nest's split mattresses. "Split mattresses are great for a lot of things," Brooke told us, "but not really cuddling, or other bedroom activities." This is why Nest makes all their split beds an internal split, meaning there is no gap on the surface of the mattress. The interior of the mattress is split to cater to the needs of each individual, without sacrificing the comfort of the couple when they want to use the bed for other-than-sleeping activities.
Nest Bedding can help couples who are looking for a new mattress but aren't sure what they want. Whether it's by taking the mattress quiz or speaking to Nestologists, who are Nest's mattress and sleep specialists, Nest can help couples find what they want. Besides mattresses, Nest offers full lines of bedding, pillows, and other sleep accessories.
Beds Designed for the Long Haul
There are so many reasons to love a Nest mattress, but for Brooke, at the top of these reasons is the sustainability features built into each mattress. Many of Nest Bedding's luxury mattresses come with a zipper top.
The zipper allows Nest Bedding customers to open their mattresses, remove the tops, and adjust what Brooke calls the comfort layers. These comfort layers often need to be replaced every seven to 10 years and can keep a mattress that just needs a little bit of revamping from ending up in the landfill.
Removable and replaceable comfort layers can extend the lifespan of a mattress by up to 10 years. Nest offers customers one free exchange of comfort layers as part of its Lifetime Warranty. While Nest mattresses are not exempt from the normal wear and tear beds experience throughout their use, the removable features give customers Nest perks years after they have bought their mattress.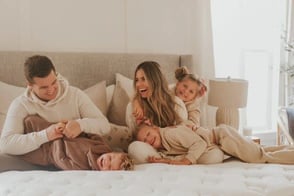 Nest Bedding's business model also avoids over-production, which keeps storage costs down and inventory tight. This means Nest doesn't contribute to overstock waste, and the team can offer the highest quality for a competitive price.
The materials used in Nest's mattresses are Fair Trade-certified and made without harmful chemicals often used to process textiles.
We spend about a third of our lives sleeping, which means a lot of life happens on a mattress. Whether sleeping or cuddling, couples deserve to have a high-quality mattress. Nest offers mattresses that will last for the long haul and provide the highest level of comfort. 
While a mattress is certainly a purchase that needs some planning, Brooke said she believes in the power of a high-quality mattress. "I see a lot of people making the mistake of just going online and buying the cheapest mattress," she said. "But what they're doing is buying a disposable mattress– it's gonna end up in the landfill in just a couple of years." Couples looking to invest in quality sleep while making environmentally sustainable decisions should look no further than Nest Bedding.