The Scoop: When LGBTQ+ singles and couples think about relocating or traveling, they want to know which places will feel safe and comfortable. Equaldex was founded in the late 2000s to track laws and policies relevant to gay populations worldwide. Through the years, the organization developed a ranking system that identifies the most and least progressive places for members of the LGBTQ+ community. Its Equality Index offers ratings and considers how specific populations — including political or religious groups — accept and protect LGBTQ+ people.
Members of the LGBTQ+ community may consider leaving a city or country for many reasons. Perhaps they want to move to a more accepting place, where they can be themselves. Or they may want to leave in pursuit of a job or because they want to retire. Whatever the reason, they will wonder if their next destination will be LGBTQ-friendly.
The Equaldex Equality Index can identify where a location stands on the issue. For instance, Romania is in the middle of the road for LGBTQ acceptance, with a 49 out of 100 rating. The rating system tracks essential issues, including the legality of homosexuality, which Romania accepts, and same-sex marriage, which it does not.

Equaldex's ranking system uses several factors to consider whether it would be comfortable for sexual or gender minorities to live there. It is legal for a person to change their gender in Romania, but only if they undergo surgery. Sexual minorities in the country, but not gender minorities, are protected from workplace discrimination.
Some of the most accepting countries for LGBTQ+ populations are in Scandinavia. Greenland scored a 98 out of 100 for its level of acceptance, while Norway has an 86 ranking, Iceland a 90, and Sweden an 83.
People worldwide can also track some of the most dangerous countries for LGBTQ+ individuals.
"Africa seems to be making very little progress. In some African countries, we've even seen a regression to harsher laws against LGBTQ people," said Dan Leveille, Founder of Equaldex. "Since the topic continues to be taboo across most of Africa, I haven't seen a lot of research around people's opinions to know which direction a lot of the countries are headed."
Dan originally founded Equaldex in 2009, around the time when California was considering a same-sex marriage ban. With so many laws and proposals around the United States, he said he decided to develop a platform to track LGBTQ-related laws and policies worldwide.
Tracking Laws and Policies in the United States
The United States has a high Equality Index ranking of 80 out of 100. One of the most notable features of the report is that many LGBTQ-friendly policies vary by region. Homosexuality and same-sex marriage are legal everywhere, but laws on adoption, changing one's gender, and housing and employment discrimination differ by location.
Contributing to this patchwork acceptance are two groups that are historically anti-LGBTQ: religious groups and Republicans.
Still, Dan suggests that both groups have become more accepting over time.
"Nearly every survey you look at shows that Republicans are becoming increasingly more tolerant toward same-sex marriage and other LGBTQ issues," Dan told us. "I think we've seen some Republican leaders move from being anti-LGBTQ to just being silent on LGBTQ issues — likely because they know American attitudes are changing."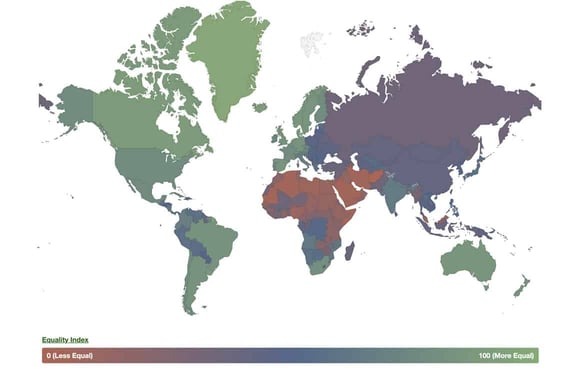 He added that the Pope has been making surprisingly progressive comments about homosexuality, and he hopes those attitudes will trickle down to religious leaders. Anti-LGBTQ attitudes are often rooted in religion, he added.
While opinions by members of both groups have progressed, there is a long way to go. But younger people of all demographics are typically more accepting of LGBTQ+ issues than their older counterparts.
"I always find it encouraging knowing that, as time progresses, the public opinion should shift simply because of the differences in generational values," Dan said.
Markers demonstrating those shifts include two surveys from the Pew Research Center. In a 2013 study, 60% of Americans surveyed said society should accept homosexuality, while 30% disagreed. A similar survey in 2019 showed that 72% of respondents agreed society should accept homosexuality while only 21% disagreed.
Positive and Negative Views On LGBTQ+ Issues
In the nearly 15 years since Equaldex was founded, Dan and his team have seen plenty of progress regarding LGBTQ+ rights across Western countries. He suggests that technology and access to the internet have helped contribute to global changes in attitude.
Individuals living in less-progressive places are more likely to be exposed to improvements in other parts of the world.
"In places where being LGBTQ is taboo, and no one talks about it, this is especially important. Simply making a taboo topic more familiar to people can help reduce some of the homophobia that stems from the idea of it being unfamiliar or foreign to them," Dan told us.
He also thinks that the representation of LGBTQ+ characters and topics in media has improved acceptance.

"Simply exposing people to LGBTQ+ issues goes a long way — especially when you see a story told through the eyes of a teen struggling with coming out," Dan said.
He added that some countries have even created shows that go beyond focusing on the difficulty of coming out as queer or trans. He mentioned "BL dramas" in Thailand, Japan, and other parts of Asia that often take place in a world where being gay is accepted by everyone in society.
Dan also considers popular brands showing their support of LGBTQ+ people during Pride Month — even if it's just changing their logo to a rainbow — as a marker of progress.
"While some argue this is pandering or an empty gesture, I think it shows the progress we've made as a society where supporting LGBTQ people is considered a trend and brands are no longer considering it risky to be pro-LGBTQ," Dan said.
Equaldex: Society Progresses Toward Acceptance
The United States has made considerable progress in accepting LGBTQ+ people since Equaldex launched its ratings in 2008.
"Back in the late 2000s, around the time of California's Prop 8, there were a lot of states that were moving to legalize same-sex marriage. With so many laws changing or being proposed, I had the idea of a simple site that would show a map of the world where you could track the laws," Dan said.
Certain LGBTQ+ rights have become widely accepted in the United States, especially in liberal cities. But it wasn't that long ago that this population had to fight for their rights — and in some places in the country, they still do.
The patchwork of acceptance is still a reality in many parts of the world. For instance, neighboring countries Spain and Morocco couldn't be more different regarding gay rights. Spain scores an 84 on the Equality Index, while Morocco only racks up 18 points.
Dan said that is why Equaldex's volunteers, moderators, and users contribute to the site — so LGBTQ+ folks and their supporters don't forget the rest of the world. In a country where same-sex marriage is legal, it's easy to forget that homosexuality is still illegal in 69 countries and punishable by death in eight.
"Many people — especially those in more progressive countries and cities — don't realize how difficult it is for LGBTQ people in other parts of the world. The fact that any country has the death penalty just for being gay is shocking to many, and it makes you think about the LGBTQ movement differently," Dan said.
Dan said he hopes that the Equaldex world map and country-specific information can be a wake-up call that the movement toward full equality is ongoing, and the work is far from finished.