The Scoop: Shopping for a wedding dress is one of the most stressful, yet important parts of preparing for a wedding. Brides go through an endless number of magazines, websites, and stores to find the perfect dress. The online dress store, Azazie reinvents the bridal shopping experience with its all-inclusive and fashionable dress catalog. From its affordable dress options to its online convenience, Azazie stands as a go-to wedding store for brides to look and feel beautiful as they walk down the aisle. 
The Lifetime reality show "Married at First Sight" is my go-to show simply because I love seeing the beautiful brides in their wedding dresses. As the ladies select their dresses, they become even more eager to walk down the aisle. It's  an exciting moment for them, but I can't help but see how stressful it is to try on dress after dress. Shopping for your wedding dress is an exciting part of the wedding process, but it can turn into a chore. 
A wedding dress fitting is a key moment during which brides look at themselves in the mirror and say, "Wow, I'm really about to get married." It's confirmation that they will soon be saying "I do," to their special someone. To reduce the level of stress for brides, the online dress store Azazie continues to provide affordable and quality wedding dresses. 

Azazie is a tech-forward company founded in 2014 by CEO Charles Zhong. Azazie was built on three principles: affordability, convenience, and inclusivity. These three principles have propelled Azazie to successfully help brides save money on the dress they always wanted for their big day.
The company's spokesperson Keily Hernandez told us that Azazie has the most competitive pricing in the industry without ever sacrificing the quality of the dress. "We have a lot of technology in place, like our virtual showroom, which saves people time and money when ordering dresses and making decisions," Keily said. 
Affordable Made-to-Order Dresses Available for the Bride
Some brides find that their dream dress is just out of reach simply because it's not within their budget. Some people may not have thousands of dollars to spend on a dress — and that's OK! Keily said that Azazie offers direct-to-consumer, high-quality gowns at an affordable price. Thanks to Azazie, brides can find dresses that suit their liking without going bankrupt. 
Many of Azazie's customers brag about how they always get a good deal while shopping on the site. Whether you buy a dress on sale or use the "pay it later" option, Azazie is a budget-friendly way to make sure your wedding is complete.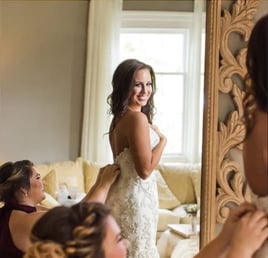 "This veil is INCREDIBLE for  the price. I got so many compliments! It perfectly matched my ivory dress and the appliques, and looked so similar to a $600 one that I fell in love with at a bridal studio," said an Azazie customer in a review.
The Azazie team loves customer feedback and uses those comments to improve the site overall. Azazie's customer base grew in the first year after it was launched. Charles gives credit not only to the company's team but to the customers who helped them along the way with their input.
"One of the strategic pillars of our business is listening to our customers through consumer surveys, social listening, and crowdsourcing design. It doesn't cost us anything, and the insights we have been able to gather are invaluable," Charles said in an interview with CO — an editorial website launched by the US Chamber of Commerce. 
Combining Convenience With Style
Convenience is one of Azazie's core principles, and the team is always looking for new ways to combine convenience with style. Customers can conveniently navigate the site and shop for their dresses by filtering their search options, which include color, length, fabric, and even collection. 
Every wedding dress should be tailored to the bride's personality — what she likes and who she is as a person. But sometimes there are those instances when a bride just doesn't know what her style is. Luckily, Azazie has over 200 gowns available and over 400 bridal party dresses in 80 colors for brides to browse.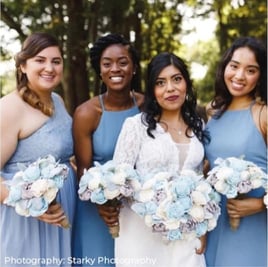 When asked what advice she would give to a modern bride or bridesmaid looking for the perfect dress, Keily told us that the first thing to consider is your venue and the theme that you're going for. 
"We see a lot of bridal parties opting for more sexy styles with slits and backless features, but at Azazie you can find a dress for every body type and preference," said Keily. "If you still can't find a dress, you can contact our customer service team who can help assign a stylist to help you narrow down choices and make a decision."
During the COVID-19 pandemic, customers expressed their gratitude for how convenient Azazie was. For some, having a wedding during a pandemic was nearly impossible, but, with help from businesses like Azazie, the impossible became possible. During the 2020 pandemic, Keily told us that the company saw a 200% increase in sales. She said the team takes pride in being able to deliver quality service when customers need them the most. 
Azazie Continues to Promote Body Inclusivity 
Azazie proudly claims the title as an all-inclusive and all sizes dress website. Keily told us that Azazie is committed to body-positive fashion and offers every dress in sizes from 0 to 30. As a result, Azazie has won many awards, including but not limited to: The Glossy Beauty and Fashion Award for the Best E-Commerce Experience, WeddingWire's Couples Choice Award in 2018 and 2020, and Newsweek's Fastest Growing Online Shops in 2022.
Azazie's goal is to implement zero waste at every step from its fabric to the recycling of dresses. All bridesmaids, wedding, and mother-of-the-bride dresses on Azazie are cut to order — whether you order a standard-size dress or something customized to your measurements. Azazie's made-to-order manufacturing process is part of its sustainability initiative.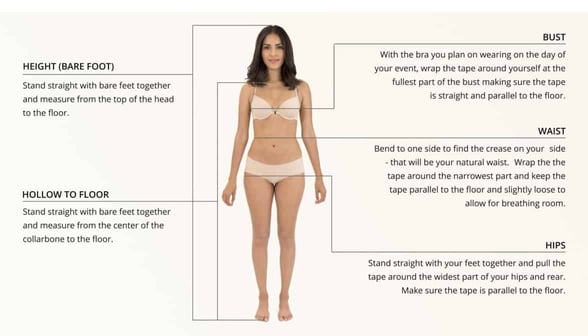 Keily also told us that Azazie offers custom sizing at no extra cost to help save customers money on alterations. "We know that every body type is different and not every woman is going to fit in a standard sample size," said Keily.
We can expect to see more from the Azazie team in the future. Keily said that the team is always evolving to stay ahead of technology and the latest design trends. She added that the company is exploring virtual try-on features that will help customers envision the dress on their own body — which would reduce the amount of picking through dresses and making returns. 
"We are constantly testing new technologies and surveying our customers to find out how to better serve them and what technologies we need to consider to be the #1 player in the DTC [direct-to-consumer] space for bridal," said Keily.