The Scoop: The Laguna Art Museum is an artistic time capsule that has preserved California's cultural history over the last century. The museum attracts thousands of visitors with its diverse collection of art and engaging educational programming. The Laguna Art Museum lets couples explore and experience art at their own pace, so visitors can create a moment that's personal to them. Become a member of the Laguna Art Museum to have a go-to spot for all your date nights — no planning required.
California is on many people's must-travel lists simply because there's no place quite like it in the world. The stunning natural landscape has inspired countless American artists, entrepreneurs, and hopeless romantics. This hub of innovation nurtures artistic endeavors and fosters memorable moments for millions of couples from all walks of life.
Laguna Beach is a particularly artsy community in California. Not only does this destination have breathtaking coastal views, but it also has a long-celebrated history of artistic expression. For visiting couples, the Laguna Art Museum is the perfect place to appreciate the art of California in a warm and welcoming community.
Over 30,000 visitors come to the Laguna Art Museum every year to discover original sights and experiences you can't find anywhere else.
"What a beautiful and great local resource," wrote BoboTravlr in a review of the museum. "A great value… not to be missed."
An Intimate Space Dedicated to Showcasing Californian Art
The Laguna Art Museum collects, cares for, and exhibits works of art that represent California's history and culture. "We're one of the oldest art museums in the state," said a spokesperson for the museum. "We trace our origins to one of the first organizations here in town in Laguna Beach. A lot of the arts organizations have a shared connection that way, but we're the oldest among them."
The museum has about 3,500 objects in its permanent collection. Some come from the late 19th century, and some are contemporary pieces from local artists. The museum showcases varied works of art to give visitors a feel for the diversity of Californians.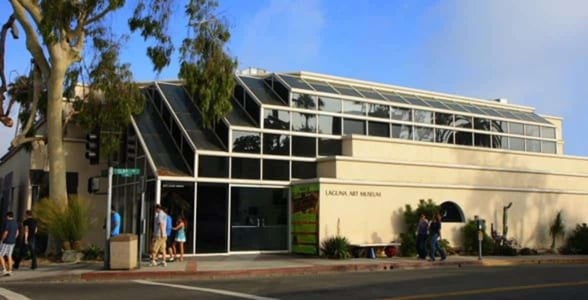 For the past 100 years, the museum has hosted regular exhibits, events, and educational programs to engage the art community and connect people from different walks of life. The Laguna Art Museum serves a variety of visitors during its open hours from 10 a.m. to 5 p.m. Tuesday through Sunday. The museum is closed on Mondays.
The rotating exhibits and events encourage even locals to pay frequent visits and see what's new.
"We get international visitors and visitors from out of town, but I would say the museum has a lot of visitors who are local to Laguna Beach," the spokesperson said. "We are kind of the center of all the arts and culture activities happening in town, so I think local people come here often."
Diverse Exhibits Highlight Different Perspectives
Rotating exhibitions bring new sights and ideas to the museum's extensive collection of California art. "Sometimes the exhibitions are historical, and sometimes they are contemporary," the museum team said. "We aim to have a mix of both."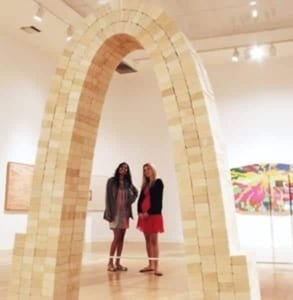 The exhibitions take place all year round, so local Californians can always find an engaging place to take a date.
The museum's exhibitions focus on the works that represent California's history, culture, or people. From Southern California portraits to contemporary installations, the exhibitions often prompt visitors to expand their perspectives and discuss new ideas or opinions.
Going to an exhibition can spur an in-depth conversation with a first date or a long-time partner.
Exhibitions give couples a chance to spend time together and have a deep conversation. It's a great way to find out more about your significant other and explore their views and artistic preferences.
Engaging Programs Offer Something for Everyone
The museum's staff members collaborate with local organizations to make Thursday nights the new go-to date night at the Laguna Art Museum. Plus, at annual events, such as the Art and Nature Festival, daters enjoy a beautiful backdrop where they can strengthen their bonds. 
The Laguna Art Museum's programs are thematically related to art on display. The museum keeps an extensive schedule of events to engage the community on a regular basis. On the first Thursday of every month, the museum hosts First Thursdays Art Walk, where the museum offers free admission from 6-9 p.m. In this way, the museum's staff is helping to make Thursday night a great new date night for residents and visitors.
During this special event, galleries and participating organizations stay open late and offer free and discounted treats for visitors on the town.

"A lot of people are out and about and seeing what's new — it's a really cool atmosphere around town," according to the museum's team.
The Laguna Art Museum organizes special events throughout the month as well. The second Thursday of every month focuses on the intersection of art and music. The museum has a partnership with Laguna Beach Live, a nonprofit organization of musical performers. Live performers sing and play classical music, jazzy tunes, and other foot-tapping beats at the museum's galleries. These high-caliber performances create an elegant atmosphere to enjoy with your sweetheart.
The museum presents a variety of programming including artist lectures, art-making workshops, and more interactive opportunities. There's a real sense of artistic unity at these events, which center around the local art community.
About  ten years ago, the Laguna Art Museum launched its popular Art and Nature Program, which takes place every November. The museum commissions an artist to create site-specific  nature-themed installations that speak to California's beautiful scenery.
"We really try to celebrate what Laguna Beach was founded on and is all about — how the natural landscape and the artistic environment coincide," the spokesperson said. 
You can check out these events and many more on the Laguna Art Museum's calendar. Whether you show up on a Thursday evening or a Saturday afternoon, you're bound to have a wonderful time in a thought-provoking setting.
The Museum Celebrates 100 Years of Art Education
For the past century, the Laguna Art Museum has been a central location for local artistry and talent. Its regular events highlight what's new in the California art world and give art lovers a chance to come together.
Visiting the museum is a fantastic activity for people going on date. "Art is one of those things where you can experience it quickly or spend time and have a real dialogue," said the spokesperson for the museum. "It's a great thing a museum can offer to people on a date — that they can have whatever experience that fits their own style."
By becoming a member of the Laguna Art Museum, you can support one of California's oldest museums and have built-in date night opportunities.