The Scoop: Sex is a very sensitive topic for some. For most people, the sex talk they had growing up started and ended with the birds and the bees. The hit podcast "Sex With Dr. Jess" continues to impact many people's sex lives. The podcast currently has 314 episodes that range in topics from sharing tips on how to spice up the marital bedroom to understanding different kinks and fetishes. "Sex With Dr. Jess" talks about it all as it embraces its mission to help foster more sexual conversations. 
Podcasts are great to listen to when you need advice or just a good laugh. An array of podcasts offer sound life tips and intriguing conversations that keep their audiences coming back for more. In a world where there are so many things going on, having someone be the voice of reason and speak on sensitive matters can be insightful.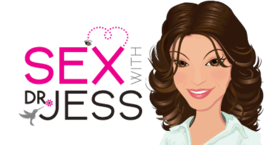 Sex is one of those sensitive topics, and the sexologist who created the podcast "Sex With Dr. Jess" said she wanted to enlighten people on how they can gain control over their sex lives. Before Jess started her career as a sexologist, she was a high school teacher. She told us that she never planned for her career to go in the route that it did. It wasn't until Jess realized that the education system didn't adequately address human development, sexual health, and relationships that she decided to go back to school to learn more and then educate others. 
After graduating, Jess started writing, speaking, and volunteering at different organizations to help spread the word on sexual health. "Sex With Dr. Jess" is one of the many resources that Jess offers to connect and engage people in the conversation of sex. 
"I'm fortunate to work with some of the most interesting people in the world in some of the most beautiful venues on the planet as a corporate speaker for executives, entrepreneurs, and their spouses. I relish every moment," said Jess. "However, my passion is still classroom-based sexual health education. I volunteer in classrooms and at teacher's colleges because I know what happens in schools shapes the future — for better or for worse." 
Learning the Birds & the Bees the Right Way
For most of us, discussing sex with our parents meant living through those awkward birds-and-the-bees talk. "Sex With Dr. Jess" is on a mission to open the floor for questions and answers about sex. On every episode, Jess has a featured guest come on the podcast and share their expertise on a particular subject that will help people in their sex lives or relationships. 
Sex is a big part of many relationships. As we all know, there are certain periods in a relationship where there are sexual droughts. "Sex With Dr. Jess" helps couples learn how to bring back that spark. According to DivorceNet, "a sexless marriage can lead to divorce—especially if only one partner is uninterested in or withholding physical intimacy from another and is unwilling to work through it."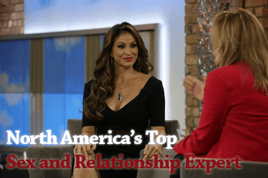 How a couple interacts with one another and how they explore the bedroom together can influence their relationship. "Sex With Dr. Jess" addresses how couples can spice up their sexual relationship and build their emotional intimacy.  
"What happens outside the bedroom shapes what happens inside the bedroom. If you're struggling with something in the bedroom (e.g. difficulty communicating your needs, anxiety, distraction, lack of passion), it's often rooted in experiences or dynamics that exist across the board; it might be a personal hangup, a relational issue or more general experience with trauma or shame," said Jess.
Jess told us that the podcast addresses a lot of sex myths that hinder people's love lives. The podcast shatters myths, such as that sex should last a certain amount of time or misconceptions about male sexuality. Many listeners say these discussions have transformed the way people view sex. 
Paving the Way for More Comfortable Sexual Conversations
Unfortunately, sexual shame is a common feeling. It could take someone months or even years to feel comfortable talking about their sexual needs and desires with others. According to Perspective Therapy Services, sexual shame isn't something we were born with but something we learned while growing up. 
"Sex With Dr. Jess" aims to help people make an uncomfortable conversation start feeling comfortable. The podcast accepts people for who they are and encourages them to explore their fantasies or sexual desires. Jess told us that she wants people to view sex as pleasure and nothing less. Her drive to continue the work she does stems from wanting to help build people's self-esteem, body image, communication, emotional literacy, and relational skills. 
"I want people to feel more confident — from the boardroom to the bar to the bedroom — so that we treat ourselves and others with more love and respect," said Jess.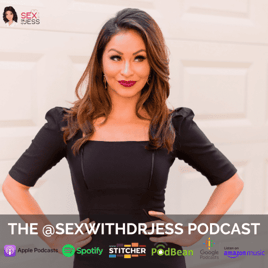 Throughout the podcast, Jess also shares how people can cultivate fulfilling relationships. A part of that is by learning how to communicate your sexual needs with your partner. Couples often suffer in their relationships because of the uneasiness they feel in sharing their true sexual desires. In the podcast episode "Reset Your Relationship in 2 Minutes," Jess shares simple exercises that can help build communication between a couple. This helps couples learn how to better communicate and as a result, improve their sex life. 
"So if we want to have better sex, we need to live better lives and have better relationships," Jess told us. "We have to develop transferable skills in lower pressure environments (e.g. the capacity to ask for what you want or set a boundary in a nonsexual setting) and then the skill will develop more easily in a sexual setting."
"Sex With Dr. Jess" Shares a Wealth of Information
Aside from her podcast, Jess is a sought-after speaker who travels around the world to share her dating and sex expertise with small and large audiences. Jess uses her great sense of humor to enlighten people on the topic of sex Through workshops and life-changing events. She told us that she encourages everyone to talk about sex –– not only when things aren't going well but in general. 
"Keep injecting novelty into your sex life — from new toys, positions, dirty talk, fantasy, and more. Novelty keeps things exciting and can be especially helpful for busting out of a sex rut when you feel uncomfortable or nervous; you don't need to feel 100% at ease with every sex act, as long as you feel safe in the relationship — a little risk can heighten the tension and pleasure," said Jess. 
"Sex With Dr. Jess" is currently on its 314th episode and continues to bring  to the table a range of different conversations revolving around sex. People from all over are learning how they can advance their sex lives and improve their relationships. People can subscribe to "Sex With Dr. Jess Podcast" on Apple Podcasts, Spotify, Podbean, Google Podcasts, Amazon Music & Stitcher so they can stay up to date on the latest episode!

"My hubby and I enjoyed the three sessions we attended last week at Hedo. After seventeen years together, and having a very open, varied, and pleasurable sex life, we were both shocked to learn some awesome new skills!" exclaimed Jill in a testimonial. "Your communication personality and communication style made each of the sessions relaxing, fun, and memorable. We look forward to attending more of your workshops."