The Scoop: The Lehmann Maupin museum in New York City is a setting of international wonders where couples can learn and grow with each other. The art gallery celebrates the different cultures around the world and brings them together for people to experience. It's a place for loved ones to immerse themselves in the knowledge, folklore, and traditions of international artists who represent rich backgrounds beyond US borders. Galleries, exhibitions, and art fairs are just the icing on the cake. Dive into a whole new world by visiting the Lehmann Maupin museum for a delightful artistic journey. 
Add flair to your relationship and take your partner to an experience they will never forget. The Lehmann Maupin museum is a unique way to grow deeper in your relationship with your significant other. It serves as a great way to gain insight into your partner's emotional side without having to put on your typical rom com. Museums are like those maze houses with mirrors in them — you will learn more about yourself and how you view the outside world the more you keep looking around. 
Founded in 1996 by Rachel Lehmann and David Maupin, the Lehmann Maupin museum has a rich history encompassing artists from all over the globe. Usually contemporary art exhibits focus on artists from similar backgrounds, but in truth art has multiple forms that may spread from  multiple continents. By creating a space for diversity to prosper, the Lehmann Maupin museum sets the stage for couples to travel across the world through very detailed exhibitions and galleries.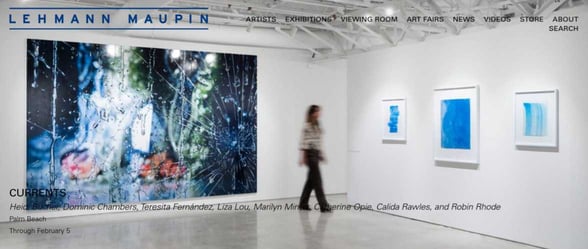 The art gallery is dedicated to maximizing the guest experience nationally and internationally. There's no need to fret if you're not located in New York. Luckily, the Lehmann Maupin art gallery is now located in multiple cities and countries. From Florida to Hong Kong to London, audience members can visit this amazing art gallery from many different places. 
"We came by for the Mr. Beyond the Alley, There…exhibit and I love it. Unique art and it wasn't too busy so I was able to take my time to appreciate the art and capture a lot of good shots. Mornings are usually less busy than the afternoon on the weekends," said Linda M. from a Yelp review. 
Lehmann Maupin was established to allow visitors to get a clear understanding of the art and the artists behind the paintbrush or other medium. Couples can browse through the museum's website for information on an array of current art exhibitions and featured artists. Visitors can learn about the artist's background, where their origins lie, and what motivated the art they created. Taking your partner to a gallery that pushes both of you mentally elevates date night to another level. Learning to appreciate cultures from across the globe is a fun way to bond with your loved one. 
"Part Two: Run" Gets Attention as a New Exhibition 
Alex Prager, a renowned artist, is bringing some content from Los Angeles to the Lehmann Maupin gallery next month, and it's going to be a once in a lifetime experience. Alex will be showcasing her "Part Two: Run" exhibition at the Lehmann Maupin art gallery in February 2023.
One of the best parts about art galleries is the exciting and engaging exhibitions they facilitate for guests throughout the year. Meeting an artist as well accomplished as Alex would be an amazing experience for couples. 
"I really like this gallery, the last show last year was amazing. This year around they have Alex Prager who is an amazing artist who does a lot of film/photography works. Every color, style, the way the actor talks and acts is all very purposeful and every little detail is well thought through, none is ever random," said Viviann from a Yelp review. 
Alex is an American photographer and filmmaker based in Los Angeles. Her elaborately staged color photographs draw inspiration from a range of references, including Hollywood cinema, street photography, and popular culture. Her upcoming exhibition at Lehmann Maupin is drawing much excitement because Alex Prager's artwork sets a different tone for couples.
By creating art that showcases human resilience and eerie surroundings, Alex Prager is allowing visitors to interpret multiple meanings from her art while also keeping it fun for couples. Lehmann Maupin stands out for creating events in which artists can present their visions to audience members around the world. 
Art Fairs Provide Plenty to Talk About 
From interactive music to awe-inspiring artwork, the Lehmann Maupin art gallery is sure to be a high point of your date night. It's fun to visit art fairs because it sets the stage for couples to engage with each other about what art means to them and which pieces speak to them. Couples can view themes of different art pieces and see how each relates to each other, which enhances the mysteriousness of the artist's mind. There are never-ending conversions about which piece is the most intriguing. 
Viewing diverse artwork that is centered around different themes with your significant other is like trying to solve a mystery to a case that has more than one right answer. The fun part is you get to do it together. A romantic walk through a gallery with multiple pictures with music playing and your favorite person beside you, it'll be a date you will never forget. 
Art fairs do all the work for a date by creating a safe and fun space for couples to show off their personalities. One of the issues when it comes to dating is that sometimes it's easier to suppress your feelings about certain matters to try and not stir up controversy. For example, if your partner tried their best to take you to a restaurant but the food wasn't that good , you may want to refrain from complaining. That's what makes art galleries fun and engaging; couples can be their authentic selves. There's no need to feel nervous about expressing your viewpoints on an art piece because there is no wrong or right answer, it's based on how you feel about it. 
Lehmann Maupin: Where Art Lovers Explore & Come Together 
The Lehmann Maupin is more than just a venue for artists to show off their talent, it's a multiethnic facility dedicated to enhancing the visitor and their appreciation of art and culture. There is always an event showcasing artists from around the globe and exhibitions to immerse audience members in a new world and challenge their way of thinking.
This is a thrilling experience for couples to understand how our current world is changing and learn more about each other in the process. You never know, your partner may be a secret art fanatic and knows all about the techniques and visuals to make an artwork come to life. 
Take a chance on a new experience you and your partner can enjoy together. It's easy to get into the routine of going to the same restaurants or the nearest cinema to catch the latest movie. These spaces are fun, but when it comes to engaging your brain and emotions, art galleries will definitely stimulate both of you. The most unpredictable dating spots usually provide the most fond memories for couples. So go visit the Lehmann Maupin and create another memorable moment with your partner.