The Scoop: Matrimony.com is a network of online matchmaking services that connect Indian singles for marriage. The site offers a variety of specialized marriage matchmaking services that focus on particular areas of interest, including religion, language, and geographic region. Matrimony.com has connected Indian singles with shared cultural backgrounds for over 20 years. The site helps singles and their families find matches that are compatible in all aspects to make a stable and long-lasting commitment.
India accounts for one-sixth of the world's population and is one of the most ethnically and religiously diverse nations in the world. The country has over 2,000 distinct ethnic groups, hundreds of religious practices, and over 1,000 languages and dialects.
The country is home to dozens of different territories and states, each with its own traditions. Anyone traveling through India will find that each region has a unique ethnic makeup, varied religious practices, and cultural traditions. 
Matrimony.com is an online marriage matchmaking service that operates dozens of Indian marriage websites. Matrimony.com serves millions of customers monthly, connecting Indian singles for strong and healthy marriages.

Arjun Bhatia is the Chief Marketing Officer of Matrimony.com. He told us about the group, its sites, and how it's helping Indian singles get married and start families. Matrimony.com makes matchmaking as user friendly and simple as possible.
"The people on our platforms have a serious intention of finding someone who they want to marry," Arjun said. "Our customers have the clear objective of marriage, which sets us apart from more traditional Western dating apps."
Services Especially for Indian Singles
Arjun said that dating sites for Indian singles look different from the apps Westerners would use. Americans use dating apps for many reasons, including finding casual connections and going on many dates with different people. Indian marriage sites are markedly different.
People who join one of Matrimony.com's services are looking for marriage. "The dating piece, when it comes to India, is usually college students, first starting out in their career, and maybe not looking for anything serious," Arjun said, "When it comes to Matrimony.com services, the profile changes."
Arjun told us that many Matrimony.com customers are in their late 20s and early 30s and seriously want to get married. Matrimony.com's sites aren't setting people up for courtships or casual relationships – they're being set up for lifelong commitments.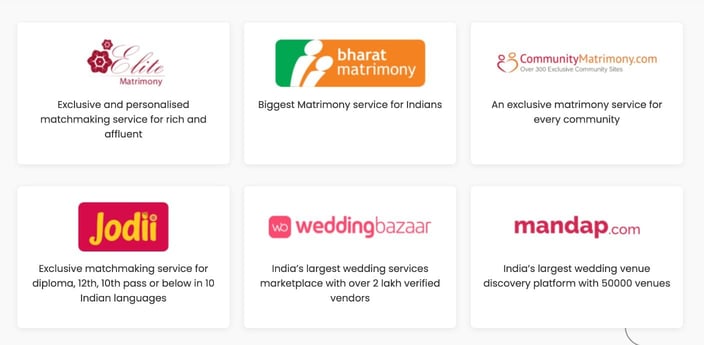 This means the users of Matrimony.com's many sites all have a shared goal. Another aspect that makes Matrimony's sites special is that they connect singles for marriage based on shared culture, language, and region of origin.
Unlike dating sites in the United States, which serve a relatively homogenous group, Matrimony.com sites serve all the diverse populations of India. This means the service accounts for the thousands of ethnic groups, languages, and religious traditions practiced in India.
Region, Community, and Religion-Based Sites
Matrimony.com has dozens of sites to help singles find partners for marriage. The site offers a broad range of services, from user-lead profile matching to assisted services with a professional relationship manager.
Bharat Matrimony is a mobile app available on the App Store and Google Play. It is one of Matrimony.com's flagship sites, and one of the first matrimony sites to appear on the market 23 years ago. Bharat Matrimony caters to Indians across states and languages and has millions of users.
Users can browse profiles based on education, profession, location, and more. They will find compatible matches that fit their preferences, and if a little extra support is needed, they can take advantage of Bharat Matrimony's prime benefits. Users can connect with video and voice calls within the app. 

Community Matrimony is a matchmaking service of the Matrimony group that was launched with rich insights into the matchmaking needs of various communities. It matches people based on their preferences of religion, profession, education, and other criteria covering as many as 300 communities.
Matrimony.com has profession-based apps and websites like Doctors Matrimony, religion-based ones like Buddhist Matrimony, community-based ones like Chettiar Matrimony, as well as specialized ones like Divorcee Matrimony.
Elite Matrimony, on the other hand, is an exclusive and personalized matchmaking service for the affluent. Among its members are entrepreneurs, industrialists, celebrities, bureaucrats, and more from across India and overseas. With 15 years of Elite Matchmaking expertise, experienced relationship managers, and an exclusive member base, it has set up thousands of successful Elite Matches.
Matrimony.com users can also join religion-based marriage services. Matrimony's offerings include Buddhist, Jain, Sikh, Christian, and Muslim matrimony services. No matter what trait or quality a single is looking for in their future partner, Matrimony.com has a service that will cater to it.
Matrimony.com Facilitates Lifelong Commitments
Matrimony.com has a site for every customer's needs. Arjun said that any Indian person looking for a long-lasting marriage can find value in Matrimony.com's services. The platform even has an LGBT matrimony site and a site for users with disabilities.
Bharat Matrimony has recently undergone an overhaul. For years, the site considered a customer's interests to make matches, but a client's mother tongue is paramount to making a perfect match compared to these other factors.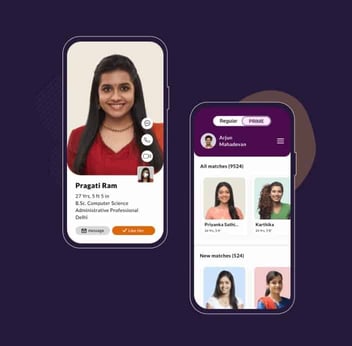 Now, Matrimony.com uses complex technology to integrate interests into their matching algorithm. Matrimony's sites are continually being updated and tweaked to yield the best user experience. Users will be able to find matches based on a shortlist that includes shared region, language, religion, and personal interests.
Bharat Matrimony has recently undergone a revamp. For years, the site considered a customer's preference on shared region, religion, mother tongue, and other criteria to make matches. Now Bharat Matrimony has integrated considerations for personal interests into their matchmaking algorithms so that people are matched with partners sharing similar interests, ensuring superior user experience.
Users are able to find matches based on a shortlist that includes shared region, language, and religion, as well as personal interests, among other things.
Whatever Indian singles are looking for in a spouse, Matrimony.com can help them find it. Matrimony.com has dozens of sites that cater to singles with a wide array of characteristics, so there is a site for singles who speak any language and who come from every region.
"We have over 7.5 million monthly active users when I combine all platforms together," Arjun said. "It can be overwhelming to find the right match, so we're using a lot of technology to find the right profile match."