The Scoop: With three decades of marriage under their belt, Jay and Laura Laffoon are committed to helping couples reach their full married potential. The Laffoons have plenty of resources — including live events, private coaching, and a growing library of online materials — for couples who want to prioritize the longevity of their marriage. Jay and Laura use their marriage wisdom to develop engaging and hilarious events and helpful online tools that can assist any kind of married couple improve their lives.
When a couple goes to Jay and Laura Laffoon, they can be assured they are going to receive transparency and a couple of laughs along the way. Jay and Laura say they feel their coaching offers something for everyone, whether a married couple is in search of achieving intimacy amid the hustle of everyday life or struggling through a low point in their marriage.
Jay and Laura have formed their relationship counseling ideology through years of coaching experience, often presented by way of large-scale events to sizable audiences. This means their material is just broad enough for a diversity of couples to find useful information while also offering curated methods and tips that are hard to find elsewhere.
The Laffoon coaching method was developed to address the issues caused by what Jay refers to as "the big three": money, sex, and family. The focus is on solving conflicts in these big areas with respect and love for the marriage. That's why any couple will leave individual coaching or live events with a new insight into their marriage. The expert couple sat down to tell us more about their coaching and philosophy. "We've all got chinks in our armor," Jay said, "but that can't stop you from being a great husband or wife."
35 Years of Marriage Expertise – and Growing!
Jay and Laura know a thing or two because they've seen a thing or two in their more than three-decade marriage. Their style of coaching never claims that their union has been perfect or that it's never faced challenges. Jay and Laura said they feel equipped to help couples because they have encountered and overcome many struggles within their own long marriage.
A large component of their coaching style is to be completely transparent about the reality of not just marriage – but their marriage. Jay and Laura use personal anecdotes to show that a happy marriage can be one that faces challenges. The Laffoons use this brazen honesty to give couples who they coach permission to reflect (and find humor) in the stories of their marriage.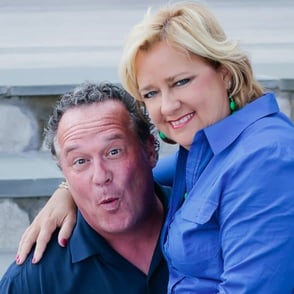 Jay and Laura's story of coaching began when both of them were working in Christian youth ministry. Jay was working as a speaker at youth camps and events when he was approached about speaking at a marriage weekend. With Laura on board, the two spoke at their first marriage event and realized the need for this type of dialog was substantial.
"Working in youth ministry, we always had parents coming and asking us questions about parenting," Laura said. "What we realized is a lot of parenting issues come from marital ones." That's where the Laffoons' focus on marriage was born, and the two immersed themselves in the necessary steps to become qualified marriage coaches.
The Laffoons use a Christian foundation to craft a style of marriage coaching that focuses on the nuances of major problem areas. While Jay and Laura assure that all kinds of couples can find valuable information within their programs, they also acknowledge the importance of Christian values in their approach to marriage. "As far as truths about relationships are concerned," Jay said, "it's universal."
Jay and Laura welcome couples from every background to take part in their marriage coaching and events. Their programs are not built around any one type of couple but are specifically designed to be as helpful as possible, no matter the challenges of the marriage and the background of the couple.
Tools for Couples to Grow in Companionship
As relationship coaches, Jay and Laura said they want married couples seeking help to have easy access to a variety of materials. There's no one-size-fits-all approach when it comes to marriage coaching, so the Laffoons urge couples to reflect on what they need and desire from the coaching experience.
Private and Group Coaching
For couples who want a one-on-one intensive approach to coaching, the private couple coaching offered by Jay and Laura is a great place to start. The "Celebrate Your Marriage Private Coaching" bundle includes six individual virtual coaching sessions with Jay and Laura, the ability to email the Laffoons for guidance, weekly email encouragement, and a customized plan for marriage, among other features.
The private coaching sessions focus first on understanding and deciding what each partner wants from marriage, and how they can help each other make it happen. The Laffoons help couples draft their purpose in their marriage and their plan to make it happen through curated worksheets, digital workbooks, and book recommendations.
These sessions are designed to set couples up for long-term success, far after the coaching sessions have wrapped up. Couples are granted lifetime access to the Laffoons' coaching curriculum and are welcomed into a community of couples who believe in the importance of their marriage.
Small group coaching follows a similar model, but in a group setting, with direct coaching from Jay and Laura. Couples will find community and understanding with the other couples in the group during the program's six virtual meetings. Jay and Laura know it's important not to feel alone in marriage struggles, and bearing witness to the marriages of others often helps people understand their own marriage.
Online and Written Materials
"Celebrate Your Marriage Online Coaching" is similar to the private coaching offering of the same name, but it uses pre-recorded materials. This program is great for couples who need coaching at a flexible pace or for those who only have a few precious available hours throughout the day.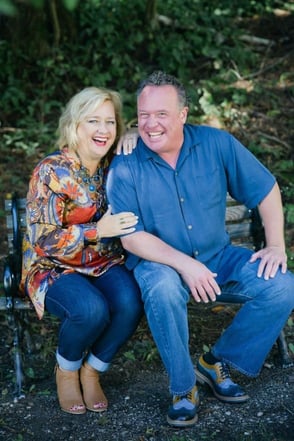 This coaching package includes six online teachings from Jay and Laura, customized tools for cultivating a healthy marriage, and lifetime access to the curriculum. The program is rich with materials and perfect for couples who want the Laffoons' help but also need flexibility.
The regularly updated online blog allows Jay and Laura to share their marriage wisdom on a large and easily accessible platform. These blogs tackle the everyday issues of marriage and feature Jay and Laura writing openly and honestly about the reality of married life. Married couples considering Jay and Laura's coaching can start with this trove of valuable information to evaluate whether it would be a good fit. Jay and Laura said they hope to expand access to free tools they've created and suggested couples watch their website.
Jay and Laura are very excited about their new book, released in early May of 2023, titled "The Ultimate Dad Night: 75 Amazing Activities for Dads and Kids." Parenting presents a whole new set of challenges for couples, and the Laffoons know that good parenting cultivates a happy family dynamic that encourages a happy marriage. That's why they incorporate parenting as a focus in their coaching, they said.
Events for a Marriage-Strengthening Date Night
One of Jay and Laura's favorite ways to share their marriage expertise is through live events. The popularity of two of their shows, "Celebrate Your Marriage" and "The Ultimate Date Night," explains why the Laffoons' status as 'edutainers' — educators and entertainers – is well-deserved.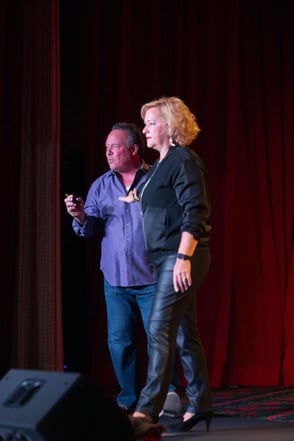 These dynamic and entertaining shows cover a wealth of information mined from their coaching materials and allow couples to engage each other with introspection and humor in a comfortable and familiar space. Jay and Laura keep things simple, funny, and helpful, prompting couples to think about themselves, each other, and the nature of their marriage.
The couple is available for booking for both of these events, and they have taken their shows to over 40 states and 10 countries. Couples can enjoy beautiful venues and guest speakers if they catch the Laffoons on tour. Their live events make for stellar date nights that encourage laughter and closer connection.
Marriage is no easy task, and a dynamic, fun, and healthy marriage is even more difficult to achieve. Jay and Laura understand the trials of marriage and believe every couple that has agreed to work together to form a happy marriage can. "All marriages experience the same issues," Laura said, "they just manifest differently. Our coaching style sees those big issues, and gives couples tools to help."