The Scoop: Aside from the bride and the groom, the officiant is the only person you absolutely need for a wedding ceremony. But many couples don't spend a lot of time thinking about such an important role. A well-meaning yet inexperienced friend who got ordained on the internet may do or say the wrong thing, while unprofessional officiants can be late, mispronounce names, use the wrong vows, or appear detached. Marty Younkin, Executive Director of LoveNotes Weddings, has officiated more than 5,000 wedding ceremonies and understands how vital the officiant is. He prides himself on being both professional and personal. He takes the time to get to know the couple and hear their love story, so he can make the ceremony personalized to them. The result is a warm, sweet, and sometimes humorous memory in the making.
For almost 50 years, Marty Younkin has officiated all kinds of weddings, and he knows how important it is for a couple to choose the right officiant for their big day.
Marty was the singles pastor at a local church where he organized classes with up to 400 single men and women attending events outside of church. Not surprisingly, singles who attended these events regularly, fell in love and got engaged. He jokingly says, "They were getting married all the time, so I was officiating a wedding every weekend, and I worked myself out of a job as singles pastor!"
In 1990, Marty decided to leave the church and start a new adventure. His wife Carol asked him what he enjoyed about his work, and he said "I enjoy seeing people fall in love and get married." This was the aha moment that changed the course of his life.

His wife, who is also a minister and a professional singer and keyboardist, suggested he put an ad in the booklet Wedding Wishes, a publication that was just taking off at the time. He started to receive one call after another. Marty had discovered his niche.
When deciding upon a name for their company, Marty and Carol chose LoveNotes, which was already the name of her music business. But they decided that there were written love notes as well as musical love notes, so they combined businesses and kept the name, then wrote a wedding ceremony book to be used as the main resource for their business. 
As Executive Director of LoveNotes, Marty says the organization has performed more than 16,000 weddings. That's a lot of happy couples! Today, people can choose from LoveNotes Weddings' experienced team of licensed, ordained, and non-denominational officiants. They're available not only for weddings, but also offer other services, including quinceañeras, vow renewals, baby blessings, funerals, and even marriage coaching.
Couples Should Interview Officiants to Find a Connection
When Marty started in the industry, there weren't many wedding venues. Instead, most couples married at a parish, a church, or the courthouse. Today, weddings are as unique as the couples themselves, and that can make finding the right person to marry them difficult.
Marty reminds couples that most wedding elements are optional, but every ceremony requires an officiant. It's the one vendor you have to have. He laughingly says, "I'm a necessary evil if you want to make it legal!"
When asked for his advice to engaged couples seeking an officiant, Marty gave some good insights.
"I would advise couples to ask venues or vendors in the industry about officiants," he said. "Other wedding vendors are usually a good gauge to judge by. I'd encourage every couple to interview several people, ask questions, and don't settle on the first one you talk to, just like you would with all your vendors."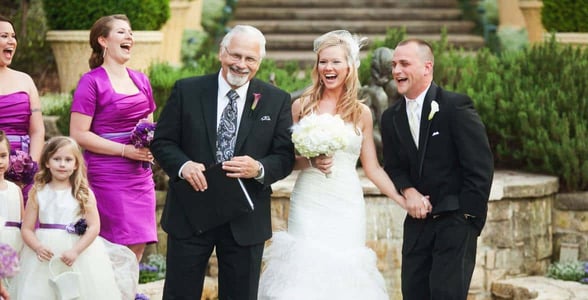 For example, couples should ask potential officiants about their experience and protocols in case of emergencies. Ask the officiant why he thinks he's the right one for their wedding. If he starts rambling about himself or his prices, Marty suggests they look elsewhere. He knows that the best officiants are the ones who truly care about the couple they are marrying and will bother to learn about them. After all, it's their wedding.
"Hire the officiant who seems interested in getting to know you, who asks questions about how you met or your proposal story," Marty said. "Hire the officiant who has a good reputation when you talk to other vendors. Are they punctual, sensitive, flexible, dependable, professional? Those are things couples should consider when they hire an officiant."
He also advises couples to make sure the officiant is easy to contact, responds quickly, and wants to make a connection with both the bride and the groom.
Hire a Professional to Oversee Your Big Day
Sometimes, couples will consider asking a friend to serve as their officiant after obtaining a "license to marry" from the internet, but Marty said that could be a risky situation. 
"First of all, every state has its own rules and guidelines for those who can legitimately perform a wedding ceremony. In some states, the wedding may not be recognized as legal without a legitimate officiant."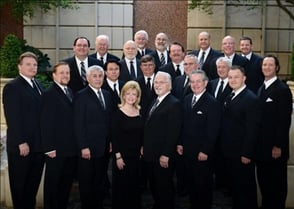 Secondly, friends may know you, but they also may say something off the cuff that you might not appreciate. Marty asks couples to think twice before entrusting one of the most important days of their lives to an amateur. "It's experience you need," Marty said. "You want to hire somebody who gives the illusion that they've known you for years—someone who takes time to learn the vision you have for your ceremony, who can personalize it and can implement your wishes to tell your love story."
Experience matters. For example, Marty said he was in the middle of an outdoor ceremony, and right after the father of the bride gave her away, a nearby donkey started braying loudly. He could tell the bride was getting upset that it might ruin her big day.
So he said, "Believe it or not, folks, there's always one jackass who shows up to a wedding!'' Everyone roared with laughter, including the bride, who relaxed a lot more throughout the rest of the ceremony.
Experience also helps when a bride (or groom) starts crying. Marty said that to give the person a moment to compose and lighten the mood a bit, he takes out his handkerchief…and then dabs his own eyes instead of giving it to the bride. Another time, Marty said the best man was a dog who left a "present" in the middle of the aisle and the bride stepped right in it. A horrible look came on her face, so he said, "You know, folks, this is the first time I had a wedding start off on the wrong foot!"
But even more important than humor is professionalism. Marty said an officiant should never be late or mispronounce a name or become flustered when something unplanned happens. He provides much needed guidance in his book, "Wedding Ceremony to Remember," which is a smorgasbord of ceremonies, vows, readings, blessings, traditions, and helpful worksheets and diagrams to personalize your ceremony.
Start Early to Ensure the Wedding Goes Smoothly
After officiating thousands of weddings, Marty has amassed many tips for couples. He said one of the best things they can do is to place an emphasis on the ceremony early in the planning process. Brides and grooms often put a lot of energy into ensuring the reception party is perfect, with the right DJ, cake, and caterer. But the ceremony is the most critical part of the event.
"Do not neglect the ceremony," Marty advised. "The ceremony sets the stage for everything else that transpires that day. If your officiant nails it and knocks it out of the ballpark, your reception will be wonderful. But if he messes the ceremony up, guess what your guests will be talking about the rest of the day?"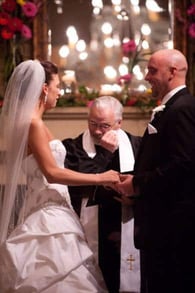 He also said it was a good idea to hire an experienced wedding coordinator. As the officiant, Marty said he's been to weddings where the couple hired a famous photographer, but one who hadn't done a lot of weddings. The photographer ended up taking almost three hours of photos before dinner was served. Many of the guests ended up leaving before they even cut the cake. An experienced wedding coordinator will help move things along and ensure your timeline will stay on track with all your vendors.
Marty said he loves it when couples get creative with the theme of their big day. One wedding he officiated was set in the Majestic Theater in downtown Dallas. Couples were dancing and twirling, and it was mesmerizing for the guests to watch. When the crowd started wondering where the groom was, he "dropped in" via zip line. What an entrance!
Another couple was married in a "Beauty and the Beast" themed ceremony, with children dressed as candlesticks, the bride in a gorgeous yellow Belle gown, and the groom in an elegant King Louis outfit.
Yet another couple chose a Robin Hood theme, and Marty got to play Friar Tuck, who married Robin and Maid Marian in Sherwood Forest.
"I hope couples will hire an officiant who takes marriage seriously, but who also knows how to have fun in the process," he said. "I love 'love', and marriage is my favorite institution. And I don't mind being in an institution as long as my bride is there with me!"