The Scoop: It's safe to say that wedding rings are a crucial part of a couple's wedding ceremony. For some people, the choice of wedding rings can make or break a proposal. That's why the jewelry studio With These Rings helps customize couples' wedding rings so there are more "yeses" and "I do's" in the world. With These Rings is an award-winning company that never ceases to amaze people with its service. Stephanie Selle, the CEO and founder of With These Rings, strongly believes that every couple should have the opportunity to create their wedding rings. 
Ever since I was a little girl, my favorite part about going to a wedding was watching the ring exchange. The emotions the rings evoke and what they symbolize are so evident that they move everyone in the crowd. Even at a young age, I couldn't help but wonder why rings had that much power — but now I know!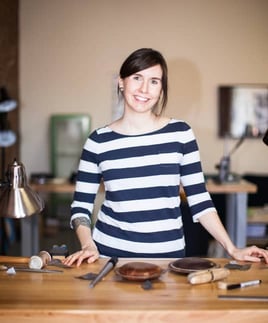 Wedding rings symbolize the couple's love for one another. That's why people should select a wedding ring for their partner that reflects their interests. For example, you wouldn't buy your wife a gold ring if she favors silver rings more. You want to make sure your partner loves their ring because after all, they will be wearing it for the rest of their life.
Jeweler Stephanie Selle created the company With These Rings to allow couples to make their wedding day even more special by customizing their wedding rings. Stephanie and her partner worked side by side to design each other's wedding rings. 
As the date of their wedding drew near, Stephanie said she would catch her partner admiring the ring and making last-minute changes here and there. Stephanie said that it was a super special experience they shared and hope that others get to share as well. 
"Making each other rings became such a special memory in preparing for our big day. Now when I look at my ring finger I see more than a symbol of our commitment, I also see the love and effort that we put into making our rings," said Stephanie. 
Award-Winning Jewelry Studio for Engaged Couples
With These Rings' name speaks for itself. The company is recognized for its all-around spectacular service. Many clients praise Stephanie for her passion and willingness to help them bring their vision to life. Couples who do choose to work with the professional jeweler end up grateful for such a wonderful experience. 
The first step for couples is to design the ring they have envisioned together and then follow a series of metalsmithing techniques with Stephanie guiding them every step of the way. Couples don't need to know how to make their perfect ring, but they do need to be willing to learn. Stephanie said that quite a few of her clients had never even picked up a hammer before.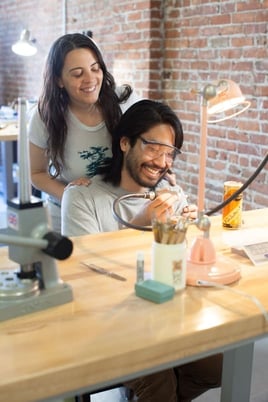 "As long as you are open to learning something new and allowing me to work with you, I will make sure that you have all of the help that you need to make a professional quality set of handmade rings," said Stephanie. 
"Stephanie's encouragement & clarity was perfection from start to finish…. She malleably navigated the swift shifts of the pandemic with grace & clear communication," said Ryan, a With These Rings client in a review. "I could not recommend Stephanie & her craft any higher. My partner & I will sacredly remember our time with Stephanie for the rest of our lives. Go be a jeweler for a day, you'll thank yourselves for the rest of your life."
In 2015, With These Rings won the WeddingWire Couples Choice award receiving a perfect 5.0 rating. Clients applaud the company's professionalism, flexibility, and core values. But the awards didn't stop there. In 2021, With These Rings received "The Best of Weddings" award from The Knot.
Stephanie told us that she has worked with over 1,000 couples from all over the globe, including Antarctica, since she started the company. That equates to creating over 2,000 rings and counting. Stephanie said that she loves helping people create long-lasting memories and symbols together. 
"It really is my dream job! I spend my days with people in love, I get to learn all about them, and teach them how to do something so special. Combine that with my love of the craft and the science of goldsmithing. I can't imagine any other way I would rather spend my days," said Stephanie.
From Custom Engravings to Hand Carving Workshops
With These Rings strongly believes that you can't buy love – but you can make it. Couples have options — from the type of metal to its color — to choose from when creating their customized ring. The With These Rings team ensures clients will leave with an heirloom-quality ring that they will always cherish. 
Instead of a store-bought ring, clients get a handmade ring that's unique to them. Stephanie said she always encourages couples to customize their ring in ways that symbolize their love and what they mean to one another. 
"Working with Stephanie was an absolute joy. She is a fabulous teacher – she knew when to let us figure things out and when to step in. I entered slightly nervous and left amazed that we were able to make such beautiful rings! It is truly one of our most treasured memories from our wedding and a story we tell again and again," wrote Rachel, a With These Rings client, in a review.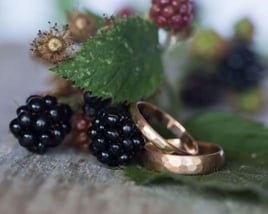 With These Rings also offers hands-on carving workshops for couples to enjoy together. Outside of having a customized ring ready for their big day, couples get to learn a new skill together that can potentially turn into a new shared hobby. Pricing varies depending on what the couple is looking for. A standard private workshop starts at $620 for two. 
Included in that workshop is a one-on-one session with Stephanie during which she walks you and your partner through every step of the process to ensure that you get the outcome you're looking for. 
"Most people are really surprised by how hands-on the workshop is and that at the end of it they really made a ring. It is very satisfying to make something so beautiful and meaningful with your own hands. And to make it as a gift for the person you love is truly a one-of-a-kind experience," said Stephanie. 
With These Rings: Anyone Can Do It!
With These Rings' slogan is "Anyone can do it!" The level of experience the couple possesses doesn't matter because, with Stephanie's guidance, the ring will match their vision. Most of Stephanie's clients tend to have zero jewelry making experience — and that's ok!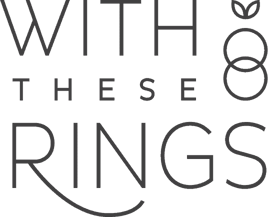 "Anyone can do it! So many people think that they are going to be my first client to mess up. I have worked with people who have all different skill sets," Stephanie told us. "Everyone leaves with beautiful rings made with their own hands. Metal is very forgiving, and I break it down into small enough steps that you really can't mess it up."
Stephanie told us that she's very satisfied with her growing business as of right now. Her plans for the future are to continue to be a vessel for couples to create their dream wedding ring and possibly look into offering fun pop-up workshops around the country. 
"When I learned about With These Rings, I knew that my fiance and I would be signing up! Our time with Stephanie was wonderful. She quelled any worry that we would mess up, and guided us expertly through the process…" said Maria, a With These Rings client in a review. "The opportunity to create your own wedding rings is such a gift and I am so thankful that Stephanie is sharing her skill with us through this amazing experience!"