The Scoop: The city of Scottsdale, Arizona, is filled with modern attractions, but it also has a rich history and culture worth exploring. The area has many interesting and thought-provoking stories — from the Native Peoples to the early settlers. Western Spirit: Scottsdale's Museum of the West, a Smithsonian affiliate, shares that fascinating history and that of the greater Western United States. The museum offers seasonal and ongoing exhibits that span art and history, and it's an ideal date destination. For its educational and inspiring atmosphere that will keep couples talking well into the evening, the Scottsdale Museum of the West has earned our Editor's Choice Award.
Scottsdale, Arizona, located northeast of Phoenix, was just a sleepy, small town a century ago when it was hard for settlers to imagine going any farther west. In between cattle drives and dam projects to ensure fresh drinking water, local businessmen called the city the "West's Most Western Town."
Back then, the people who lived there wanted to understand more about the area. And its residents today continue that tradition by learning about the region's illustrious past.
Native and more modern artists, the most famous of whom was the architect Frank Lloyd Wright, drew inspiration from the beauty of the desert. Nature is highly accessible in Scottsdale, which is why it's a popular getaway destination as well as a bedroom community for Phoenix.

And couples who want to learn more about the city's place in history, and about its art and architecture, can spend a date night at Western Spirit: Scottsdale's Museum of the West to get an immersive education.
The area has seen a rapid rise in development over the last few decades, which means more restaurants and attractions that make for fun dates. Starting at Scottsdale's Museum of the West can spark a scintillating conversation that lasts well past dinner and drinks.
The museum has a wide variety of ongoing and rotating exhibitions. Its curators also provide a colorful and engaging narrative that shares the stories of the local population over time.
The museum offers interactive displays that make for a thoughtful and intelligent date night. For immersing couples in art, culture, and history on informative dates, Western Spirit: Scottsdale's Museum of the West has earned our Editor's Choice Award.
Explore the Story of a Desert Oasis
Couples can find plenty to enjoy in the city, from historic Old Town Scottsdale to posh spas and gourmet restaurants. But the museum is a great place to start because it offers a deep dive into the people and stories that shaped the area's foundation.
Jim Balestrieri, the Communications Manager for the museum, said many not-to-be-missed exhibits are currently on display. One is entitled "Light and Legacy: The Art and Techniques of Edward S. Curtis." It is on display through April 20, 2023.
Edward S. Curtis was a photographer, ethnographer, and adventurer who traveled west of the Mississippi to the High Arctic. He documented and visited more than 80 different tribes of Indigenous Peoples, creating a vibrant collection of images, audio recordings, and early motion pictures. The exhibition is a testament to Native Americans, and the artistry and depth of the work are unparalleled.
Another exhibit currently on display is "Dr. Rennard Strickland's Profound Legacy: The Golden West on the Silver Screen." The exhibit was created in memory of the man who owned a world-renowned collection of Western and Indian movie posters and graphics. He gathered more than 7,000 pieces over 50 years, many of which residents and visitors can see in the museum.
"Both Arizona State University Foundation for A New American University and the museum are honored to be stewards of this collection of national and international importance for present and future generations," Jim said.
Couples Get an In-Depth Look at the West
The museum's curators recently unveiled a collection of more than 65 of the finest examples of Hopi Indian pottery. The exhibit celebrates six centuries of tradition from the Hopi people, who lived in northern Arizona, offered through The Allan and Judith Cooke Collection.
Couples can watch an interactive kiosk video highlighting how Hopi pottery was created. Visitors can also learn what inspired the Cookes to amass such a collection.
"Among the historic and contemporary masterworks are 18 ceramics by Nampeyo of Hano, the most famous of the Hopi potters, as well as works by 22 additional master potters including Nampeyo's daughters and other descendants," Jim said.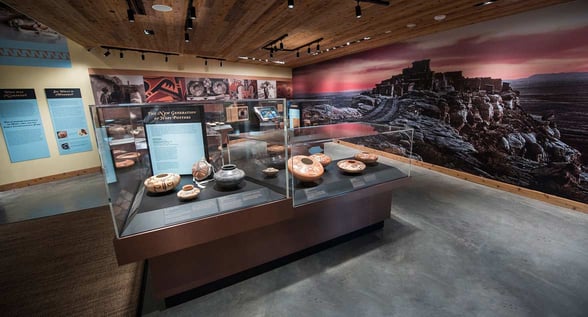 Another ongoing collection is entitled "Collecting Stories: John Coleman Bronzes from the Collection of Frankie and Howard Alper." John Coleman was an acclaimed Western artist who worked for decades creating detailed pieces inspired by life in the West. The collection includes the 10-piece Explorer Artist Series inspired by the 19th-century paintings of George Catlin and Karl Bodmer.
The museum, located at 3830 N. Marshall Way, is open Tuesday through Sunday and is closed Monday. It is open from 9:30 a.m. to 5 p.m. daily and 11 a.m. to 5 p.m on Sundays.
Couples can buy tickets in advance online, and admission is $20 for adults and $15 for seniors and the military. Children and college students pay $9, and children 5 years old and younger get in for free.
Scottsdale's Museum: Health Protocols Ensure Safer Dates
Jim said the museum takes health precautions seriously, so visitors can expect a safe experience, even indoors. No one will be admitted to the museum if they have a temperature or are not feeling well. Guests can expect a touchless temperature check upon entry.
Once inside, visitors are encouraged to wear face coverings, and masks are required for all guests not fully vaccinated against COVID-19.
Couples who come to Scottsdale's Museum of the West will also appreciate the social distancing signage throughout the museum. Even the elevators have restricted capacity. Plexiglas partitions also keep guests and employees safe, and hand sanitizer is available in visible locations throughout the facility.
The museum also added technology to ensure a safer experience, starting with touchless entries in parts of the building. The gift shop is open for guests who'd like a memento of their visit. The museum's online store is an excellent place to get souvenirs from a memorable date.
Recently, paintings went on sale from 10 artists who were given access to the museum's extensive photo archive, Jim said.
"The gist of the project was simple: Select any one of the many images we've published since 1925, set up an easel and paint away," he said. "Their interpretations are spectacular. What's more, each artist agreed to donate at least half of the sale price of their paintings to a charity of their choice."