The Scoop: The team at ReBalance wants people to know that a lackluster sex life isn't a normal part of aging. Sexual performance issues may stem from neurology, psychology, or biology. ReBalance offers holistic guidance for clients who want to improve their sexual wellness. The medical professionals work with clients to determine if they could benefit from hormonal balance, sex therapy, or another treatment to improve sex health and increase intimacy in their relationships.
Individuals and couples may not feel comfortable discussing sexual wellness with their doctor, but a healthy and happy sex life is vital to the longevity of any relationship. For those experiencing sexual issues, the team at ReBalance, a sexual wellness clinic in New York City, can help.
The holistic clinic and its experts work with patients who are both single and in committed relationships. They help identify the root causes of a client's challenges in the bedroom. Along with sexual health improvement, the team often partners with matchmakers to provide support on beauty and aesthetics so people can feel and look their best.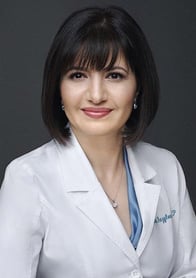 Dr. Natalya Fazylova, ReBalance Co-Founder and Doctor of Nursing Practice, initially launched a practice specializing in hormonal health. Dr. Fazylova, who is also certified in Chinese herbology, said she realized many of her clients also had sexual dysfunction and decreased libido. But no one was talking about it.
"If no one is talking about it or complaining, how can I, as a practitioner, know it is an issue?" Dr. Fazylova said. "You need to find the right practitioner who will listen to that and address it appropriately. There is still a lot of stigma or embarrassment because it's a taboo topic."
It is also vital to overall relationship health. Dr. Fazylova said many patients who visit her clinic think a decreased libido or trouble with sex is a normal part of aging. But if a person no longer enjoys sex or has a lower sex drive than they did 10 years ago, that needs to be addressed.
"It's a problem that can be fixed," Dr. Fazylova said.
Sexual Health Begins With Asking Questions
Dr. Fazylova recommends that people ask questions and share their experiences when they begin the process. She said it's not uncommon that someone will come to the clinic with low energy, only to later reveal that they have experienced premature ejaculation. But they only share that information after she asks.
"That's why I want to make people aware that we are there to help, and we won't be able to help until we know what the issue is," Dr. Fazylova said. "For us medical professionals, we've seen it all, so there's no embarrassment. There shouldn't be judgment in medicine."
When a patient visits ReBalance, they go through extensive testing. The goal is to figure out the cause of any issue that can be an obstacle to excellent sex. It may be neurological, psychological, or biological, Dr. Fazylova said.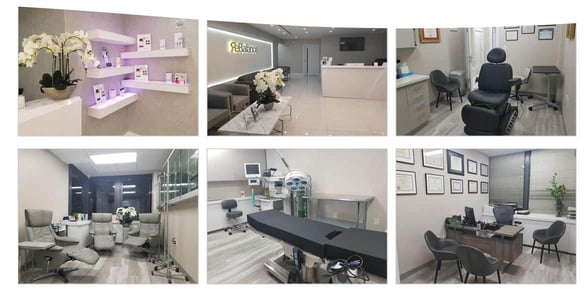 "Once I know what it is — and sometimes it is a combination of several things — then the treatment can focus on what the person needs," Dr. Fazylova said. "It's a holistic approach to find the root of the problem and address it."
Treatments may focus on balancing hormones, or addressing spine or nerve issues. If the basis of the problem is psychological, the team refers patients to sex therapy. But it always starts with a conversation that lasts longer than most doctors' appointments.
"People are hesitant or embarrassed, or they might not even know it's a problem. They think it's a normal part of aging, and they don't want to admit it," Dr. Fazylova said. "The first step is to have the courage to come in and ask that question. That seems to be the biggest hurdle."
ReBalance Focuses on the Five Pillars of Health
The clinic works with individuals on specific health problems, but the ReBalance team has also created a more accessible approach called the Five Pillars of Health.
"What we look at when putting together a program are the main components of our body. When it is dealing with problems, we're able to address the root causes and make them feel better," Dr. Fazylova said.
The five pillars start with Remove, which refers to detoxifying the body and helping patients achieve their ideal weight with a personalized plan for a healthy diet. Next, patients learn the skills to Rebalance, which is the second pillar. This phase imparts lessons on nutrition and ways to improve lifestyle habits to get life back in balance.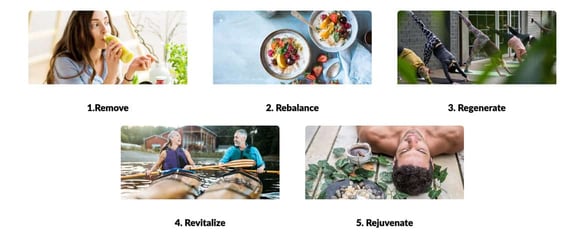 The third pillar is called Regenerate and deals with repairing physical damage before increasing strength, flexibility, and endurance. The ReBalance team provides a personalized program to help men and women gain muscle and strengthen joints. The fourth pillar, Revitalize, works to balance hormones at healthy levels, encourage healthy sleep patterns, and reduce stress in all aspects of life.
Finally, patients can Rejuvenate, which includes aesthetic treatments to address cosmetic needs. That is also a part of the center's bridal boot camp, which clients can complete one week, one month, three months, or six months before their wedding.
Sex Drive Can Be Improved For Better Relationships
Dr. Fazylova said the most important thing both singles and couples need to know is that sex should be an enjoyable activity. If it's not for any reason, they should consult with trained medical experts like those at ReBalance.
"They need to realize that sexual activity is meant to bring pleasure. If that part is missing, it needs to be addressed, especially if it was not the same before," Dr. Fazylova said.
Many people presume a lack of sexual desire and enjoyment is part of getting older. But new technology and treatments make addressing sexual concerns easier and faster than patients may realize — so there's no reason to lose hope.
Dr. Fazylova told us that a low sex drive is often related to a hormone imbalance. The imbalance can take two or three months to treat, and many patients start feeling better after the first month. If the problem is erectile dysfunction, which is surprisingly common, treatment takes as little as four weeks.
"It's a process, not a pill," Dr. Fazylova said.
One piece of advice Dr. Fazylova has for anyone looking to improve their sex lives is to be open and honest about what's going on if there's a problem. So often, especially in the U.S., talking about sex is considered taboo. People presume that everything is fine — when often it's not.
Instead of reading blogs or browsing WebMD, Dr. Fazylova recommends talking with a medical professional who has plenty of experience and training.
"The first step is to ask about whatever it is. People are hesitant because they don't want to look stupid," Dr. Fazylova said. "There's no such a thing as a stupid question."