The Scoop: Radha Beauty is dedicated to providing high-quality, natural beauty products that are sustainably sourced. The company was founded in 2014 with the hopes of making natural products available online. Radha Beauty offers various products, including essential oils, rosehip oil, aromatherapy products, retinol, and face masks. Everyone, regardless of skin type, deserves high-quality skincare. That's why Radha Beauty offers products for every skin type and skin need.
Going on a date is nerve-wracking enough. Add an acne breakout, and it's game over in the stress department. I've known people to cancel a date rather than show up with a particularly bad pimple. Most skin breakouts are out of people's control, and there's no reason to panic over something as surface-level as a pimple. Nonetheless, skin mishaps can be embarrassing experiences.
As daters know, it's best to avoid embarrassing experiences as much as possible. When it comes to skincare, selecting products made with high-quality ingredients and sold by companies with well-rounded values is important.
Radha Beauty is a natural beauty company that sells products — from essential oils to hyaluronic acid — for all skin types. All Radha Beauty products are paraben and phthalate-free and are made from natural organic ingredients. The company takes environmental responsibility seriously and is committed to using sustainably sourced ingredients in their products.

Erin Gulling is the Creative Marketing Manager for Radha Beauty. She told us about the company and its mission to make natural, organic products accessible online. 
"We tried to create the most natural product out there," Erin said. "So we're not using a bunch of chemicals and we're making sure our oils are very pure and not mixed. Customers are getting the best quality product that they can be putting on their bodies."
The Mission and Values Behind Radha Beauty
When we asked Erin why customers love Radha Beauty, she said there were a lot of reasons. "You know, we have such a wide variety of products, like essential oils, carrier oils, moisturizers, cleansers, the complete package," Erin said. "And there's products for every skin type. I think that's why a lot of people love us."
Radha Beauty was founded in 2014 with the mission of making environmentally responsible products. Radha Beauty was born from the Ayurvedic culture, which embraces the natural beauty of all human beings. The company's products are inspired by homemade beauty treatments that have been used for generations.
When it comes to environmental responsibility, Radha Beauty is taking several measures to boost sustainability. All the ingredients used in Radha Beauty products are sourced responsibly. The company also uses eco-friendly packaging and encourages its customers to recycle their products.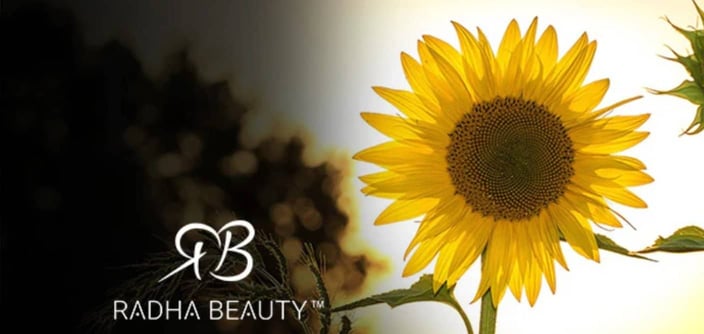 Essential oils are popular and have become everyday products in folks' lives. That's why Radha Beauty offers large versions of essential oils, so customers can cut down on the need to reorder. This reduces product packaging waste and the company's shipping carbon footprint.
All Radha Beauty skincare products are made in an FDA-approved facility in the United States. The company imports pure oils from different regions across the world and processes and packages them in the United States. This means that Radha Beauty products are authentic and safe.
Part of Radha Beauty's dedication to sustainability is its stance against animal testing. The company recognizes that animals are part of the environment and advocates for cruelty-free beauty products. Daters who are looking for high-quality, natural skincare products can find a curated online collection at Radha Beauty. 
Natural Care for Face, Body, and Hair
One of Radha Beauty's most popular product lines is its collection of rosehip oil products. "I use rosehip every day," Erin told us. "It's one of the most amazing oils out there. From acne to stretch marks to complexion, it's such a diverse product."
Rosehip oil is an oil extracted from wild rose bushes. This oil is packed with a variety of nutrients, like Vitamin A, which means it can work wonders on the skin. Rosehip oil moisturizes and brightens and can assist in scar reduction. Radha Beauty offers 100% pure rosehip oil, plus a rosehip moisturizer and cleanser.
Many daters pick up a skincare routine to feel more confident. If they don't know where to start in the treacherous world of beauty products, they should look no further than Radha Beauty. The facial serum three-pack set includes Vitamin C, Retinol, and Hyaluronic acid serums, which are great basics that any dater needs in their medicine cabinet.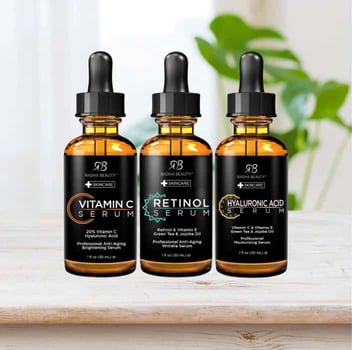 The Vitamin C serum is used to even skin tone, fade age spots, and improve skin's natural glow. Retinol serum helps minimize fine lines and wrinkles and boosts collagen. The Hyaluronic Acid serum deeply moisturizes the skin and improves skin elasticity.
Radha Beauty is well-known for their selection of essential oils and carrier oils. Customers can find various essential oils, including pure Tea Tree, Peppermint, and Frankincense. They offer pure oils and therapeutic-grade oils of select varieties.
Carrier oils are gentle oils that are used to dilute essential oils. While their primary purpose is dilution, carrier oils can have many beauty benefits themselves. Radha Beauty offers organic Jojoba Oil, 100% pure Castor Oil, 100% pure Argan Oil, and more.
Radha Beauty offers facial, body, and hair products that will help daters feel more confident in how they present themselves. Many of their products, like carrier and essential oils, have a variety of uses, so customers can find what works best for them.
Self-Care Boosts Dating Confidence
When daters take care of their appearance, they'll find many benefits. However, self-care isn't just skin deep. A well-rounded self-care routine also supports emotional and mental health, not just physical appearance. But a skincare routine can facilitate a self-care routine that considers emotional health.
Taking time each day to focus on caring for the body can put daters in a positive mindset. Daters can incorporate other self-care practices, such as mindfulness and meditation, into their daily routines, aided by the structure of a skincare routine. It's easy to add a few minutes of focused breathing before or after skincare to start or end the day peacefully.
People who have experimented with skincare and beauty products may feel overwhelmed when they decide to start a skincare routine. Radha Beauty offers basic products for the whole body to get customers started, plus specialty products for people who know what they like.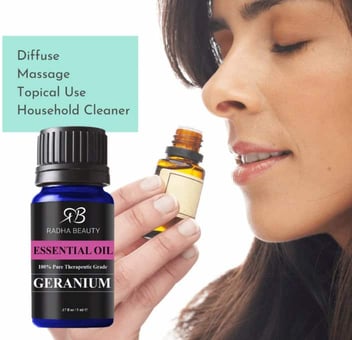 Radha Beauty has a library of blogs and articles about their products and general beauty advice. With these resources, customers can decide which Radha Beauty products would work with their skin type. Customers can also learn more about essential oils and all of their uses with Radha Beauty's guide to essential oils.
Daters can use Radha Beauty to find their perfect skincare routine. One of the best parts of the company's products is their affordability. Radha Beauty empowers daters to find natural, organic, high-quality skincare products that don't break the bank. 
"It's nice, because people don't feel like they're losing money when they want to try something new," Erin told us. "We want customers to find the product that works best for them and their skin."