The Scoop: Couples looking to complete their special day should consider hosting their wedding somewhere that's just as special as their love. A wedding venue can make or break a wedding, so couples need to choose wisely. Great Marsh Estate offers couples a once-in-a-lifetime opportunity to experience the old-fashioned country wedding they've always wanted. Located in the heart of Virginia, Great Marsh Estate has earned our Editors' Choice Award for its welcoming team and its eye-catching wedding venues. 
The wedding venue is one of the main components in planning a memorable day. That's why couples tend to worry about securing a venue that serves as the setting for their special day. Wedding venues aren't just a place for people to come and be entertained. It's a representation of the couple's love for one another. 
Wedding venues should be tailored to the couple. For example, you wouldn't want to choose a church venue if you're not religious and you wouldn't want a beach wedding if you have no desire to be by the water. Couples should select a wedding venue that will set the tone for their wedding.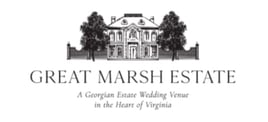 Great Marsh Estate is a beautiful Georgian estate that serves as a wedding venue in the heart of Virginia. The venue continues to impress couples with its elegance and great team service. Great Marsh Estate has been managed by Serendipity Catering since 2018. It is a small family business with a lot of heart.
"Each member of the staff is amazingly dedicated to the venue and to each other, which makes it such a special place to work," said Great Marsh Estate's Sales and Event Manager, Lauren Kruck. 
The team welcomes every guest as family and treats them as such throughout their entire wedding visit. Apart from offering a beautiful wedding venue where say can exchange "I dos," the team also offers insightful recommendations for entertainment and catering services. 
"We also work with Serendipity Catering (our sister company) for the couple's catering needs, though they would reach out to a separate representative to put together that contract/order," said Lauren. 
Curating Romance With Breathtaking Views 
Weddings always make me cry, and it's not just because I'm a crybaby. The romance that overtakes the room during the ceremony invites guests to celebrate the start of a new union. Witnessing a couple's love is an experience like no other. By setting the tone and providing a beautiful backdrop, venues play an important part in adding romance to a wedding.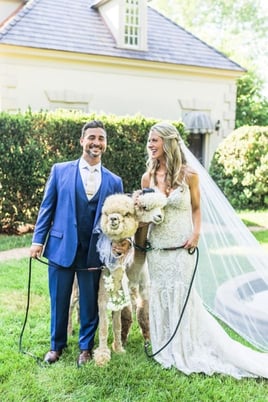 Great Marsh Estate knows a whole lot about romance. Whether it's providing the setting for the ceremony or opening the reception hall for after, Great Marsh Estate offers a romantic space where a couple can profess their love. From the moment couples visit, Great Marsh Estate helps remind them why they fell in love with one another in the first place. 
"The grounds are stunning and well-manicured no matter what season. I was even more sold on this venue when I saw photos of the bridal suite," said Jennifer, a Great Marsh Estate client in a testimonial. 
Lauren told us that clients will have a Great Marsh Estate planner or coordinator by their side to ensure that things run smoothly for their big day. Clients who need assistance with coordinating their wedding are advised to work with the team's planning extraordinaire Camilla. 
"This is a great option if the couple feels comfortable booking vendors and putting together the design elements on their own, as Camillia comes in about 30 days before drawing up the timeline and floorplan, and then is an indispensable day of with organizing vendors, putting out/cleaning up any DIY elements, and keeping the party running on time," said Lauren. "For anyone planning a wedding, I can't say it enough—a coordinator is a must!"
A Luxury Experience for Couples to Say "I Do"
Great Marsh Estate is recognized worldwide as one of the top wedding venues in the United States. It has been featured in well-known wedding resources, including The Knot, Wedding Wire, and Washington Weddings which has added to its credibility. 
Because it's a business that specializes in weddings, Great Marsh Estate has a team that dedicates most of its time to ensuring that couples get their dream wedding.
"The team here has got weddings down to a science—they run so smoothly here since the Great Marsh and Serendipity team know exactly what to do," said Lauren.
There are many reasons why Great Marsh Estate is a special place to get married. Great Marsh Estate is a private property that allows couples to have a much more intimate wedding. Couples don't have to worry about having a large guest list if they don't want to because Great Marsh Estate is perfect for couples who just want to have family and friends share their momentous event.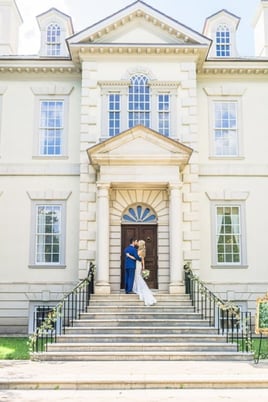 What makes Great Marsh Estate different from other wedding venues is that couples have  the entire property at their disposal. Included in the venue fee is the entire property for the day, which includes: the Manor House with the bridal and grooms suite, the outdoor courtyard ceremony site, and the stable reception hall which includes tables and chairs. 
Lauren told us that Great Marsh Estate typically hosts weddings with between 100 to 175 guests; 200 guests is the maximum capacity for the venue. Regardless of the event size, the Great Marsh Estate venue charges a flat fee no matter the guest count. Small weddings are less frequent at Great Marsh Estate, but some couples with small parties have chosen the location in the past. 
"We love all couples though—weddings big and small, along with diverse couples and LGBTQ+ couples!" exclaimed Lauren. 
Great Marsh Estate: A Georgian Estate Wedding Venue
Since opening, Great Mash Estate has seen a drastic increase in clientele. Many couples are not only satisfied with holding their weddings at Great Mash Estate, they connect with the team through the experience. The Great Mash Estate team is dedicated to facilitating a unique and seamless wedding experience for couples and their guests.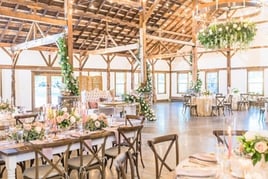 "We just finished up a lot of big improvements to take our property from an agri-business to a commercial business," said Lauren.
After the COVID-19 pandemic subsided, Great Marsh Estate booked a large number of weddings. Lauren told us that they typically book out for peak season on Saturdays about a year and a half in advance.
It's a reminder that couples who want to have their big day at Great Marsh Estate should reserve in advance. 
Planning in advance helps the couple work with the Great Marsh Estate's team in a timely manner, resulting in getting the best results. Weddings can be extremely stressful, especially when you don't have help by your side. Thankfully, couples don't have to fret about doing it alone when they have Great Marsh Estate's team by their side. 
"Though the owners are always working on new projects, I believe for the next year we will just be enjoying our beautiful weddings," said Lauren.
Photos of Erin and Lu's wedding courtesy of Stephanie Messick, @stephaniemessickphoto