The Scoop: Shopping for a wedding dress can be a stressor when you don't have a ton of funds. Without the right resources, you can find yourself compromising either your dream dress or something else from your wedding budget. Luckily, there are a handful of stores that have wedding dresses available that won't cause you to go bankrupt. The AW Bridal boutique offers an array of beautiful dresses for brides, bridesmaids, and moms all at an affordable price. Whether you're looking for a dress tailored to you or need a last-minute dress ready to ship, AW Bridal is always ready to help! 
It's safe to say that wedding dresses are the main component of a wedding. For most brides, the pressure of finding the perfect dress is paramount. After all, it is the first thing that guests will notice as the bride walks down the aisle. The best advice for brides deciding what dress to wear is to pick something within their budget that will give people a glimpse of who they are. 
Wedding dresses should represent the bride in more ways than just one. From the color to the fabric, a bride must decide what matters to her in a dress. To help make the dress-selection adventure easier, the AW Bridal boutique has a handful of dresses to choose from. Brides can pick out a dress customized to their liking from the comfort of their home. 

AW Bridal was first established in Nevada in 2011. Since then, brides from all over have used its services to complete their big day. AW Bridal's ultimate goal is to help create happiness for brides, bridesmaids, and every customer that shops on its site. 
In 2015, AW Bridal expanded overseas, in hopes of reaching a larger audience. That same year, AW Bridal served over 2 million brides and bridesmaids. With this in mind, you can already gather that the company is doing something right and clients are ready to confirm that. 
"AW Bridal's customer service is awesome! They were very helpful in helping me find the absolutely perfect dress. I'm telling everyone I know who gets married from now on to come here first!" exclaimed Michelle Taylor, an AW Bridal client in a review. 
Quality and Affordable Dresses for Sale
Weddings are beautiful, but without the proper planning and budgeting, they can be a nightmare. No one should have to go bankrupt paying for a wedding. The best weddings are those that are filled with laughter, love, and good vibes. The materialistic aspects of weddings are just a plus. 
Not everyone has a billion dollars up their sleeve to spend on a wedding dress. And that's OK because you don't have to! AW Bridal offers quality and affordable dresses for everyone. Whether you're a bride, bridesmaid, or the mother of the bride, AW Bridal has budget-friendly options for dresses, robes, gifts, and more. 

"A wedding is about happiness, bliss, and the promise to grow old together. And AW Bridal exists to share with you everything you need at the cherished happy moments," said the AW Bridal team. 
Brides never have to worry about not having options when it comes to their wedding dress. AW Bridal is composed of hardworking designers and tailors who have the skill set to get you your dream wedding dress. Under the sale section on the site, customers can find discounted wedding dresses. Although it's at a discounted price, the AW Bridal team ensures that every dress is a quality one. 
"Every hand-sewn trim, beadwork, and embroidery represents quality and versatility," said the AW Bridal team. 
Rapid Free Customization & Shipping for the Win
I must admit that online shopping has its fair share of ups and downs. What if it doesn't fit? Or what if it doesn't come in time? These are questions that are typically roaming through customers' minds before clicking submit payment on the screen. Lucky for shoppers, AW Bridal started offering free customization service for all orders in 2018, just to make sure that you find the dress of your dreams that fits perfectly.
AW Bridal focuses on creating a model dress that reflects everything the customer wants to see in themselves. The staff members are dedicated to ensuring your big day is perfect and that when you walk down that aisle, all eyes can see that you and the dress are one.
"The bridesmaid dress is fantastic! We chose the customization service, it's free of charge and it fits my body very well. Already recommended AW Bridal to my friends!" said Karlie Smith, an AW Bridal client in a review.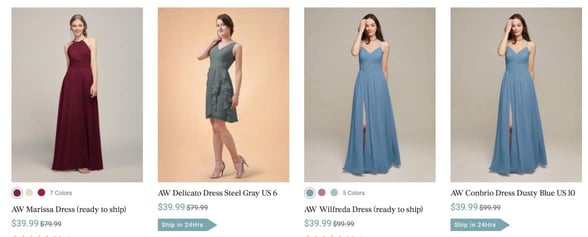 Everyone knows that a wedding is something you can't easily push back. That's why customers can rest knowing that AW Bridal prioritizes fast shipping and helps customers receive their dresses promptly. But what if you need a dress for a wedding next week? No worries! AW Bridal offers ready-to-ship dresses that can be shipped out 24 hours after purchase. And the best part is that it's completely affordable! 
So you don't have to worry about paying a ton for shipping a last-minute dress. Available at any time, the AW Bridal service team can be contacted through email or by phone if customers have any questions in between. 
AW Bridal: Creating Happiness, Joy, and Love
Everyone deserves that happy ending we often see in Disney movies. It's a special thing to find a partner you love and with whom you want to do this crazy roller coaster called life with. A wedding is a celebration of that love and having the perfect dress to wear can make any girl feel like a lucky one. 
Apart from offering wedding dresses, AW Bridal has robes and gifts, and decor options available for customers to check out. Oftentimes, brides and bridesmaids love to get ready for the wedding in matching customized robes. The joy of being with your bridesmaid popping champagne in robes and curlers is a feeling like no other. Those moments are the ones the wedding photographer loves to capture. This makes the big day feel even more special and synchronized. 
AW Bridal continues to prove that you don't have to be rich to find the perfect dress or receive great customer service. The boutique is truly a bride's dream come true. With an array of selections to choose from, any bride can walk away with a smile. AW Bridal paves the way for happiness, joy, and love to flourish. The team shared that anyone who wears an AW Bridal dress should feel such happiness. 
"It has been a great experience wearing AW Bridal's wedding dress! The sophisticated workmanship is amazing at this price! Thank you for making such a beautiful dress!" exclaimed Maria Wilson, an AW Bridal client in a review.