The last few years have been marked by an empowering growth in visibility for LGBTQIA+ people in the media. Social networking platforms have played an influential role in this, giving queer creators a platform and audience. Many of these creators produce relatable and humorous content, and their unique personalities aren't usually seen in mainstream media. For LGBTQIA+ folks who are trying to understand their identities better, having role models like queer content creators can be uplifting.
Podcasts are a considerable part of this surge in LGBTQIA+ visibility. Now more than ever, LGBTQIA+ creators are teaming up to create podcasts that share queer experiences, uplift marginalized voices, and investigate the intersections of gender, sex, race, and other identities in daily life. This list covers the best podcasts produced by queer creators in 2023. They cover a broad spectrum of topics, from problematic gay historical figures to queer celebrity stories.
Best for History Buffs
Leigh Pfeffer, the host of "History is Gay," uses a lens of social justice, history, and storytelling to examine the overlooked queer people from eras gone by. The podcast is on a journey to communicate that gay people have always existed, and that history has never been all that straight.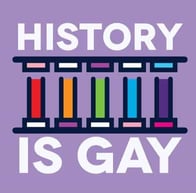 There are historical figures today whose queer identities have been erased, despite leaving behind evidence that they actively experienced their queer identity while they were alive. Erasure or sidelining the queerness of historical figures leads to this cultural malalignment in the 21st century that maintains that the array of LGBTQIA+ identities are somehow new or 'made up.'
Exploring the queerness of historical figures does more than posthumously reclaim that figure's LGBTQIA+ identity. It shows a cisheteronormative world that being gay isn't something new. It can also be uplifting and encouraging for queer folks to realize queer people have come before them, and they will come after them.
More About "History is Gay"
Hosted by Leigh Pfeffer (they/them)
Historical figures explored with modern guest co-hosts
Most episodes are over an hour long
Best for Exploring Stereotypes
Hosts Mike Johnson and Kyle Getz take to the microphone to explore different gay stereotypes in "Gayish." "Gayish" is a five-time nominee for Best LGBTQ Podcast by the People's Choice Podcast Awards and has been featured in Oprah magazine and Queerty. Past pod guests have included Disability Awareness Consultant Andrew Gurza and RuPaul's Drag Race star Jinkx Monsoon.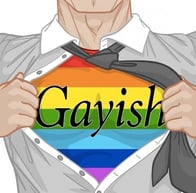 Mike, Kyle, and crew have explored the likes of the guncle (gay uncle), bathhouses, and the Bible. The podcast has a library of over 300 episodes, meaning new listeners will have plenty of content to catch up on. Most podcasts have guest hosts with expertise in the area being discussed, so listeners can hear a new, fresh voice with each episode.
"Gayish" has a strong community of listeners who endearingly refer to themselves as the Gayish Agenda. They stay active on the pod's Discord server, Facebook group, and Gayish Space on Spaces. The "Gayish" community includes other affirming LGBTQIA+ people, so the space is known to be welcoming.
More About "Gayish"
Hosted by Mike Johnson (he/him) and Kyle Getz (they/he)
Based in Seattle
Backlog of hundreds of episodes
Best for Investigating Gender
"Gender Reveal" is investigating the intricate complexities of gender, many of which are taken for granted by cishet people. The podcast explores the wide diversity of trans experiences by interviewing trans, nonbinary, and two-spirit people. Tuck Woodstock created "Gender Reveal" as a free educational tool for anyone wanting to know more about gender.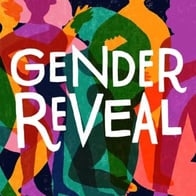 Episodes of "Gender Reveal" are conveniently organized into categories on the podcast's website. New listeners can browse these categories to decide where to start in their listening journey. Categories include trans parenting, abolition and organizing, and disability and autism. 
Gender is a construction that's far-reaching in daily life. Whether people realize it or not, gender affects all people, cisgender or queer, in complex ways that often build on each other. "Gender Reveal" is currently in its 11th season and has over 150 episodes for listeners to choose from.
More About "Gender Reveal"
Hosted by Tuck Woodstock (he/him)
Focus on the lived experiences of trans people
Grant program open to trans and two-spirit people
Best for Queer Celebrity Guests
"LGBTQ&A" was founded by GLAAD Award-winning journalist Jeffrey Masters in 2016. The pod was created to document modern LGBTQIA+ history. Jeffrey uses his journalism prowess to get into the nitty-gritty of his guests' lives, past the basic coming out and transition stories. "LGBTQ&A" is a space to explore the accomplishments, failures, and authentic stories of queer public figures.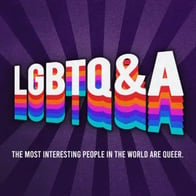 Past pod guests include Pete Buttigieg, Trixie Mattel, and Holland Taylor. Think of "LGBTQ&A" as a collection of the stories of some of the most beloved gay celebrities. Jeffrey's interview style has been touted as thoughtful and humble, yet probing for the essence of an individual's experience and how that relates to the broader queer experience.
Jeffrey uses his background in journalism to ask questions that both reveal and reflect. In 2020, GLAAD joined the "LGBTQ&A" team as a production partner. The podcast has been celebrated as a foundation of present-day queer media that continuously uplifts the complex stories of the most famous LGBTQIA+ celebrities.
More About "LGBTQ&A"
Hosted by Jeffrey Masters (he/him)
Huge library of queer celebrity stories
Ranked #2 Podcast to Listen to by Buzzfeed in 2017
Best for Young Folks
After 10 years of serial monogamy and upholding the U-Haul lesbian stereotype, the host of "We're Having Gay Sex," Ashley Gavin, is trying to reclaim the sexually-liberated status she felt she should have had in her early 20. The podcast explores the present-day queer dating scene, which has changed considerably since the last time Ashley was in it.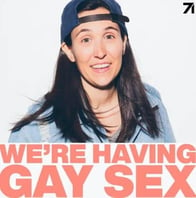 Ashley is backed up by a production team that works to prevent her cancellation, which she is self-admittedly prone to as a millennial. The podcast is sex-positive and includes discussions of sex in LGBTQ+ circles and the stories that come along with navigating those circles. Ashley leans on her youngest and gayest friends to reintroduce her to the world of queer dating.
"We're Having Gay Sex" has a different guest with each episode. Guests span the sexuality spectrum from straight to gay and trans to cis to talk about the gay sex they've had or the gay sex they want to have. The podcast is hilarious, spicy, and features plenty of notable comics, queer and not.
More About "We're Having Gay Sex"
Hosted by comedian Ashley Gavin (she/her)
Co-host and production team offer side-splitting background commentary
Fresh guests every week
Best for Lesbians & Queer Women
Charl and Aislinn, a couple and the hosts of "LesTalk," are self-proclaimed professional lesbians and are joined weekly by LGBTQIA+ guests to share their truths. Episodes are biweekly and address stigmas, stereotypes, and discussions about queer women. The podcast explores what it's like to exist as lesbians and queer women, all while encouraging a supportive and humorous space.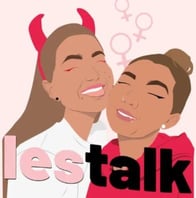 "LesTalk" is hosted on the Unite UK platform. Unite UK was created by queer women and is supported by a dedicated team of volunteers, writers, and content creators. The site has content across various mediums, including videos, blogs, and podcasts. It was designed to be a safe online space for LGBTQIA+ people to connect with each other.
This podcast is a great choice for folks seeking to hear the voices and perspectives of lesbian and queer women. Charl and Aislinn explore queer friendships, coming out stories, and polyamory, among other topics, all with the tone of two longtime partners having a chat.
More About "LesTalk"
Hosted by couple Charl (she/her) and Aislinn (she/her)
Based in the UK
Made by and for queer women
Best for the More Troublesome Side of History
"Bad Gays" is a podcast that's trying to figure out why queer heroes are remembered far more than queer villains. The podcast explores the more complicated queer historical figures who aren't easy to celebrate. Yet, queer villains were just as influenced by their sexuality as the heroes and "Bad Gays" is claiming they deserve to be remembered in a way that considers their sexuality.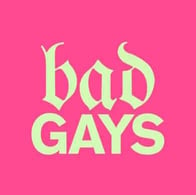 Each weekly episode highlights a different queer historical bad gay, from the likes of Alexander the Great to Anne Bonny, an Irish pirate thought to be a lesbian. "Bad Gays" is in its sixth season, and most episodes are around an hour long. While LGBTQIA+ voices have gotten more attention lately, queer stories aren't just one-dimensional tales of overcoming triumph and finding positivity, and to claim so is reductive and limiting for queer people.
"Bad Gays" is hosted by Huw Lemmey and Ben Miller. Huw is a Barcelona-based novelist, artist, and critic who's authored three novels. He writes for various publications on issues of culture and sexuality, along with his own weekly newsletter. Ben is a writer, researcher, and Doctoral Fellow at the Graduate School of Global Intellectual History at the Freie Universität Berlin. This means "Bad Gays" stories have a solid academic and research-based approach. 
More About "Bad Gays"
Hosted by Huw Lemmey (he/him) and Ben Miller (he/him)
Book "Bad Gays: A Homosexual History" available for purchase
Offers an interdisciplinary lens to explore problematic queer figures
Best for Black Queer Voices
Kris and Shana are the hosts of "Bad Queers," a podcast that's combating stereotypes and sharing a few unpopular opinions along the way. "Bad Queers" releases a new weekly podcast in which the hosts share their experiences as Black queer women while giving a platform to frequent LGBTQIA+ guests.
"Bad Queers" is ready and willing to offend, as it addresses the sometimes provocative intersections of race, gender, sex, and queerness. The podcast covers a wide range of topics, from whether Janelle Monáe gets enough credit from the queer community to the linguistic and gendered workings of the term 'girl.'
Kris and Shana ask each of their guests to share their bad queer opinion. These are ideas that may get some pushback in the mainstream white queer circles, but which have revealed truth in the lives of their guests. Past bad queer opinions have included that straight people should be excluded from gay clubs and that femme lesbians have the best gaydar.
More About "Bad Queers"
Hosted by Kris (she/her) and Shana (she/her)
Elevate Black, queer voices
New guests every week
Best for Art & Music
The "Queer Collective" podcast is a weekly show co-hosted by Karbon and Emily. The podcast is part of the Queer Collective project, a non-profit Canadian organization committed to creating accurate and positive representation for the LGBTQIA+ community. The group specializes in uplifting smaller queer musical and visual artists.
Karbon and Emily are a couple and the co-founders of Queer Collective. They started the project to increase representation and visibility for queer folks, specifically in Canada. According to their website, LGBTQIA+ people only see themselves in 6.4% of TV characters, and out of this representative body, many are characterized as problematic, hypersexualized, or stereotypical queer characters.
Queer Collective is a cyber safe space for queer people to engage in LGBTQIA+-created content. The podcast covers a host of queer issues and also uplifts local queer artists by featuring their projects regularly. They also help these artists with video production and design and audio engineering.
More About "Queer Collective"
Hosted by Karbon and Emily Gioskos
Based in Toronto
Features queer visual and musical artists frequently
Best for Authentic Queer Stories
"Homo Sapiens" is hosted by Chris Sweeney and features stories from all kinds of LGBTQIA+ folks. Chris is aiming to tell stories about humans and the world we live in from an unapologetically queer perspective. The podcast's guests are queer icons and allies, and conversation topics run the gamut from trans pregnancy to mental health struggles.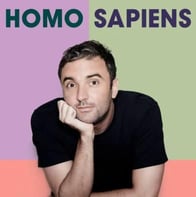 Past guests have included David Sedaris, Margaret Cho, Troye Sivan, and Sam Smith. "Homo Sapiens" has a funny and familiar tone but doesn't shy away from the more difficult parts of its guests' stories. The pod touches on topics that address coming out, finding liberation in a queer identity, and discovering empowerment in the LGBTQIA+ community.
Host Chris is a writer, director, and, podcaster based in the United Kingdom. He hosted the first three seasons of "Homo Sapiens" with Will Young and was first modeled against Radio 4's wildly popular show called "Woman's Hour."  The podcast has thousands of weekly listeners and has received widespread critical acclaim in the United Kingdom and beyond.
More About "Homo Sapiens"
Hosted by Chris Sweeney (he/him)
Based in the UK
Queer celebrity guest stars
Podcasts created for and by the LGBTQIA+ community offer more than safe spaces. They offer queer people entertainment cultivated and presented by other people who get it. Queerness isn't simply an identity label or an indicator of political leaning – it is often a lens through which people see the world. Content, specifically of the humorous kind, that moves through this lens offers a perspective that's often underrepresented. 
These podcasts allow listeners to laugh, cry, scream, and maybe even change their minds. This list includes podcasts from all different queer perspectives. One of the most important things to know when engaging with LGBTQIA+ media is that there is no one 'queer opinion.' There is a collection of distinct and singular voices, all with multidimensional experiences and backgrounds, that are proud to call themselves a part of the LGBTQIA+ community.