The Scoop: The Stanford Inn & Resort is a gem of Mendocino County, situated less than a mile away from the village of Mendocino and within a stone's throw of countless outdoor activities. The inn boasts carefully designed interiors, breathtaking coastal views, top-tier vegan food, and luxurious spa experiences, and the team welcomes every visitor as part of the family.
I moved states a couple of months ago, and my mom recently visited me for the first time in my new town. We went to the beach, enjoyed the pool in my house, and took afternoon bike rides to the nearby botanical gardens. We went out to eat several times and cooked a few meals at home. It was relaxing and refreshing to spend time with my mother in such a serene way. 
As I was dropping my mom off at the airport to catch her flight home, she turned to me and said, "My friend and I were talking about how there are trips and vacations. On a trip, you do everything you would normally do in your day-to-day life, just in a different location. On a vacation, you really relax and get to take a break. This was a vacation."

I was thrilled that my mom, who has been raising my three siblings and me for the past 25 years, could go on a true vacation. I also resonated with her friend about the difference between trips and vacations. While I've always been attracted to the idea of visiting a new location, I often felt that travel exhausted me more than it renewed me.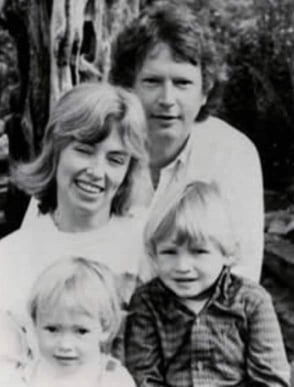 Situated on a hillside overlooking the ocean, just less than a mile away from the quaint coastal village of Mendocino, The Stanford Inn is dedicated to giving its visitors true vacations.
The Stanford Inn & Resort is the ideal romantic getaway for couples searching for rooms with impeccable views, a restaurant with a plant-based menu and award-winning cuisine, and many activities and excursions.
Jeff Stanford and his wife Joan have owned and operated the inn and resort since 1980. Jeff told us about the inn and how the team works to make it a special place that enlivens and inspires.
"People need to be able to identify and connect with nature. The Mendocino coast and our inn is a good place to let that happen," Jeff said. 
Mendocino Coast Charm at Its Finest
The Stanford Inn's rooms and suites provide first-class amenities and top-tier comfort. All rooms come with extraordinary views, whether it be the Pacific Ocean, the Big River, organic gardens, or the historic village down the hill. Couples have a variety of room options to choose from when planning their vacation.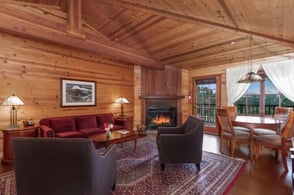 Every room, suite, and cottage at the inn has plenty of amenities. As an eco-resort, Stanford Inn works diligently to be as environmentally responsible as possible. Each room, suite, and cottage has a wood-burning fireplace, high-speed wifi, satellite TV, refrigerator, and microwave. Pets of any kind are always welcome. Even the smallest details are attended to at the Stanford.
Accommodations include two-room suites, executive king and queen rooms, and rooms with two beds, perfect for families. Couples who want to spend time reconnecting at the Stanford Inn can book a room with romantic views from the inn's large, wood-paneled windows. Guests can choose from views of the ocean, river, or colorful hilly landscape.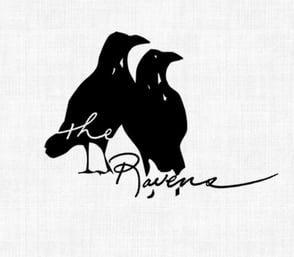 The Stanford Inn's Ravens Restaurant is 100% vegan, farm-to-table organic, and environmentally conscious. Jeff told us the Stanford Inn has always been deeply concerned with serving sustainable and ethical food. Ravens Restaurant's wood-paneled spaces offer captivating views from their many windows, and couples can find the freshest dishes and most refreshing beverages.
Cooked-to-order breakfast is included every morning of a guest's stay. For breakfast, the restaurant offers a comprehensive menu that's sure to impress guests – whether they're herbivores or not. Breakfast dishes include portobello benedict, garden scramble, and herbed polenta.
The dinner menu includes a wide selection of starters, salads, and entrees. Couples looking for a one-of-a-kind dining experience will find futomaki, glazed tofu, crabless cakes, and Thai red curry on the dinner menu. "We grow a lot of food in our own garden," Jeff said. "What we can't produce in our garden we source as locally as we possibly can to support our community and offer the freshest ingredients."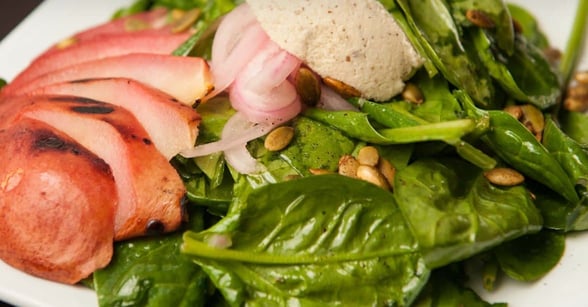 Ravens Restaurant also presents a robust wine, beer, and cocktail selection. The wine list is cultivated by Stanford Inn's in-house Director of Wine and features the finest organic wines from Mendocino County. Most of the wine offered is made without synthetic chemicals, fertilizers, or pesticides. 
The Stanford Inn Celebrates Healthy Living
Jeff told us he sees all the offerings of the inn and resort as an extension of his belief in reconnecting with nature and being stewards of the environment. From Ayurvedic treatments to canoe excursions to nutrition classes, the Stanford Inn offers more than the average inn and resort.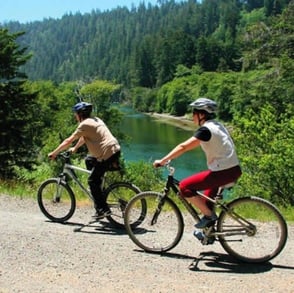 Couples looking for a deeply relaxing stay at the inn can book one of several massage or Ayurvedic treatments. The Ayurvedic treatments offered at the Stanford Inn are healing systems derived from an ancient Indian tradition that uses diet, herbs, exercise, and body therapies. These treatments aim to restore balance and establish harmony within the body and mind.
Guests can take a stroll through the inn's USDA-certified organic farm called Big River Nurseries. The inn began farming in 1985 as a landscape feature but has transformed into a bountiful source of produce and herbs for Ravens Restaurant. The garden grows a wide variety of lettuces, cabbages, spinach, radishes, and gourmet vegetables.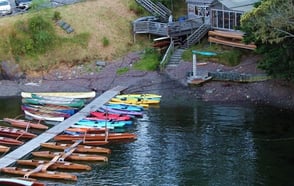 Adventure-hungry couples can find outriggers and bicycles for rent through the inn. They can enjoy a paddle on the Big River Estuary or a bike ride to the nearby town of Mendocino. The rental service offers kayaks, canoes, and stand–up paddle boards. Guests can rent mountain or comfort bikes depending on their needs.
Jeff's wife, Joan Stanford, is an art therapist with a private practice offering workshops and retreats. She offers creative playshops for interested guests, encouraging self-expression through painting, drawing, and collage. Joan has seen the ability of creating art to help people realize truths about themselves. The creative playshops are a wonderful opportunity for reflection and growth while staying at the inn.
Many of these activities take place in the inn's wellness center. The wellness center features a large greenhouse with a saline swimming pool, dry sauna, hot tub, showers, and lounging areas. The greenhouse provides a comfortable environment throughout all four seasons. Couples who enjoy working out will find a fully equipped fitness room.
Beautiful Landscapes for Romantic Experiences
Jeff and the rest of the team at the Stanford recognize just how romantic the inn is, surrounded by verdant flora that's set against Pacific views. Many couples have chosen the inn as the venue for their wedding or elopement, and the Stanford's team diligently works to create a tailor-made romantic wedding.
The Stanford Inn can accommodate elopements and will provide the witness and officiant. For couples searching for a wedding ceremony with guests, the inn can host weddings of up to 40 guests and offer several choices for location. Couples can choose the Mancha Herb Garden, the grand lobby, or the Big River Room, depending on their tastes and needs.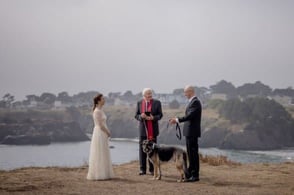 Several different elopement, wedding, and reception packages are available, and the inn has connections with plenty of local vendors for anything that needs to be outsourced. Jeff told us he's been ordained and loves officiating weddings for his guests. 
Couples who want to tie the knot with an intimate ceremony in a beautiful coastal location should look no further than the Stanford Inn. Jeff, Joan, and the whole team want all guests to feel like family, so planning and executing a wedding with the team will feel comfortable, celebratory, and joyous.
The inn is open year-round and welcomes visitors at whatever time of the year they want to experience the Mendocino coast. Summer is the most popular time of the year for the inn, a season known in Northern California for its temperate climate and stunning greenery. Couples have full access to a wide range of outdoor activities during the sunny summer season.

Jeff's passion for the Stanford Inn and all of its offerings was palpable throughout our entire interview. His love for the inn and dedication to the environment and sustainable practices came through clearly. The inn isn't simply a family business for the Stanford family and their team. It's a large, growing community of people who want to engage more meaningfully with nature, themselves, and each other.
Couples sick of taking trips and ready to take a vacation will find the Stanford Inn presents something special. "Sometimes I don't even know where to begin when I talk about the inn," Jeff said. "It makes guests feel things that they don't normally feel. The place has a special energy that just resonates with people."