The Scoop: Wedding invitations are the first and last part of your wedding your guests will see, and Lucky Onion ensures that they are personal, beautifully designed, and efficiently distributed. Through their process of consultation, design, and production, Lucky Onion will get your stationery arranged with care.
A lot goes into wedding planning. As exciting as it is, every engaged couple knows how much financial, emotional, and mental energy goes into planning your special day. With so much on your plate, it can be tempting to cut corners and avoid the wedding traditions that require a bit more attention to detail. 
But in many cases, it's the little things that your guests will remember. From the table centerpieces to the flavor of the cake, the details of your wedding directly affect your guests. And nothing equals the first impression on receiving  the invitation they get to keep to remember your wedding.
Whether you're having a low-key backyard celebration, a glamorous destination wedding, or a classic religious ceremony, you deserve an invitation that both sets the scene for your ceremony and speaks to you as a couple. You have an opportunity to send a beautiful invitation to all of your guests to make them feel more connected to your wedding, and to make the event even more special and personal. And because stationery will touch so many aspects of your wedding, from the invitation to signs and table settings, designing something that is unique to you while still being cohesive is important. 
Enter Lucky Onion, a Denver-based design and print company owned by husband and wife Kevin Eslinger and Cristy Fernandez. Lucky Onion makes gorgeous, customizable wedding invitations that'll wow your guests and guarantee that they arrive at the ceremony prepared to celebrate your special day. 
Use Custom Invitations to Set the Tone for Your Wedding
Beyond revealing important ceremony information, like the date, venue, and dress, wedding invitations will give your guests a glimpse into your special day. Your stationery is the first and last thing your guests will touch; it's a subtle way to communicate the vibe of your ceremony and make everybody feel welcome and wanted at your celebration. 
Designing your wedding stationery also gives you the opportunity to get sentimental with your guests. By including a personal touch on your invitation, you can make your guests feel like they're walking into a truly special experience that's different from the other weddings they've attended. Lucky Onion is awesome because the company allows you to customize your invitation to a T, with guidance from the company owners.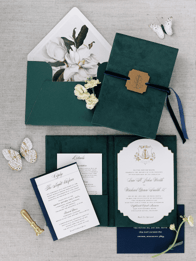 On the invitation, you can include a little design that means something to you as a couple. On the Lucky Onion Instagram, you can see hundreds of invitations that have been carefully designed by Kevin and Cristy, all of which have personal touches to them. Include a graphic of trees, a mountain landscape, or a flower that means something to the couple. 
Lucky Onion provides an easy way to include a piece of yourself in a wedding component that's often impersonal. It would be easy to print a hundred invitations in Times New Roman that list the couples' names and the date of the ceremony — but where's the fun in that? "Every couple is unique and brings a different story to the table," Cristy said. "We love being able to listen to this and bring it to life and stationery and event planning."
Lucky Onion Brings a Personal Touch to Your Invitations
Lucky Onion makes sure to get to know the couple before designing the invitation so the invitation truly speaks to the relationship and to the couple. "We work closely with each of our clients to create a one-of-a-kind stationery and branded event that speaks to who they are as a couple," Cristy said. "Our services are a la carte and meant to fit the needs of each individual couple."
The process is simple while still feeling intimate. The couple begins by having a discovery call with Kevin and Cristy, who determine the couples' desires and needs — while simultaneously getting to know them, so that they can incorporate that sweet personal touch into the stationery. Then, the couple proceeds to the next step, in which Cristy and Kevin create an individualized sketch for the couple and then work together on the finishing touches.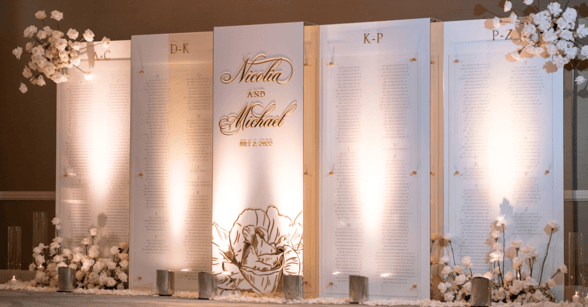 Throughout the process, the couple is in charge. If they don't like something designed by Lucky Onion, everybody works together to find the perfect design. Once Lucky Onion receives the couple's approval on the design, they move forward with the production of the order, which includes printing materials, organizing delivery, and setting up on the day of the wedding. This includes displays, signage, and welcome packets, among other details. Lucky Onion even provides helpful resources such as how to easily collect guest addresses, and creates a schedule with you to ensure that everything is mailed out to guests in time. 
Small businesses like Lucky Onion, which truly care about their clients and are willing to put time and effort into making you feel at ease, are huge destressors leading up to a wedding. Even something as menial as deciding on wedding invitations can be stressful for a couple who are feeling pressure to plan their ceremony in a way that's both efficient and true to both parties. Enlisting people who care about you and your special day can take the burden off your shoulders. 
No matter what other stressors may emerge leading up to the ceremony, working with Lucky Onion ensures that everybody who needs an invitation will get one, and that the stationery will be set up beautifully when you arrive at the venue. "Our clients often share that their guests were swayed to go to their wedding BECAUSE of the invitations," Cristy said. "They say, 'if the invitations are this good, imagine the wedding!'"
Celebrate Milestones with Custom Stationery
Wedding invitations are often an overlooked part of wedding planning. It's easy to neglect creating a personal, beautiful invitation when you're focusing on the venue, the design, and your guest list. But stationery plays an integral role in celebrating the special moments, and paying attention to the tiny details of your wedding is important.
For Kevin and Cristy, stationery is more than just a greeting card or a modern table setting. The couple has used stationery to celebrate countless milestones together, including their first home, the birth of their daughter, and, of course, their wedding. The power of art to commemorate important moments and evoke emotion in card recipients inspired them to create Lucky Onion, so every couple has the chance to share special moments with friends and family, no matter how near or far they may be. 
There's something sweet about returning to mailed invitations in the digital age. Receiving something physical in the mail that requests your presence at a ceremony is special. If you can make your guests feel loved and included at your ceremony, why wouldn't you? Lucky Onion makes it easy and fun to spread love by mail and to convince your guests that your ceremony was planned down to every last table setting.