The Scoop: If there's one day in your life to dress your best, it's your wedding day. David's Bridal is the go-to shop for every bride looking for the perfect gown. From online shopping to in-house alterations and consultations, David's Bridal will have you looking and feeling your best.
Your wedding day is one of the most magical days of your life — and wearing a dress that makes you feel beautiful inside and out is non-negotiable. 
Laura McKeever, the Senior Brand and PR Manager of David's Bridal, assures brides-to-be that David's Bridal is the way to go if you want your dress to be the star of the show. David's Bridal has been in business for over 70 years and, in that time, has served millions of brides with its wide selection of gowns and styles. Since 1950, David's Bridal has  stood as a reliable, affordable, and inclusive option for not only brides, but bridesmaids, mothers-of-the-bride, and guests. 
Whether you want to walk down the aisle in a lace ball gown, a simple chiffon dress, or a sleek white jumpsuit, David's Bridal has got you covered. On its website, the retail chain sells over 400 styles of wedding dresses, with beautiful silhouettes and intricate details, like sequins and beadwork, that guarantee your wedding guests will leave the ceremony gushing about your dress. 
Fashion-Forward and Classic Options
Shopping for a wedding dress can be daunting, especially if you feel pressure to choose a style that will remain trendy long after your wedding. You'll want your wedding photos displayed for years to come, and it would be nice to avoid having to constantly give a "my-dress-is-so-outdated" disclaimer. And, fear not — David's Bridal will not sell you your mother's puffy sleeve wedding dress from the '80s. Dress styles are beautiful and timeless, so you can buy a dress knowing that it'll have longevity. And, who knows, maybe you'll pass it down! 
David's Bridal combines classic dress styles, like voluminous skirts and mermaid silhouettes that'll be trendy forever, with modern details that will make you stand out. Laura said unique necklines are super trendy right now. Brides are leaning toward one-shoulder, halter, cowl, high, and mock necks in place of a traditional square neckline or sweetheart neckline.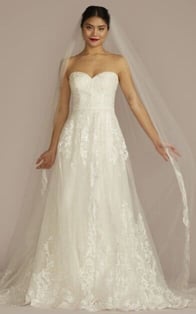 Bypassing a traditional neckline doesn't mean you have to forfeit any classiness on your wedding day. The One-Shoulder Beaded Wedding Dress by Galina Signature, with its elegant, beaded lace bodice, is the perfect example of a dress that is different yet beautiful. This dress comes with a removable overskirt, which is perfect if you decide to reveal the sparkles underneath at any point in the ceremony. Switching up your neckline is a subtle change that can give a classic-style wedding dress a trendy twist. It's a departure from the classic wedding dress silhouette that will pleasantly surprise your guests. 
Trends also point toward intricate sleeve options and details like delicate lace and appliqués that will ensure you'll catch every eye as you walk onto the dance floor. A standout is the Lace Appliqué Wedding Dress by Oleg Cassini, with its sweetheart neckline and lacey off-the-shoulder sleeves that can be removed if you decide you'd rather go strapless. You will be guaranteed to look like a princess as you walk down the aisle in this gown, which has hand-placed lace and sleeves that delicately slip off the shoulder. 
And, while dress shops like David's Bridal are putting brand-new bridal trends in the spotlight, some classics will never go out of style. David's Bridal has no shortage of classic cuts and styles. The Embroidered Lace Applique Ball Gown, which is from David's Bridal's own collection, adds a subtle twinge of pink to the lace flowers that cascade down the tulle skirt. The classic-style dress looks like something out of a fairy tale, with a flattering strapless neckline, a lace-up corset bodice, and a flowy skirt that grazes the floor. If the flowers and pink are too elaborate for you, look into options like the DB Studio Strapless Satin Wedding Dress with Slit, which is made from luxe satin that give the dress a chic, sophisticated feel. 
No matter which direction you choose to go in with your dress, whether it's a dress with an asymmetrical neckline and a 3D applique or an old-fashioned sheath dress, David's Bridal has options. The store's selection will allow your personality to shine through your dress so you're at your most comfortable — and most beautiful — throughout your day. 
In-House Consultation and Alteration
If all these dress options seem overwhelming, don't be afraid! Laura said that David's Bridal makes wedding dress shopping easy by providing brides with a 60-minute, in-person one-on-one shopping experience with a trained bridal stylist. The stylist will discuss the bride's aesthetic, vision, and price range, and find a dress that checks all these boxes. The stylist will bring the bride an array of styles to consider until she selects the perfect one.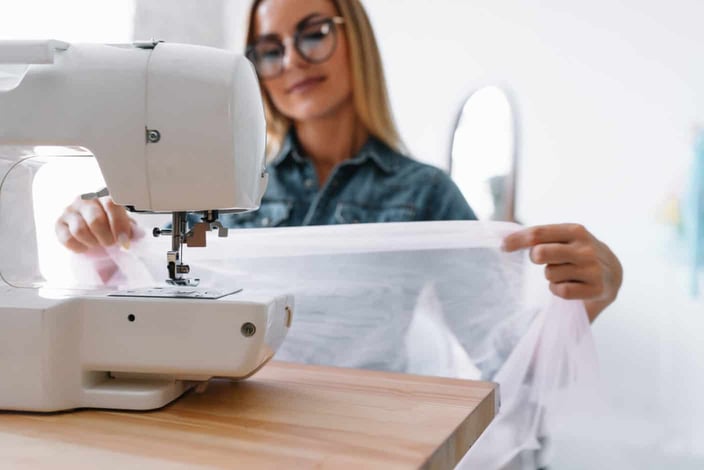 Once the bride finds her dream dress, the alterations process begins. It's very personal and entails having one alterations expert working with the bride to ensure that the dress is tailored to perfection and customized to her liking. The bride comes in for two fittings, and sometimes an additional fitting or two are necessary.
David's Bridal is not only committed to making sure you feel secure on your wedding day, but also that your dress brings out all your best features. Weddings can be stressful, and it's comforting to have a stylist on your team as you hunt for a beautiful, flattering dress. 
David's Bridal Has Gorgeous and Affordable Dresses
In addition to having a beyond stunning collection of gowns, David's Bridal is inclusive of all price ranges. If you don't want to spend upward of $500 on a dress, that doesn't mean you have to compromise looking dazzling on your special day! Options like the Crepe Off-the-Shoulder Sheath Dress are as trendy as the store's pricier options, but won't break the bank. 
The David's Bridal website filters for dresses under $500 and even under $100, if you don't want to make an enormous investment into your dress. New styles join the sales section regularly, so there's never a shortage of affordable dresses at David's Bridal. Furthermore, price range is something the stylist will take into consideration when finding a dress, so there's no need to worry about falling in love with a dress that's way outside your budget.
As wedding season approaches, David's Bridal is ready to take center stage at weddings all over the world with dresses that are well-made, well-fitting, and just drop-dead gorgeous. What's not to like?