Love is a beautiful thing to experience and witness. In our busy lives, we can easily lose sight of love. But it's not just a fairytale or the plot from a popular rom-com movie. Witnessing a proposal is the ultimate confirmation that love is real, and better yet — inspires you to believe that you can have the proposal of your dreams! 
When planning to propose to your significant other, you may feel pressure to make that moment extra special. If they want their proposal to go smoothly, people should take the proper steps to plan for the big day rather than winging it. According to the original marriage proposal planners, The Yes Girls, getting a helping hand in the process can benefit the proposal. 
"The proposal overall will be a more enjoyable experience. Not only do you have a planner on your side to handle the logistics but also to troubleshoot anything that arises," said Heather Vaughn, CEO, and founder of The Yes Girls. "'Winging it or 'waiting for the right moment' can seem like an easier-to-execute plan but a lot of unforeseen factors can throw that off; for the sake of making it truly special and more personal we highly recommend making a plan. This also ensures the setting is thoughtful too."
Proposals don't have to cost you a ton of money or time. It just requires you to think outside the box and be thoughtful. 
Don't know where to start? No worries, our team has got you! Check out these 7 adorable proposal stories that can inspire your next steps moving forward in getting the person you love to say "I do." 
1. The Penguin Promise
Located in Pittsburgh, Pennsylvania, the National Aviary is a beautiful place known to have romance roaming throughout. As a company that loves the idea of playing wingman, the National Aviary often hosts a lot of first dates, proposals, and even weddings. On one particular occasion, the National Aviary was able to pull off a grand proposal that included penguins playing as the true love masterminds behind it all.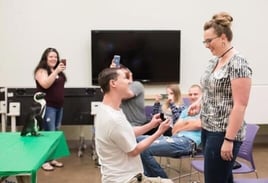 Guests, Chris Pope and Danielle Smerecky were fortunate enough to have their proposal at the Penguin Point habitat. Chris knew that he wanted to have penguins as part of his proposal plan because it was Danielle's favorite animal. After getting a yes from the National Aviary team, Chris was able to organize everything perfectly — he even designed the engagement ring with sliding penguins on the sides. 
On the day of the proposal, Chris and Danielle were on a typical penguin tour to meet a penguin named Goldie. At the end of the tour, the tour guide gave Chris the cue to pop the question, and Chris dropped to his knees in front of everyone — asking for Danielle's hand in marriage. After Danielle said yes without hesitation, the couple was given the chance to snap a picture with Goldie which sealed the proposal. 
"I owe many thanks to the National Aviary team for keeping everything so secret and special for us," Chris said. "It was a perfect day, and so many amazing memories were made."
What appeared to Danielle to be just another casual exhibit visit turned into a life-changing moment that she will always cherish. That's what proposals are all about! When planning your proposal, think of what your partner loves and reach out to different places like a zoo or a favorite restaurant to see what you can arrange. It doesn't have to be a penguin show, but a special element in a proposal can make all the difference. 
2. The Tear-Jerker Letter
The best proposals are those that pull on your heartstrings. A thoughtful gesture followed by a simple "will you marry me?" will make any woman say yes — if the question comes from the right person. The original marriage proposal planner, The Yes Girls, helped plan a Washington, D.C., rooftop proposal that made the smallest detail the biggest gesture. 
For couples Arjun and Navreet, it was time to take their relationship to the next level. Arjun partnered up with The Yes Girls and created a rooftop proposal that certainly left a mark on the lovebirds. When Arjun was planning his proposal, he wanted to make it even more special by honoring Navreet's father who had passed away. 
Trying to follow the traditional ask of a father for his daughter's hand in the marriage routine, Arjun wrote a letter to Navreet's late father with kind words explaining why he loved her and wanted to marry her. In the letter, Arjun went into detail about his promise to ensure that he would protect and love Navreet.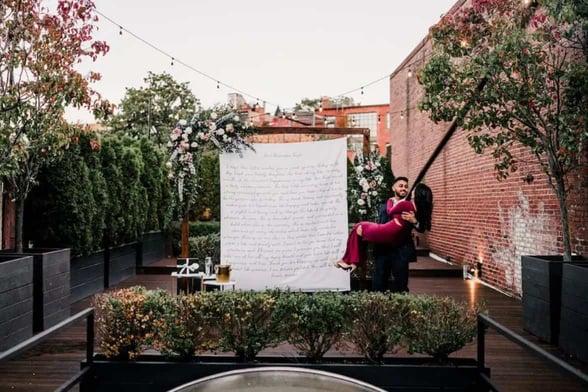 As a daddy's girl, I can only imagine how Navreet felt when this letter was presented to her on the day of the proposal. With tears in her eyes, Navreet read the letter and watched as Arjun got on his knee and asked for her hand in marriage. Navreet said yes and the couple went to meet up with family and friends to celebrate.  
"We wanted to honor how important her late Father is to her in a special way and highlight some of Navreet's favorite things – custom toasting glasses, florals, and even getting a Chanel bag!" said The Yes Girls team. 
3. A Good Sport
The Yes Girls did it again with another one-of-a-kind proposal! The Yes Girls assisted Kansas City Chiefs NFL player, Juan Thornhill, in planning a remarkable proposal in Savannah, Georgia, for his partner Reagan. Respecting the couple's privacy, The Yes Girls made sure this proposal was a secret but a memorable one. 
Reagan is a clothing boutique owner and shares a strong passion for clothes and designs. She is the owner of Sparkle and Rays boutique and indulges herself in all things fashion. Helping others find their style is something that Reagan does on a regular basis, so it was only right for Juan to include her style in the proposal. Combining her love for fashion in a proposal wasn't an easy task but one that Juan did successfully. 
As someone famous, it's normal to get used to being in the spotlight. However, for this moment, Juan wanted to place Reagan at the forefront. Including fashion into the equation was the perfect way to ask her hand in marriage. Juan had a rose gold clothing rack filled with clothes from some of their favorite memories together and, of course, a bit of Reagan's flavor across the board. The best part of it all is in the center of the rack, a jacket hung with Future Mrs. Thornhill embroidered on it.  
The moment couldn't have gotten any more special. Putting your partner's interest front and center is a great way to propose. That compromise will always be rewarded with a grand smile and maybe even a few tears. After popping the big question, Reagan and Juan's friends and family came cheering in. 
4. Hunting For a Yes
Couples decide to get married at different times. Depending on the relationship, a proposal can occur after two years or 10 years of being together. For those seasoned relationships, it can be hard to surprise your partner with a proposal after bringing the idea of marriage into the conversation more than once. However, couple Megan and John proved that you can still surprise your partner you've been with for a long time with a grand proposal. 
Megan and John were together for an extended period, it was just a matter of time before John asked Megan for her hand in marriage. Megan had a feeling that the time was about to come so John knew he had to propose extra special.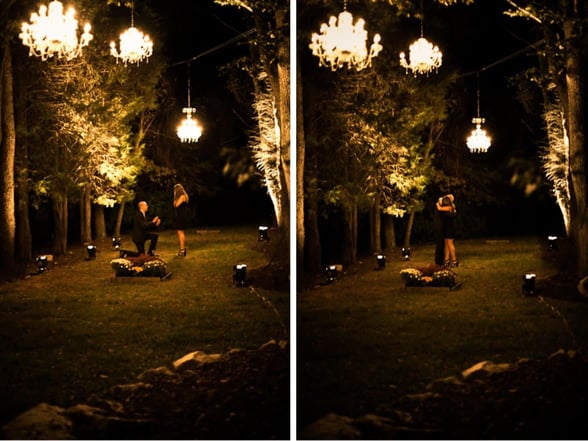 Through an adventurous and well-thought-out scavenger hunt, John made a proposal that left not only the couple with tears of joy but the family as well. John dedicated the entire day to Megan with spa and princess treatment. With every card, Megan got set on a new adventure until she ended the night with him. 
"Spoiler alert – if you complete the scavenger hunt, then I will reward you by asking you a very important, life-changing question," said John with the first very card given to Megan
5. All You Need is a Beach 
There's something romantic about water. I don't know what it is but the feeling you get from being with your lover next to a body of water is like no other. You can never go wrong with a beach proposal under clear sunny skies. Whether it's at sunset or midday, proposals on the beach are great for couples to take in all the beauty while capturing beautiful pictures along the way. 
After eight months of dating, Ryan Manning planned a beachside proposal for his now-wife Jasmin that was memorable. The couple shared a beautiful day along the California coast with Jasmin's younger sister, Julieanna. Once it was time for Ryan to pop the question, Julieanna was signaled and claimed she had to use the restroom to give the two some privacy. 
It was at that moment that Ryan proceeded with the proposal by nervously getting on one knee and asking Jasmin to be his bride. Although Ryan was nervous, the beautiful beach assisted him to deliver a romantic proposal. Heather told us that the location of a proposal is a major contributing factor. Choosing the right location can make a proposal go from a 7 to a 10. 
"Location is a huge factor. We recommend reserving a private area if possible so you can cater the setting just to the two of you," said Heather.
6. Family Can Make an Assist 
Family and friends make a proposal experience a whole lot better. Heather told us that more couples enjoy celebrating with family and friends after the proposal to ensure that it's a surprise. Certain things such as family or friends running late or being seen can ruin the surprise. 
"If proposers do opt to have family as a part of the proposal, we always recommend the family wait in a private room or separate area and have them come out to celebrate and congratulate the couple after the 'yes!'" said Heather.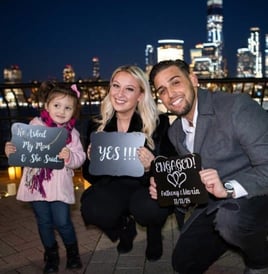 To create more wow moments for couples, Proposal007 was honored to bring together two families to help create an amazing proposal. High school sweethearts Anthony and Maria had their family at the heart of their proposal story. When planning to propose to Maria, Anthony knew he had to include Maria's daughter and family members. 
Anthony had candles set up in the shape of a heart and had musicians in the background playing the couple's favorite song to set the right mood. When Anthony got down on one knee, Maria said yes cheerfully. Afterward, the couple was greeted by family members from both sides.  
Everyone thought the proposal was over until Anthony got down on his knee again and proposed to Maria's daughter. Confessing his love and commitment to Maria was beautiful and easy but extending that same love to Maria's daughter made the proposal a more meaningful experience for Maria.
7. The Big Question
Asking the big question can be nerve-wracking! The most charismatic person can choke up when proposing to the person they love. If there's one thing I've learned it's that there is no one way to ask your significant other for their hand in marriage. 
Grant wanted to ask the big question in a unique way. He and his partner Elaina often went to trivia night at the Brew Republic. Grant asked his good friend to host because he thought it would be more meaningful that way — and less obvious. 
"I couldn't have asked for a better or more enthusiastic person to host our proposal," said Grant. "Scott immediately gave me his card and started to plan with me. After we played around with the phrasing of the question, Scott contacted the trivia host."
Elaina was completely caught off guard when one of the trivia questions was: 'If you were dating someone for almost four years and your name is Elaina, would you say yes if you got proposed to?' Soon after the question was asked, Grant got on his knee and the whole crowd went wild. 
"It took me a solid 10 seconds to realize what was happening, I was in SHOCK!" exclaimed Elaina. 
Every Marriage Proposal Is Unique & Beautiful
Like I said before, there is no one way of proposing. Some proposals are elaborate, some are simple, some are planned, and some are spontaneous. As long as the two people who are in love are happy, that's all that matters in a proposal. 
Of course, if you're not sure what to do for your proposal, you can always tap the help of experts like The Yes Girls. "For the sake of making it truly special and more personal we highly recommend making a plan," Heather told us. "This also ensures the setting is thoughtful too."
What's most important is to note that proposals should be personal. Whatever proposal you plan on doing, make sure that it's catered to who you and your partner are as a couple — that's what makes a proposal so beautiful. These seven proposals were far from perfect, but with the right support and time to think them through, they turned out to be perfectly imperfect!